Now that Chargers have dug out of 0-4 hole, can they continue climb against Chiefs on Saturday?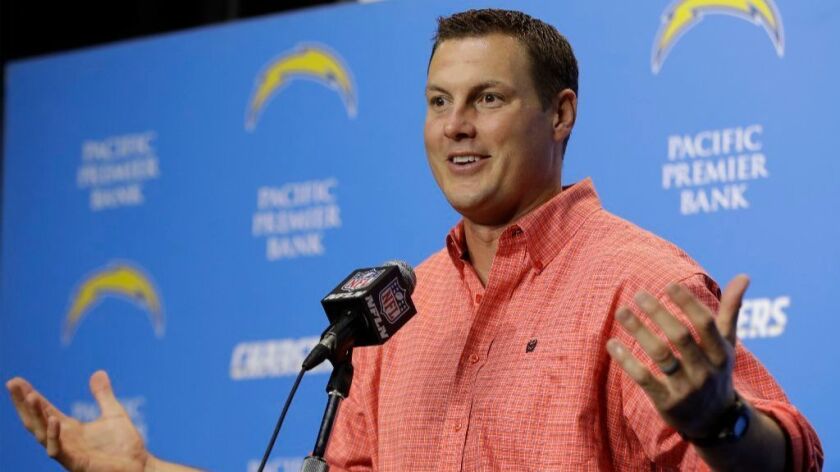 The Chargers couldn't have seen this coming, not when they were 0-4, struggling to find an offensive rhythm and trying to grasp the scheme of first-year defensive coordinator Gus Bradley.
But here they are — winners of four in a row and seven of nine, co-leaders in the AFC West — facing a challenge that didn't exist two months ago, when their season was on the verge of collapse.
Can the Chargers, who travel for a Saturday night showdown against the division co-leading Kansas City Chiefs, handle success as well as they've handled failure?
"We've been right here before, on the cusp, and we lose the last two or three and end up a game out [of the playoffs]," quarterback Philip Rivers said after Sunday's 30-13 win over the Washington Redskins. "While everybody is excited and feeling pretty good about what we've done to get back in it, we've got to make sure nobody relaxes.
"I don't think we will, but I think that's what you guard against now. You can't completely turn it off. You hear all this positive stuff about the Chargers now, but we have to make sure we continue to move forward like we have been."
As the season has turned for the Chargers, who look to become the second team to reach the playoffs after an 0-4 start since they became the first in 1992, so have the expectations, both internal and external.
A nothing-to-lose mentality fueled the Chargers, and they played fast and free in October and November. But now it's December, a division title and playoff berth are at stake this weekend, and the pressure is building.
"This group is very loose," coach Anthony Lynn said Monday, "but they're very confident, and the reason they're confident is because they're prepared. The coaches do a good job of getting them ready throughout the week, and they do a good job of studying and understanding the game plan."
The Chargers will look to ride their momentum into Kansas City without getting too full of themselves as they prepare for a cold-weather game in a hostile environment.
"It's a very thin line," free safety Tre Boston said. "You have people talking about us like we're the best thing since sliced bread, but where were those same people when we were 0-4? We have to stay humble among ourselves, know that the league only loves you when you're winning.
"When you're 0-4, you can grab any critic you want, and I guarantee they were not with us. We were with us, and that's who we're going to continue to be with. We have to block out the outsiders. It's all about us. We can't worry about what anyone else is thinking."
Rolling Rivers
No amount of pressure seems to faze Rivers, who is on a remarkable four-game streak in which he has completed 96 of 139 passes for 1,348 yards, with eight touchdowns and no interceptions, for a quarterback rating of 119.2.
According to Pro Football Focus, Rivers was particularly strong when the Redskins blitzed Sunday, completing eight of 11 passes for 183 yards and two touchdowns.
"One thing he does as well as anybody is he really studies it," offensive coordinator Ken Whisenhunt said. "A lot of times he's prepared for the blitz, or he knows where the pressure is coming. He does a good job of getting the ball out and where it needs to go."
Rivers, 36, isn't known for his mobility, but he showed decent speed as a lead blocker on Travis Benjamin's 22-yard reverse in the second quarter, a play on which Rivers barely touched a defender.
"He didn't block anybody — he looked like a parade master going down the field," Whisenhunt said. "I would have preferred he just run out of bounds so he could get out of the action."
Ground control
The Chargers have given up an average of 77.7 yards rushing in their last three games after giving up an average of 138.9 in their first 10, an improvement that has coincided with the return of linebacker Denzel Perryman in Week 10.
Perryman, who sat out the first eight games because of an ankle surgery, had nine tackles Sunday and has 34 in the last five games. According to Pro Football Focus, Perryman is the top run-stopper among 4-3 outside linebackers since Week 10 with 13 stops on 88 run snaps (14.8%).
"He's been very good," Bradley said. "There's a lot of trust in Denzel with our team; they know where he's going to be as far as calling the defense, setting everything up, trusting where he's going to fit on all the run schemes. And he's an explosive player, so when he makes plays, the rest of the guys feel it."
Etc.
Lynn said that third-string running back Andre Williams, who also played on special teams, suffered a broken wrist on the last play of Sunday's game, an injury that will require season-ending surgery. Williams probably will be replaced on the active roster by running back Branden Oliver, who has sat out eight of the last nine games and has not played since Oct. 29 at New England.
Follow Mike DiGiovanna on Twitter @MikeDiGiovanna
---
Get the latest on L.A.'s teams in the daily Sports Report newsletter.
You may occasionally receive promotional content from the Los Angeles Times.