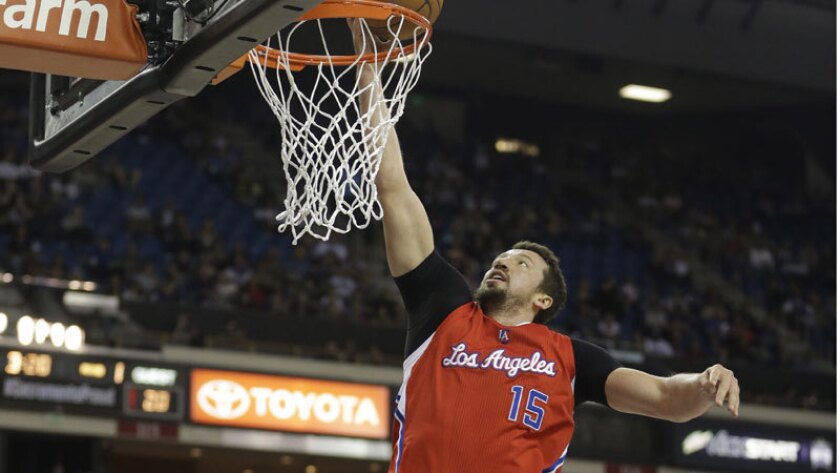 In just his second start of the season, Hedo Turkoglu had quite a performance for the Clippers on Wednesday night.
The 36-year-old forward, who has averaged only 3.4 points in 10.8 minutes a game this season, had 19 points on seven-for-12 shooting, including making five three-pointers in nearly 33 minutes in the Clippers' 116-105 win over the Sacramento Kings.
Turkoglu was starting for the second game in a row because Matt Barnes is sidelined with a sore right hamstring. The Clippers were also playing without Jamal Crawford, who remains sidelined with a bruised right calf.
Wednesday's total was Turkoglu's biggest point production in a game since the 2011-12 season, when he topped 20 points twice with the Orlando Magic. It was just the third game this season in which he scored in double figures.
Turkolgu, who has been in the league for 15 seasons and started his career in Sacramento, once put up big numbers with regularity. He averaged a career-high 19.5 points, 5.7 rebounds and five assists a game with the Magic in 2007-08 and was named the NBA's most improved player that season.
In the last two seasons with the Clippers, though, Turkoglu has seen a steep decline in minutes and production, playing about 10 minutes a game and averaging only 3.2 points a game.
Turkoglu said being able to help the short-handed Clippers in a big way Wednesday meant a lot to him.
"Any night you go out there and do something good for the team it means a lot," he said. "You really feel like you're part of the team."
---