Five takeaways from the Clippers' 127-122 loss to the Brooklyn Nets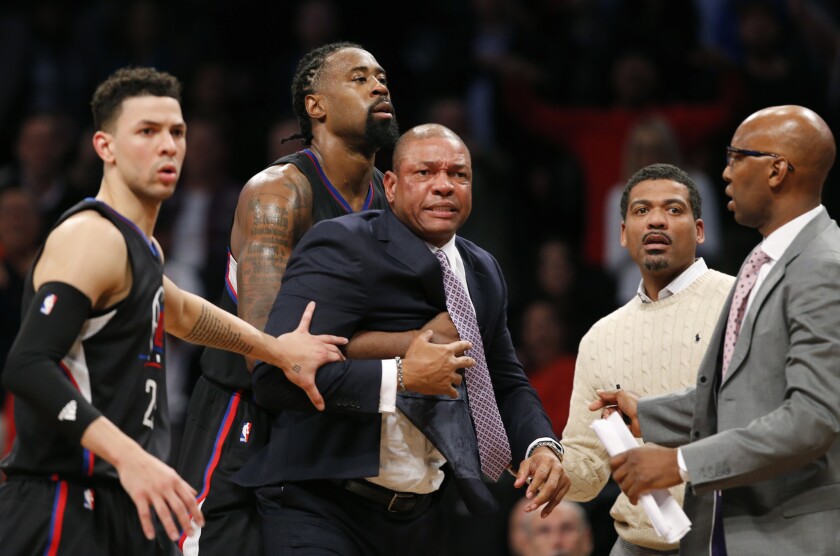 1. Everything about the Clippers' 127-122 double-overtime loss to the Brooklyn Nets bothered Coach Doc Rivers. He didn't like being issued two technical fouls in succession in the first overtime and being ejected.
He didn't like seeing Nets guard Sean Kilpatrick carve up his team's defense on his way to a career-high 38 points.
He didn't like the Clippers blowing an 18-point lead in the third quarter because they figured the Nets would just lie down.
"We were playing around like we've done something and that bothers me because we haven't done crap," Rivers said. "For us to walk around against a team that, to me, is playing their hearts out every night to just win a game, and for us to walk around like we've done something, it bothers me on a basketball level. I didn't like it."
2. When J.J. Redick made his first three-pointer in the first quarter against the Brooklyn Nets Tuesday night, it meant he had made at least one three-pointer in 75 consecutive games.That tied Golden State's Stephen Curry for the six-longest streak in NBA history.
Redick made three of his 10 three-point attempts against the Nets, finishing with 18 points.
He also converted his 27th career four-point play in the third quarter, the second-most in the league behind Clippers teammate Jamal Crawford (49).
3. DeAndre Jordan, with Blake Griffin sitting out resting, was at his best without his frontcourt mate. Jordan produced a double-double in the first half alone, collecting 10 points and 10 rebounds.
By game's end, Jordan had 21 points and 23 rebounds.
4. One of the best moments of the game came late in the second quarter after Chris Paul made a pass to Paul Pierce, who was fouled on a two-handed dunk attempt. While he was down on his back on the baseline, Paul ran over to the smiling Pierce and started performing faux CPR on the veteran, pumping the 19-year player in the chest several times before helping him up and to the free-throw line.
Pierce, who started in place of Griffin, made both free throws and scored five points in his first start of the season.
"Yeah, man, my man P went up for the dunk. It should have been an and-one," Paul said. "It should have been an and-one. I told him I was happy he ran with me. I had no intentions on trying to shoot the layup."
5. Nearly lost in all that went wrong for the Clippers was Paul collecting a triple-double. He had 26 points on 11-for-26 shooting, 10 rebounds and 13 assists.
It was the 13th triple-double of his career.
Twitter: @BA_Turner
---
Get the latest on L.A.'s teams in the daily Sports Report newsletter.
You may occasionally receive promotional content from the Los Angeles Times.