Montrezl Harrell makes the most of NBA relaxing policy on basketball shoes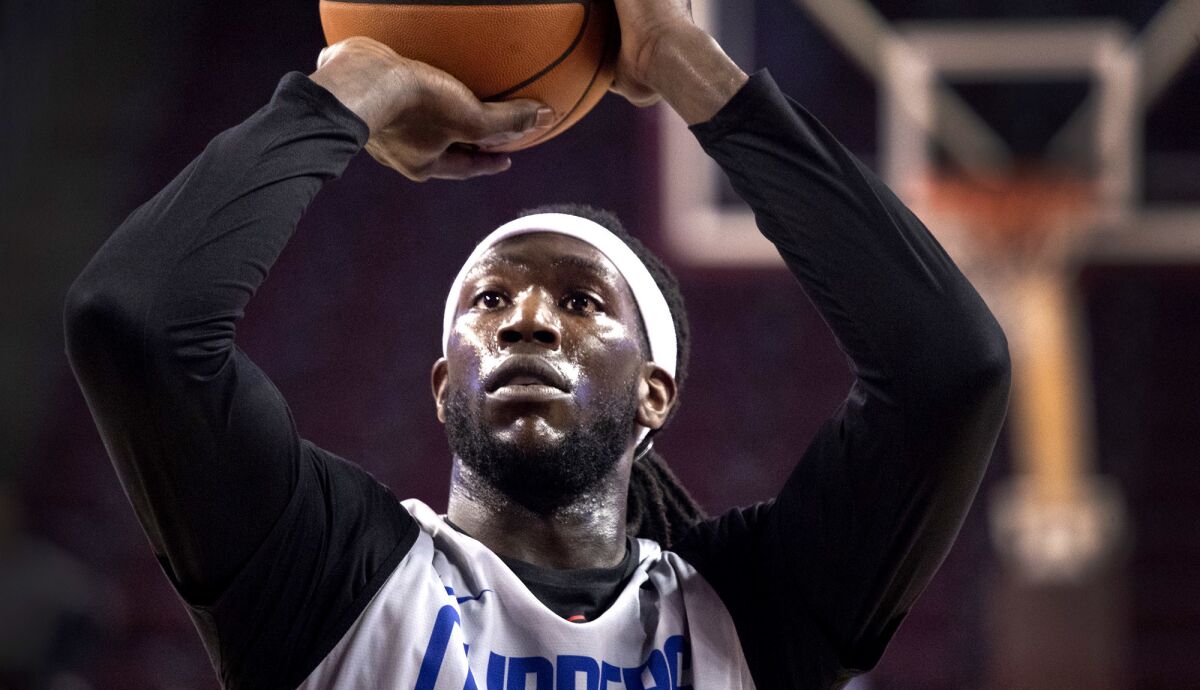 When the NBA relaxed restrictions on footwear for the upcoming season, allowing players to wear sneakers of any color, Montrezl Harrell was among those rejoicing.
"It's very cool because it gives guys the opportunity to come out with a lot of originality," Harrell said.
He would know. Whereas other sneaker collectors buy and stockpile hard-to-find editions, the Clippers' forward goes a step further by creating his own styles.
Harrell dreams up designs before sending them to sneaker customizers whose work he finds on Instagram. During the preseason he estimated customizers were working on 20 pairs whose designs will pay homage to some of his favorite shows and movies, such as "Rick and Morty," "Family Guy," "The Boondocks" and "Good Burger."
But there's more, Harrell hinted.
"The ones you really got to pay attention to," he said, "is the ones that's going to have the monitor in it because it's going to actually have video clips and actual game highlights from situations of the game playing on the shoe. So, it's going to be real dope."
If the season unfolds as Harrell hopes, the highlights playing on his shoes will be his own. The 6-foot-8, 240-pound forward enters his fourth NBA season believing he can expand his game beyond being simply the Clippers' "energy player" off the bench.
"I love the atmosphere, the hype around my shoes, but everyone knows my game," he said. "I play with a lot of energy and they know what I'm going to come with every night and they got to be ready when I step on the floor."
After three seasons at Louisville, Harrell began his career in Houston, where he spent two seasons before being included in the 2017 trade that sent Chris Paul to the Rockets. Harrell averaged 11.0 points and 4.0 rebounds in 17 minutes a game last season before signing a two-year contract worth $12 million in July to stay with the Clippers.
"I'd start him, I'd play him off the bench, I think he's a guy who can play anywhere," coach Doc Rivers said. "He's just a good guy to have on your basketball team.
"He gives such great, positive energy for us every night. He's like the perfect guy to have coming off the bench for your team."
Harrell is competing with Marcin Gortat, an offseason addition from Washington who has held the starting center role throughout the preseason, and reserve Boban Marjanovic for minutes at center, and it could be a challenging rotation to crack for extended playing time. Gortat is a known quantity after 11 NBA seasons while the 7-foot-3 Marjanovic, like Harrell, is similarly seeking a larger role after a promising preseason.
Inserting Harrell adds a flurry of activity on the defensive end and the constant threat of a lob near the rim offensively. He has shot 63.5% from the field for his career.
"Very, very energetic guy," Gortat said of Harrell. "That's what basketball loves, energy guys and athletic guys. I think he's still got so much to improve. He's already a very good player but he still got [a] lot to improve and he's got to do what he does for us. He's got to continue to do that, bring the energy, the hustle play, the defensive presence and at the end of the day he's going to be a hell of a player coming off the bench for us."
Harrell doesn't mind being labeled an "energy player," but he also hopes to show off more of his skill during his bursts of playing time. A focus of Harrell's offseason training was adding a plausible threat from behind the three-point arc, which has become a prerequisite for big men to stay in the league.
Last season 91% of his shots came within 10 feet, and he made 72.1% of those shots. In his first three NBA seasons he attempted 15 three-pointers.
"It's all what coach really allows, honestly," Harrell said. "I continue to get better with that, and it's something I still need to work on, all over the court. I feel I do pretty well with shooting the corner three, I'm confident in shooting that and probably the trail three at the top of the key, but I mean, like I said, I need to get better on working at it all around the perimeter.
"I'm just looking to come in and be that energy, whatever we need. I don't really go into each game pre-planning on what I'm going to do or how it's going to come, I just let it flow and I know as long as I'm going 110% something good is going to come."
As Harrell searches for a consistent place in the Clippers' rotation, he's also on the lookout for more shoes. He's trying to find the ultra-rare Oregon-edition Air Jordan 3 and 4, in particular.
"It's just going to take some work," he said, "but I'm up for the challenge."
On the court too.
Twitter: @andrewgreif
---
Get our high school sports newsletter
Prep Rally is devoted to the SoCal high school sports experience, bringing you scores, stories and a behind-the-scenes look at what makes prep sports so popular.
You may occasionally receive promotional content from the Los Angeles Times.