Clippers' defense faces its toughest test so far in Chris Paul and Rockets
There was no mystery as to Oklahoma City's strategy Friday night against the Clippers.
With All-Star guard Russell Westbrook sitting out, the Thunder had little choice but to funnel their offense through their other All-Star, forward Paul George, and though he scored a team-high 20 points he required 27 shots to do it.
George made four of the 21 shots he took outside of point-blank range.
The performance against one of the NBA's most versatile scorers represented a reassuring sign for the Clippers, who entered the season with high expectations for their defense before faltering late in their season-opening loss to Denver.
"We tried to make everything hard on [George]," guard Avery Bradley said after Friday's108-92 victory. "He's a very good offensive player and my goal was just to make him work every single possession."
The NBA's schedule makers have afforded the Clippers (1-1) little time to savor those stops. Sunday at Staples Center they'll face a Houston team that doesn't bother to disguise its strategy and doesn't need to, considering league MVP James Harden and All-Star point guard Chris Paul, the former Clipper, can break down defenses by themselves.
It figures to be another early litmus test of the Clippers' defensive potential after holding Oklahoma City to two points in the game's final 6 minutes 50 seconds.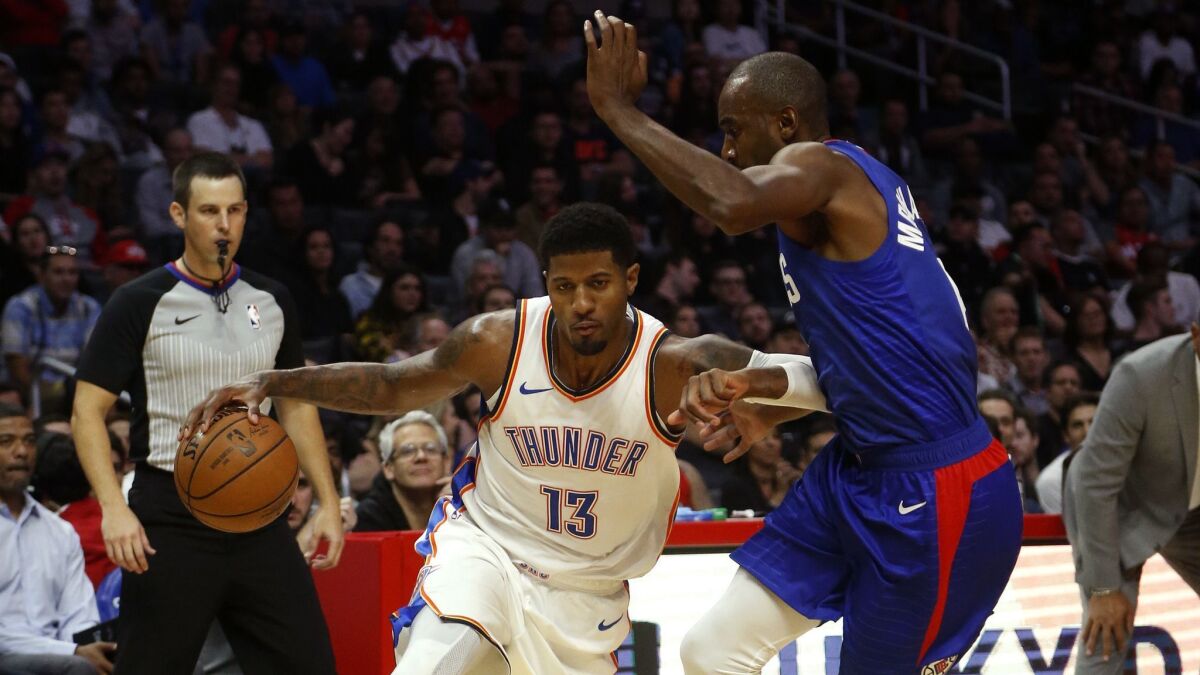 George and the Thunder made just two of their 21 shots taken against Bradley and forward Luc Mbah a Moute.
"Avery did a great job on him just giving him tougher looks than he may have been used to," forward Tobias Harris said. "I thought Luc did a great job at the end in the fourth quarter of getting into his body and sticking with him."
Another encouraging sign was the defense of rookie Shai Gilgeous-Alexander. Although his help defense needs improvement, as coach Doc Rivers has said, the 6-foot-6 guard's 7-foot wingspan is difficult to maneuver around. He gave up only four buckets on 15 attempts against Oklahoma City and has surrendered six field goals on 25 attempts through two games.
Houston is an elite opponent and to disrupt it the Clippers will rely on Mbah a Moute, who spent last season with the Rockets, and keys they will apply all season — like limiting opportunities within the first eight seconds of the shot clock.
"If you can slow a team down from getting into their sets, you're a better defensive team," Rivers said. "I've always thought if you can get them not to start their sets until 12 seconds, you can convince your bad defenders, 'You only have 12 seconds to play defense.'"
The Boban Effect
Backup center Boban Marjanovic has been called a perpetually jovial presence in the locker room by several Clippers and statistically speaking has been nothing but a positive in the lineup.
Marjanovic holds the second-best net rating across the league through two games. The Clippers are outscoring opponents by 31.1 points per 48 minutes when he is on the court and have been outscored by 11.9 when he sits. The 7-foot-3 Serbian is averaging 1.67 points every time he touches the ball inside the paint.
"Him down there, that's a pretty efficient shot getting a layup or a dunk," Harris said. "He's a Serbian MVP!"
In fact, fans at Staples Center have chanted "MVP" for Marjanovic in each game as he helped the Clippers to a pair of fourth-quarter comebacks.
"It's funny, I'm thankful for that," he said. "It's nice to hear that, but everybody knows it's not real. But it's fun."
Paul's return
It was only one year ago that Paul left the Clippers to join the Rockets, but now he faces a team that has almost entirely turned over.
The lone holdover from Paul's last season in L.A. is Mbah a Moute. The pair then played together last season in Houston before Mbah a Moute returned to the Clippers as a free agent.
"We do need to get close this season, because there are a lot of new guys and lot of guys coming together for the first time," Mbah a Moute said Friday. "So we need that camaraderie. It's been that way since training camp. It's good. When you have good chemistry, you need to lean on that. It's only our second game, but it's good to see guys cheering on each other."
Rivers says he enjoys this new roster because even if it doesn't generate the championship expectations that surrounded Paul's teams, it also has yet to produce locker-room drama.
"This group, they just want to win the game and they're over themselves," Rivers said.
UP NEXT
VS. HOUSTON
When: 6 p.m., Sunday
On the air: TV: Prime Ticket/NBA TV; Radio: 570, 1330.
Update: After starting his previous 39 matchups against the Clippers, Carmelo Anthony is expected to come off the bench against them for the first time in his career. It's part of a new reserve role for Anthony, who signed with Houston as an unrestricted free agent. Before Houston's season-opening loss, he'd started every game of his 15-year career. … These are Houston's first back-to-back games of the season after facing the Lakers on Saturday.
Twitter: @andrewgreif
---
Get our high school sports newsletter
Prep Rally is devoted to the SoCal high school sports experience, bringing you scores, stories and a behind-the-scenes look at what makes prep sports so popular.
You may occasionally receive promotional content from the Los Angeles Times.