Geeks inherit the Earth, or at least the Dodgers front office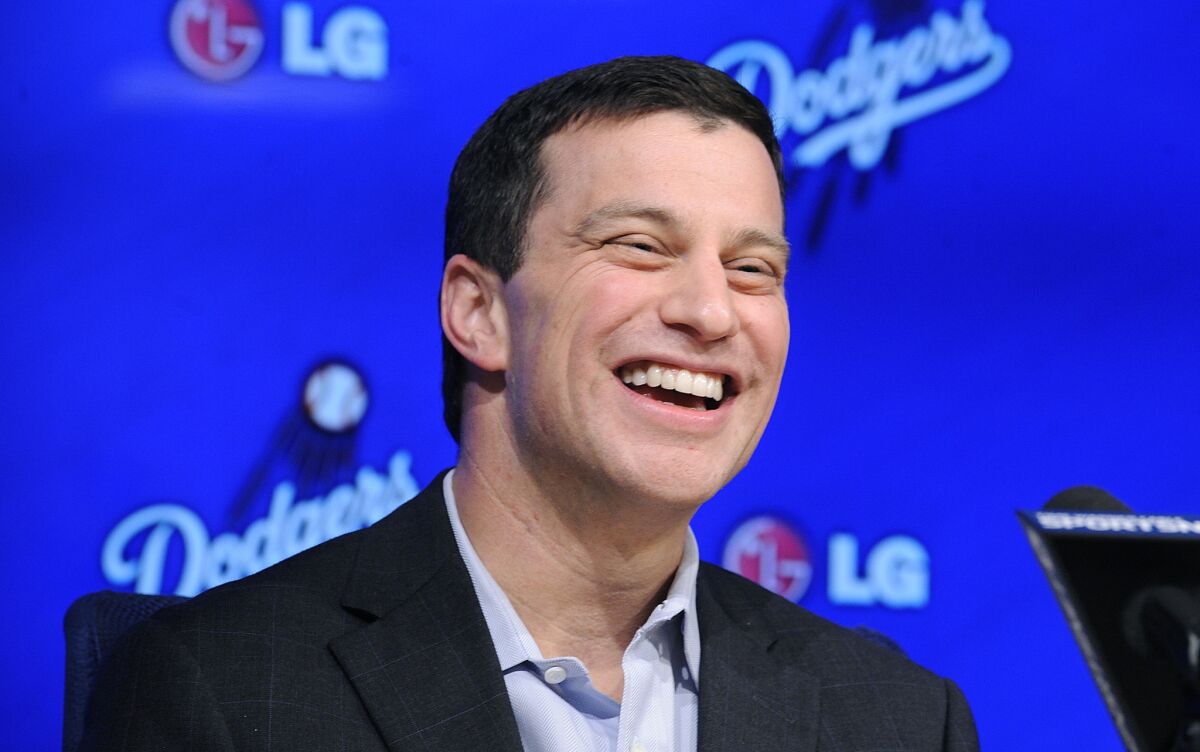 The nerds have officially taken over the world. Just give into it. All those guys who used to sit in the back of the classroom with their black horn-rimmed glasses, pocket calculators and clothes their mommies picked out?
They run things now. They're making the decisions and signing the paychecks. All those years spent cozying up to the jocks and the popular kids just wasted.
The Dodgers have been undergoing an amazing transformation the past few weeks, going from a mostly old-school front office to one brimming with guys who know "analytics" and "sabermetrics," which I think are the same thing, but I'm not taking any chances.
They moved Ned Colletti out of the general manager spot and brought in the Rays' GM and lover of all things numbers, Andrew Friedman, as president of baseball operations. Now he has reportedly hired Farhan Zaidi from the A's, where he was Billy Beane's latest king of statistics, to be the new GM and is poised to add Josh Byrnes, a two-time fired GM who prizes statistical analysis. And Gabe Kapler, a former major leaguer who has become a big booster of all the new numbers, may be coming. Plus, Friedman is keeping around Alex Tamin, the Dodgers' previous numbers guru.
The Dodgers have formed their very own Geek Squad. Not exactly sure how much baseball wherewithal they actually have, but I know where I'm taking my laptop the next time it has a virus.
Like I've always said, that Frank McCourt, a man ahead of his time. You remember the last time the Dodgers committed to the sabermetric approach? Over 10 years ago McCourt hired Paul DePodesta, then Beane's numbers specialist, from the A's. Jonah Hill was apparently unavailable.
DePodesta – pleasant, well-meaning and overmatched -- lasted 20 months before McCourt fired him and hired Colletti. During his days with the Dodgers, DePodesta sometimes was referred to as "Google Boy." And Beane liked to say he was more concerned about losing Zaidi to Google than another team. That connection doesn't make you nervous?
Zaidi has a bachelor's from MIT and a doctorate (corrected) from Cal, both in economics. Forget my laptop, I'm wondering if he does tax returns.
Zaidi said he liked to chart player tendencies for the A's during games, which I don't believe is a serious selling point on your typical GM resume. Oh, come on, who are we kidding? Friedman's the GM with a fancy title and Zaidi is his chief of numbers.
Zaidi spent 10 years with Beane and the A's and last season told The Times' Kevin Baxter:
"One of the things that I grew to learn is nobody has this game figured out. There's no one vantage point whether you're an analyst or whether you're a player-development instructor or whether you're a coach on the big league staff. There's no one vantage point that will lead you to every answer. So I think it comes back to the fact that it's a collaborative process."
Collaborative suggests different points of view, which I'm not certain you're going to get from this group unless the debate is over the best PC processors.
Not sure how much fun all of this is going to be, but it will be different. All they inherit is the largest payroll in American sports history, which if nothing else, is a lot of numbers.
Get our Dodgers Dugout newsletter for insights, news and much more.
You may occasionally receive promotional content from the Los Angeles Times.