Who else thinks Dodgers' Hyun-Jin Ryu won't last the season?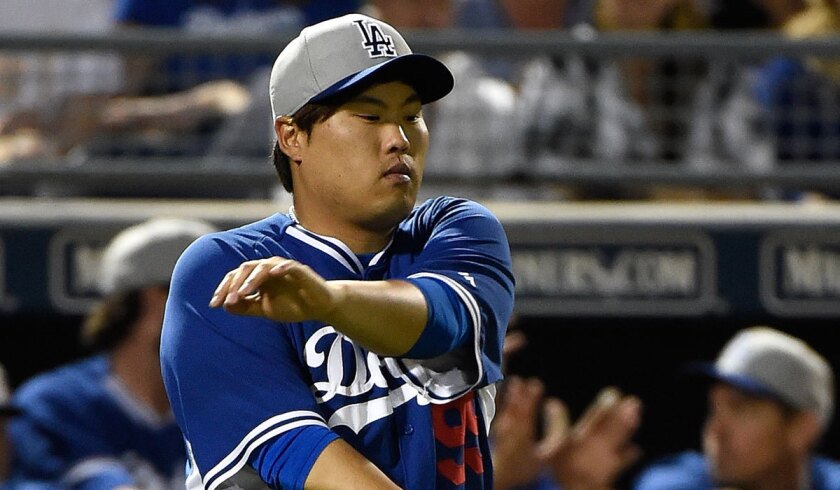 Somewhat lost in all the hubbub of the Dodgers signing Cuban Hector Olivera for $62.5 million Tuesday was the health update on Hyun-Jin Ryu.
Which basically was, he's the same as he was before. He'll be rested for two weeks and rehab the sore shoulder before being re-evaluated to determine his throwing progression.
Feel all better?
I'd think not. If Ryu's the same as he was before, that smells suspiciously like serious trouble. A show of hands for all those who actually believe he's going to last the season.
This is the third time in a year he's been shelved with the same sore-shoulder problem. What makes anyone think it's going to just go away now? He was out three weeks in April and three weeks in September with the same injury.
Andrew Friedman, the Dodgers' president of baseball operations, said he viewed the injury as a "relatively short-term" problem and was relieved the news was not worse. Worse apparently meaning going under the knife and being lost for the entire season.
The Dodgers said a contrast MRI taken Monday showed no change from one he had in 2012. Which tells you the MRI isn't picking up something. Maybe it's a tear too small, for now, but something is clearly wrong.
The answer is rest and rehab? He just had over four months to rest and rehab the shoulder. Now a month into spring training it's flared up again. It sounds like only a matter of time before he's dealing with a more serious shoulder injury.
If nothing is showing up on the MRI, the Dodgers just can't cut him and go exploring. Neither can they keep shooting him up with anti-inflammatories. They have little choice but to take the current rest-and-rehab course with Ryu.
That doesn't mean they should count on him. And if they can't really count on Brandon McCarthy, Brett Anderson and Ryu, that makes for one incredibly precarious rotation.
All of which could put more stress on their highly uncertain bullpen. The 'pen that will be without closer Kenley Jansen until possibly mid-May and is pretty much in complete makeover mode. Although there are several intriguing possibilities, the Dodgers currently have no idea who their early closer will be or their eighth-inning guy. Chris Hatcher was supposed to be the latter, but he has a 10.13 ERA in six spring games and Monday gave up a homer in a minor league game.
And perhaps this is where it should be mentioned ex-Nationals closer Rafael Soriano is still looking for a team. His best days are clearly behind him, but he did save 32 games last season.
There was already a bit of rolling of the dice with McCarthy and Anderson, and there's Ryu's recurring shoulder issue. Hey, maybe all three will stay healthy and the Dodgers become that super team they were designed to be. Maybe one goes down, or two, or maybe all three and it's Disaster City.
They'd best re-examine those rotation contingency plans, because right now you just can't be certain what you're going to get out of Ryu. Right now he carries a bad sense of the inevitable.
---