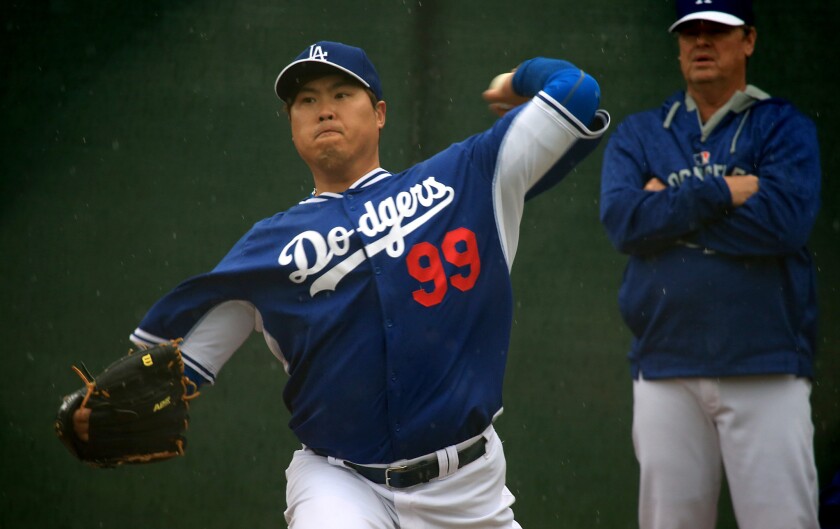 Reporting from PHOENIX —
With the injured left-hander Hyun-Jin Ryu ruled out for opening day, would the Dodgers look to trade for another starting pitcher?
Yes, if they can add an arm for the back of their rotation. No, Cole Hamels is not walking through that door.
The Dodgers sent Ryu to Los Angeles for medical evaluation, after he reported renewed discomfort in his throwing shoulder on Sunday. Ryu sat out six weeks last season — three in April and May and three more in September — because of inflammation in the shoulder.
Andrew Friedman, the Dodgers' president of baseball operations, said the team would consider acquiring "more depth starting pitching, but that is no different than we have tried to get all off-season."
Joe Wieland, acquired in the trade that sent Matt Kemp to the San Diego Padres, is the leading candidate to replace Ryu. Wieland has pitched nine innings this spring, giving up one run and striking out nine.
The options also include Mike Bolsinger, purchased from the Arizona Diamondbacks in November, and returnee Carlos Frias. Veteran left-hander Erik Bedard, who had pitched his way into consideration, suffered what Manager Don Mattingly called a "lat strain" and is scheduled for an MRI examination.
The Ryu injury could put additional pressure on the Dodgers' bullpen, already weakened because closer Kenley Jansen will start the season on the disabled list as he recovers from foot surgery.
Ryu felt shoulder tightness on Wednesday. After an anti-inflammatory injection, Mattingly said, Ryu was "feeling 100% almost instantly." However, when Ryu resumed throwing on Sunday, Mattingly said that "he felt a little something" in the shoulder and was downcast in the trainers' room.
"I saw the look on his face, and it wasn't typical Hyun-Jin," Mattingly said.
Even if the rehabilitation period for Ryu extends beyond the three-week periods required last year, Hamels appears to be an unlikely fit, at least for now.
The Philadelphia Phillies reportedly have told clubs that they would not pick up any of the remaining $94 million left on his contract and would require top prospects as well. The Dodgers would consider picking up the contract but would not consider trading their top youngsters — shortstop Corey Seager, center fielder Joc Pederson and pitcher Julio Urias.
Powering up
The winter narrative was this: The Dodgers might have a better defensive team and a deeper lineup this season, but they'll have less power because of the loss of Kemp and Hanley Ramirez.
So guess which team leads the major leagues in home runs this spring? The Dodgers.
Yes, they hit 10 home runs in two games in San Antonio's Alamodome, where the right-field foul pole stood 275 feet from home plate. Still, the Dodgers have 33 home runs this spring, and only two teams — the Chicago Cubs and Baltimore Orioles — are within 10 of the Dodgers.
Kris Bryant leads the Cubs with eight home runs, but no one on the Dodgers has more than three.
"We have a very deep lineup," Dodgers batting coach Mark McGwire said. "If we hit home runs, we're going to hit them by accident."
Right fielder Yasiel Puig hit a mammoth home run Sunday — off the Cleveland Indians' Corey Kluber, the American League Cy Young Award winner. Puig, Pederson and first baseman Adrian Gonzalez are the Dodgers' top three power threats.
"Gonzo has done it because he's such a professional hitter, but you wouldn't think of him as a home-run hitter," McGwire said. "You have the potential of Puig, and the potential of Joc. I wouldn't call them home-run hitters, because they can be better than that — high average, hit doubles and drive in runs. The home runs will come."
Puig deflected the question of how much power the Dodgers might have without Kemp and Ramirez.
"We don't need one player hitting 50 home runs," Puig said through an interpreter. "As long as everybody does their part, we'll be fine."
Twitter: @BillShaikin
---