Already formidable, Dodgers may seek to strengthen roster for playoff run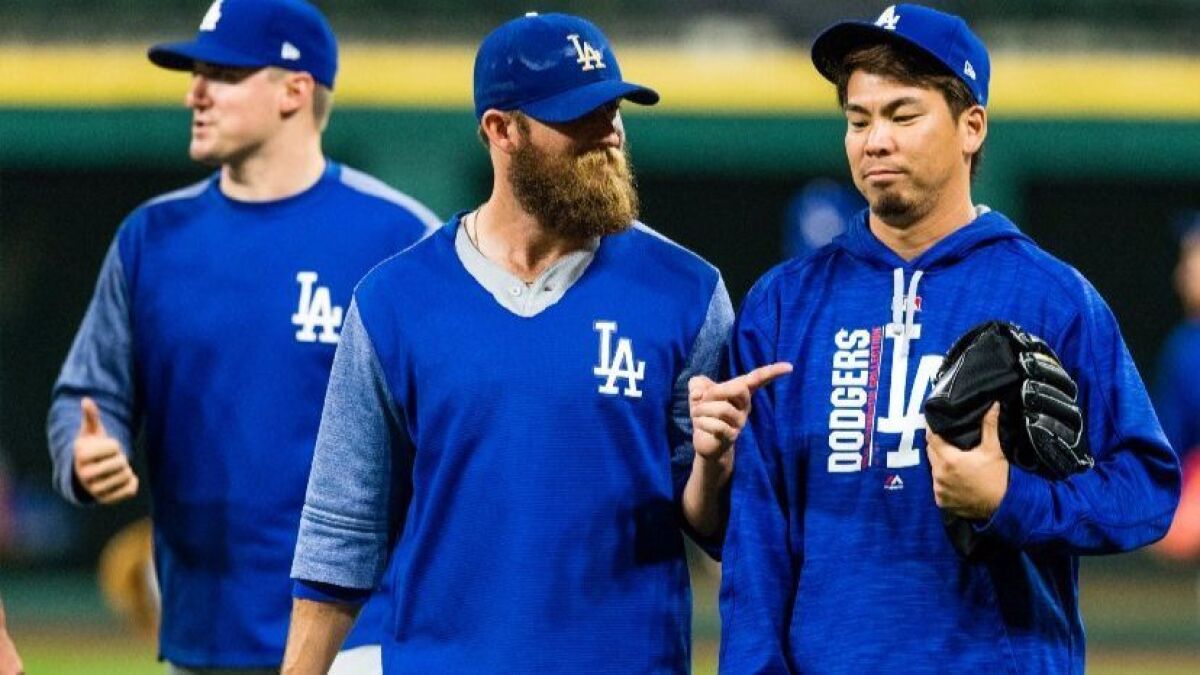 Reporting from Miami —
The Dodgers enter the second half of the 2017 season as both the envy of the sport and the subject of immense pressure.
Perhaps you've heard: This organization has not reached the World Series since 1988. It has won the National League West four seasons in a row — but has yet to play beyond the sixth game of the National League Championship Series.
Perhaps you've also heard: The current iteration of the Dodgers owns the best record in baseball and the deepest 40-man roster in the game, plus a wealth of financial might and a surplus of prospects. For two days around the All-Star game at Marlins Park, the team's representatives operated a six-man advertisement for the organization's philosophy.
"It seems like in every facet of the game, we have a lot of talent," Clayton Kershaw said. "It's a testament to our guys. It's a testament to the organization for putting those guys in place. We're in a really good spot."
In recent years, teams that have mortgaged significant assets to make upgrades at the trade deadline have been rewarded with championships. In 2015, the Kansas Royals emptied their farm system to acquire pitcher Johnny Cueto and second baseman Ben Zobrist. A year later, the Chicago Cubs gave up four players in exchange for closer Aroldis Chapman.
Will the Dodgers do the same? On pace for 110 wins, the team also ranks first in the National League in earned-run average and second in on-base plus slugging percentage. The starting rotation includes four productive pitchers, and the team has not panicked after the reemergence of Brandon McCarthy's command issues. The lineup features six players with double-digit homers and a group that has bought into the ethos established by manager Dave Roberts.
"In a lot of ways, we're a lot more selective than we've been in the past," said Andrew Friedman, the Dodgers' president of baseball operations. "Part of that speaks to our organizational talent level, at this point, as well as the depth behind it. But also, the culture that has been created among this group of players — it's something that's special. I can't really see us messing with that, short of doing something that makes an incredible amount of sense to us."
Despite the publicly expressed restraint, rival executives do not expect the Dodgers to remain quiet this month. The team is expected to trawl for relievers — with a preference for left-handers but a willingness to add right-handers — while keeping an open mind toward creative ways to improve the roster. This front office executed a three-team trade to acquire Alex Wood in 2015 and parted with well-liked catcher A.J. Ellis to acquire Carlos Ruiz in 2016.
The Dodgers also acquired a pair of relievers, Josh Fields and Jesse Chavez, last summer. They could add multiple relief arms this month, too. The Dodgers bullpen has the best earned-run average in the National League. Even so, Pedro Baez has a history of playoff hiccups, Brandon Morrow is still building trust with Roberts and Fields has become prone to giving up homers. On the left-handed side, neither Luis Avilan nor Grant Dayton has matched the performance he provided in 2016.
So the team has expressed interest in Baltimore closer Zach Britton, if the Orioles are willing to part with the two-time All-Star. Britton missed most of the first half with a strained forearm. From 2014 to 2016, Britton posted a 1.38 ERA.
Less gaudy, but perhaps more reliable, options exist. San Diego left-hander Brad Hand and Detroit left-hander Justin Wilson should be two of the more popular pitchers on the market. The Dodgers have a healthy relationship with Oakland, who could shop former All-Star Sean Doolittle. Sidelined for all of May with a shoulder strain, Doolittle is striking out 12.8 batters per nine innings this season, with an affordable contract through 2020.
The pile of right-handed choices could include New York Mets reliever Addison Reed, Philadelphia reliever Pat Neshek, Oakland reliever Ryan Madson and Chicago White Sox closer David Robertson. One internal option is 2015 first-round pick Walker Buehler, who is dominating as a starter at double-A Tulsa but could shift into a relief role later in the season.
As for the rotation, team officials have expressed confidence in Wood, Rich Hill and McCarthy standing behind Kershaw. Yet Wood has dealt with various injuries over the years, Hill has been dogged by blisters the past two seasons and McCarthy has fallen victim to a loss of command in his last two outings. It is not hard to envision a scenario in which the Dodgers pursue a starter.
One candidate left the market on Thursday. The Cubs executed an intra-city swap for the White Sox's left-handed starter Jose Quintana. The other choices are less appealing. Oakland pitcher Sonny Gray has missed significant time since 2016 with arm injuries. Detroit pitcher Justin Verlander has a 4.73 ERA, a rising walk rate and $56 million guaranteed on his contract beyond 2017.
The offense is already loaded with depth. The emergence of Chris Taylor and the stabilization of Yasiel Puig has reduced the need for a corner outfielder. In addition, the Dodgers are holding out hope that Adrian Gonzalez can be effective when he returns from the disabled list. A healthy, productive Gonzalez would push rookie phenom Cody Bellinger into the outfield if the team wanted both in the lineup.
In any event, the Dodgers are unlikely to stay quiet, even though the path to improvement may be difficult to discern.
"Our mind-set is: any time we can make a move that makes sense," Friedman said, "we'll be aggressive to do it."
Twitter: @McCulloughTimes
---
Get our Dodgers Dugout newsletter for insights, news and much more.
You may occasionally receive promotional content from the Los Angeles Times.