Column: Ned Colletti could lose his job after Dodgers' quick playoff exit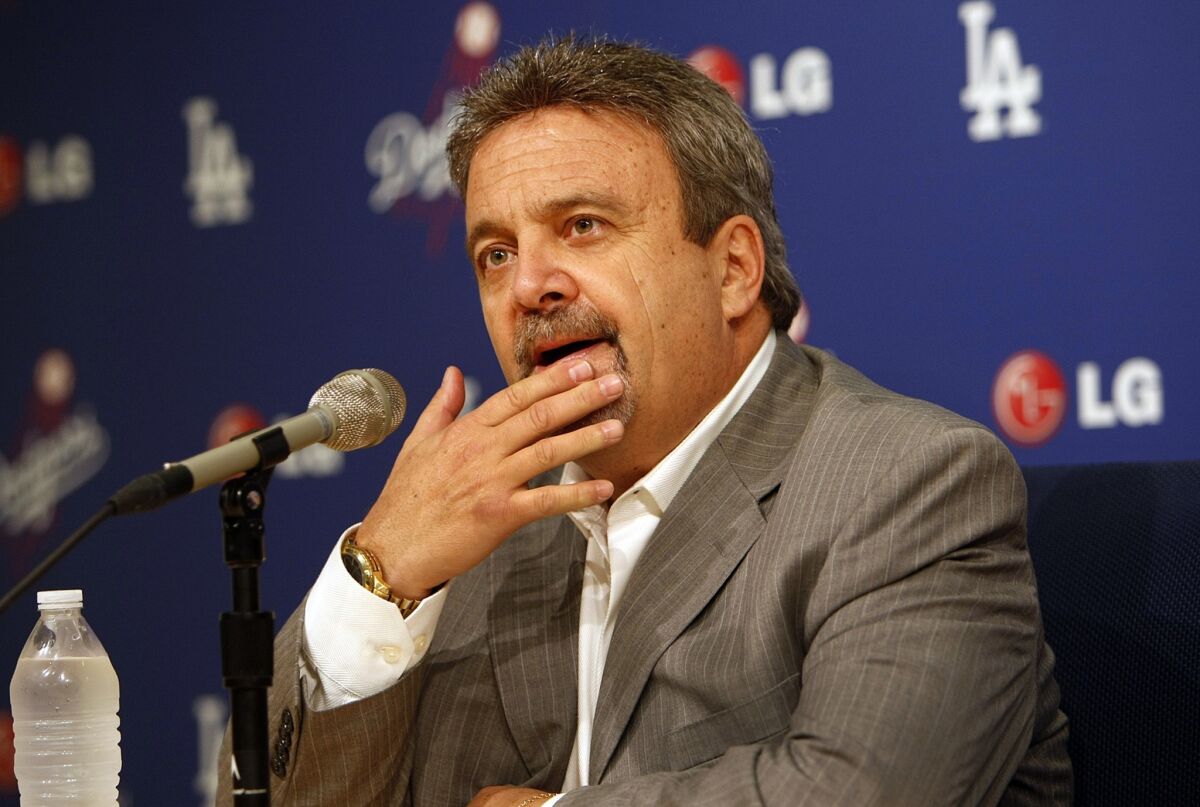 The Dodgers are laying most of the blame for their underachieving team on the man who constructed it.
Ned Colletti is absorbing the heat for the Dodgers' October fizzle and could soon lose his job as general manager over it.
Mark Walter, chairman of Guggenheim Baseball, would not comment on the team's plans when interviewed Tuesday night in St. Louis after the Dodgers lost the National League division series to the St. Louis Cardinals, but their beliefs and intentions are clear.
Ownership is disappointed with how Colletti constructed a roster that, despite costing a record $240 million, lacked the pieces to compete with the versatile Cardinals. The Dodgers payroll is expected to drop into the $185-190-million range next season to offset expected financial losses from the unworkable television contract with Time Warner Cable, and ownership could be looking for a new vision that will rely less on high-priced free agents and more heavily on the farm system. Their top target appears to be Andrew Friedman, the highly regarded 37-year-old general manager of the Tampa Bay Rays who built a World Series team out of one of baseball's smallest payrolls.
A common perception was that Manager Don Mattingly's job also would be in danger after he made several questionable strategical decisions against the Cardinals, but ownership liked how he had handled a combustible clubhouse and will give him at least another season to smooth out his rough managerial edges. Their patience might not stretch to Colletti, even though he deftly led the Dodgers to five playoff berths in his nine seasons here, most notably consecutive National League Championship Series appearances during the end of the turbulent Frank McCourt era. Under Colletti's watch, Clayton Kershaw became a Cy Young Award winner, Dee Gordon became an All-Star, Kenley Jansen became a closer, Adrian Gonzalez, Hyun-Jin Ryu and Zack Greinke became Dodgers, and Yasiel Puig came here from Cuba.
But under new Dodgers owners who didn't hire him, Colletti is viewed as someone who gives away too much money to older veterans, particularly in a Dodgers bullpen whose lack of trustworthy arms led to their three-games-to-one series loss to the Cardinals.
An exhausted Kershaw was stranded on the mound long enough to allow 11 runs in two losses, while the other Dodgers loss was absorbed by Scott Elbert, an injury-plagued reliever making $575,000. Meanwhile, remaining in the bullpen throughout the biggest moments of the series were two ineffective former All-Star closers making a combined $32.5 million.
Brian Wilson was the most troublesome to Colletti's future, as he was working on a $10-million deal with an $10-million player option for next year while producing a 4.66 earned-run average and four blown saves in five attempts. League, another former closer, was equally as disappointing while pitching as a middle reliever in the second year of a three-year, $22.5-million deal. Colletti actually had added a third former All-Star closer to the bullpen, Chris Perez, signed for $2.3 million, yet he was left off the postseason roster after compiling a 4.27 ERA.
The bullpen was the focus of ownership's concerns, although other contracts were considered excessive. Andre Ethier just finished the second season of a five-year, $85-million contract even though he is no longer in their plans as an everyday outfielder. If the Dodgers hope to trade him, they are going to have to eat some of that contract. Matt Kemp was an established star several years ago, but he just finished the third year of an eight-year, $160-million deal during which he has mostly battled injuries and ineffectiveness, and his contract makes him difficult to trade.
Then there was Dan Haren, a fifth starter and one of those smart veterans who has long served Colletti well. His contract vested for a guaranteed $10 million for next season when he dramatically reached 180 innings during the season's final week. But with a 13-11 record and 4.02 ERA, he wasn't considered worthy to pitch in a postseason game. The Dodgers instead went with Kershaw on short rest.
Virtually all of these signings occurred when there was no other options, as Colletti was often hindered by a struggling Dodgers farm system that only recently has started to produce. Colletti was consistent in making whatever deal gave the team the best chance to win, and deserves special recognition for winning during the final budget-constrained years of McCourt.
But in two years under Guggenheim, despite being armed with baseball's deepest riches, he failed to take the team to the World Series, where it hasn't been since 1988. This season, the Dodgers took a step backward in their most frustrating postseason series loss since 1985.
Nearly a decade after rebuilding the Dodgers to prominence, Colletti could pay the price for not keeping them there.
Twitter: @billplaschke
Get our Dodgers Dugout newsletter for insights, news and much more.
You may occasionally receive promotional content from the Los Angeles Times.