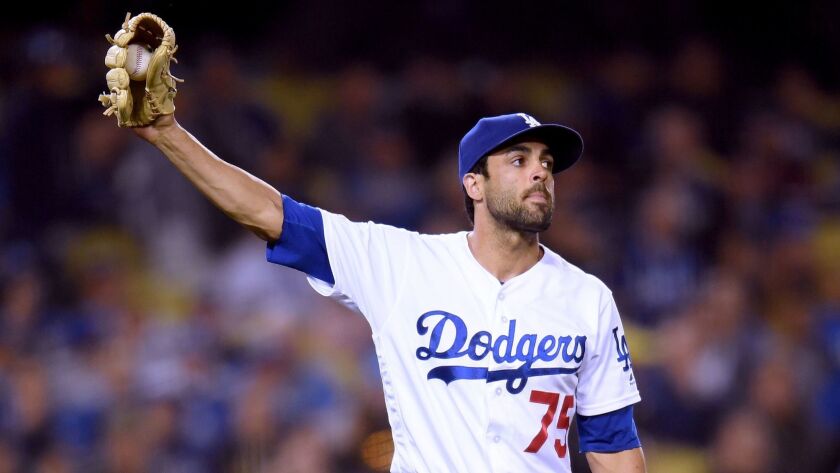 The Dodgers placed Scott Alexander on the 10-day injured list Tuesday because of left forearm inflammation and recalled Caleb Ferguson, another left-handed reliever, from triple-A Oklahoma City.
Alexander's stint is retroactive to June 8. He hasn't pitched since June 5, when he faced three batters without getting an out in the 11th inning against Arizona. The inning ended with David Peralta delivering a game-winning single.
Alexander said the pain stems more from his biceps than the forearm. He explained he initially felt the discomfort more than a week ago and pitched through it. But the pain intensified while he was warming up Monday to the point that he couldn't pitch.
"At times his arm just hasn't felt right," manager Dave Roberts said. "And we've tried to work through it over the last couple weeks. There's been a sharp pain in certain throws and the ball just wasn't coming out [right]."
The Dodgers have relied on Alexander to get left-handed hitters out and he's scuffled in the role. After Peralta's single last week, left-handed batters are hitting .364 with a .976 on-base-plus-slugging percentage in 35 plate appearances against Alexander.
Roberts suggested the struggles are the result of not only the arm trouble but also a hamstring injury he battled at the end of April. He explained Alexander wasn't able to keep his sinker — his most important pitch — down in the strike zone. In 13 appearance before April 24, Alexander gave up one run in 9-1/3 innings. In his 15 outings since then, he was charged with six runs in eight innings.
Sign up for our Dodgers newsletter »
"The ball just hasn't been down," Roberts said, "and obviously the numbers reflect that."
Ferguson returned to the Dodgers after pitching in five games for Oklahoma City since he was optioned last month. He logged six scoreless innings, striking out 11 and walking two.
Bellinger leading tops in All-Star votes
Dodgers right fielder Cody Bellinger was leading the majors in All-Star votes with 1,189,380 as of Tuesday morning, Major League Baseball announced. Joc Pederson was fourth and Alex Verdugo was ninth among National League outfielders. Third baseman Justin Turner and shortstop Corey Seager were third at their respective positions. First baseman Max Muncy was fourth.
The top nine outfielders during "the primary election," which concludes June 21, will move on to the second phase of voting, when three starters will be chosen. For the other positions, the top three in the primary will advance to the second step and one starter will be selected.
Short hops
The Dodgers signed first-round pick Kody Hoese for $2,740,300 — his full slot value as the 25th overall selection — according to a person familiar with the situation. Hoese, a third baseman out of Tulane, was one of the Dodgers' two first-round choices. The Dodgers announced they also signed 17 of their other 40 draft picks, including third-round selection Ryan Pepiot, a right-hander out of Butler. The club's other first-round selection, North Carolina infielder and outfielder Michael Busch, remains unsigned. … The Dodgers started Enrique Hernandez over David Freese at first base for the second consecutive game Tuesday as Freese deals with knee soreness. Hernandez hadn't played first base this season before Monday.
Twitter: @jorgecastillo
---