Ace of rage: Kershaw angry after his early exit contributes to the Dodgers' woes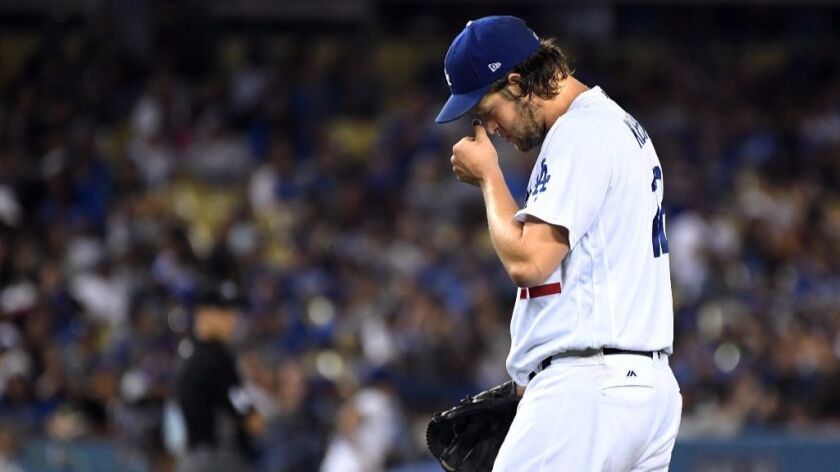 Clayton Kershaw ripped off his glove and flung it against a dugout wall. His hat tumbled from his head. He stomped the floor. It was futile, all futile, the rage of the Dodgers ace at his inability to stop a losing streak manifesting in a few furious gestures.
In that moment, during the fourth inning of a 9-1 loss to Colorado on Thursday at Dodger Stadium, Kershaw resembled the fans who had come to expect so much better from these Dodgers than this 1-12 stretch. Kershaw looked like the die-hards typing screeds on social media or punching the steering wheel on their commute home or, if they're lucky enough to find these games on television, flinging the remote against the wall.
"I picked a really bad time to have a bad night," Kershaw said.
The Dodgers (92-48) had hoped Kershaw might end a six-game losing streak. Instead he extended it to seven. He permitted four runs, including a stunning, three-run home run in the first inning, and his teammates failed to provide him any support. The Dodgers had won 16 games in a row started by Kershaw. Consider that another anecdote in this wretched chapter of the season.
In his second start since returning from the disabled list, Kershaw wore all the rust he had appeared to shake off during his outing last week in San Diego. His pace was ragged. His command was imprecise. He walked three batters in an 86-pitch outing that ended with two outs in the fourth. Brock Stewart gave up two runs in the fifth. Three more runs scored thanks to a seventh-inning combustion by relievers Edward Paredes and Josh Ravin.
The loss slimmed the Dodgers' lead over Arizona in the National League West to 10 games. The projection systems still consider the Dodgers a lock to clinch this month. Those systems also predict the Dodgers to win more than one game this month, and that second win has proved elusive.
"Our guys are upset right now," manager Dave Roberts said. "They're frustrated. Trying to figure out how to win one game, when a few weeks ago it seemed like there was nothing we could do to lose a game."
There are melancholy times. Inside the clubhouse before the game, the playlist burbled with soft rock. The Fray discussed how to save a life. Jason Mraz promised not to give up. Michael Buble insisted the best is yet to come. John Mayer dreamed with a broken heart. All they were missing was Bob Marley swearing that everything was going to be all right.
The losing had not dimmed Roberts' sense of humor. As a group of reporters crowded around Roberts in the dugout before the game, Adrian Gonzalez lobbed a question from the railing.
"Are you the best manager in the world?" Gonzalez said.
"I was about 10 days ago!" Roberts cracked.
The humor did not translate into the game. Colorado hounded Kershaw in the first inning. Rockies outfielder Charlie Blackmon led off with a single. Second baseman D.J. LeMahieu whacked a double into left. Blackmon held at third base, setting the table for third baseman Nolan Arenado.
Kershaw pounds right-handed hitters like Arenado with fastballs on the inner half of the plate. He tried a first-pitch heater, but it drifted down the middle. Arenado hammered a three-run shot into the Dodgers bullpen. The homer elicited a gasp from the fans.
"It happened quickly," Roberts said.
Earlier in the summer, the Dodgers sneered at three-run deficits. The offense wreaked havoc on opposing pitchers. Each night offered a new hero. A sizable disconnect exists between those days and the present. In their previous six losses, the Dodgers had managed only two runs a game. Each night offers a new goat.
And the deficit would not stay at three for long.
Kershaw did not operate with pristine command. He had looked so dominant against the hapless Padres last week, breezing through six innings in 70 pitches. He could not replicate that efficiency on Thursday. His fastballs sailed high. His curveballs landed in the dirt. His sliders could not fool his opponents.
"It's not my job to diagnose it," Kershaw said. "Just to see the results, and not like it."
With two outs in the second, Kershaw walked Blackmon. He gave up a line drive to LeMahieu. The ball veered toward Chris Taylor at shortstop. He dropped it. The error extended the inning. Kershaw walked Arenado before recovering to strike out Mark Reynolds. He needed 55 pitches to collect six outs.
Kershaw's luck did not improve in the third. After a leadoff single by outfielder Gerardo Parra, shortstop Trevor Story swung late at a slider. A popup sailed into right field — into a swath of grass vacated by Yasiel Puig, who had been shifted toward center. Puig slid in vain, the ball hopped by him and Story received credit for a ground-rule double. Parra scored two batters later on a sacrifice fly.
Kershaw could not complete the fourth. He raged after he left the diamond. He sat inside the dugout, helpless to stem the tide of losing.
"It's bad right now," Kershaw said. "There's no getting around that."
Twitter: @McCulloughTimes
---