Miguel Rojas to withdraw from World Baseball Classic
PHOENIX — After being thrust into the Dodgers starting shortstop role in the wake of Gavin Lux's torn ACL, Miguel Rojas will no longer play in the World Baseball Classic, the infielder announced on Thursday morning at Dodgers camp.
Rojas, 34, had been on Team Venezuela's roster for the event, which would have required him to leave Dodgers spring training for at least a week later this month.
Instead, Rojas is planning withdrawing from the event, in what he said was a mutual decision between him and the team.
"It's definitely heart-breaking that I can't go and participate with Venezuela," he said. "The reason why is a new opportunity opened up for me, an opportunity to play every day at shortstop."
Rojas, who was acquired by the Dodgers in a January trade with the Miami Marlins, was originally only slated for a utility role off the bench in 2023, making his absence for the WBC easy to justify.
But after Lux tore his ACL running the bases in a game this week, Rojas suddenly became a much more critical part of the team.
Not only is the nine-year veteran the Dodgers' best infielder defender, he's the only natural shortstop currently likely to make their big-league roster.
Manager Dave Roberts said this week that Rojas will "take on the brunt" at shortstop, with Chris Taylor likely backing up on days he isn't in the outfield.
Behind them, the Dodgers infield depth is thin on proven big-leaguers.
Rojas said it's still possible he could change course and play for Venezuela, but only if an everyday opportunity in their lineup arose before the start of the tournament. Currently, he was only expected to play a bench role on the national team.
Otherwise, the value of staying in Dodgers camp, getting regular at-bats in Cactus League games, and building a rapport with rookie second baseman Miguel Vargas took precedent.
"This is a hard decision," Rojas said. "But at the end of the day, it's what I need to do for my future and for the organization as well."
Freddie Freeman homers in Dodgers tie against Arizona Diamondbacks
Freddie Freeman's preparation for the World Baseball Classic continued on Thursday, when the Dodgers first baseman hit his second home run of spring training in the Dodgers 5-5 tie against the Arizona Diamondbacks.
In addition to his two-run homer in the first, Freeman added an RBI double in the second. The former MVP is now three for nine this spring with five runs batted in.
On the mound, the Dodgers got two scoreless innings from starter Michael Grove, and clean frames out of the bullpen from Evan Phillips and Alex Vesia.
Phil Bickford, who is on the bubble for the opening day bullpen, was less effective, giving up three runs in 2/3 of an inning, though all were unearned after an error by third baseman Yonny Hernández (who atoned for his bad throw with a couple impressive defensive plays later in the game).
Daniel Hudson uncertain for opening day; Walker Buehler begins throwing progression
Dodgers reliever Daniel Hudson is progressing from an ankle tendinitis injury, but might not be ready for opening day, manager Dave Roberts said Thursday.
"Is he going to be an impact reliever for us? Yes," Roberts said. "But is it opening day? I don't know about that yet. I do believe that it'll be early on in the season, but I don't believe opening day is a hard date for us right now."
Hudson started battling his ankle injury near the end of his offseason recovery from a torn ACL, and has been limited so far in his activities this spring.
He has been able to throw full intensity bullpens, but still needs time before resuming fielding and defensive drills.
"The arm doesn't take as much time [to get ready]," Roberts said. "He's been throwing. He's a one inning guy. But the knee, as far as PFPs and the recovery, stuff like that we've got to be very sensitive to."
In other pitching injury news, right-hander Walker Buehler began a throwing progression on Wednesday, playing catch out to 60 feet in his first throwing a baseball since having Tommy John surgery last season.
Roberts said it's still too early to know if Buehler can contribute to the Dodgers in 2023, but called his latest step a positive sign.
"We'll take it week to week, month to month and see where we're at," Roberts said.
Dustin May makes spring debut in Dodgers rain-shortened win over Rangers
SURPRISE, Ariz. — In his first outing of the spring on Wednesday, flashes of the old Dustin May reappeared.
After battling an inconsistent delivery in his return from Tommy John surgery last year, when May had a 4.50 ERA in six big league starts, the hard-throwing right-hander not only lit up the radar gun during the Dodgers rain-shortened 4-2 win over the Texas Rangers, but displayed a more repeatable delivery in the eyes of manager Dave Roberts.
"He was consistent," Roberts said. "That's something where he's really made a concerted effort at being able to repeat that delivery."
May gave up one run in 1 2/3 innings, striking out three while walking two. His fastball was sitting at 97-98 mph, already close to what he averaged last season. And he worked on varying his delivery times out of the stretch to control the run game, a point of emphasis for several Dodgers pitchers this year with the introduction of the pitch clock and a limit on pickoff throws.
"Just [working on] my time to the plate, not be as slow," May said. "I was very sloppy last year. So trying to be somewhere in that middle range. Not too fast, not too slow."
Caleb Ferguson impresses in spring debut, but Jimmy Nelson fails to get an out
In their first game action this spring, Caleb Ferguson and Jimmy Nelson had vastly different outings.
Ferguson impressed during a scoreless inning, stranding a lone baserunner while flashing 96-97 mph with his fastball on the stadium radar gun — a couple ticks above his 94.8 mph average fastball velocity last season when he was returning from Tommy John surgery.
"I think Fergie looks as good as I've seen him," manager Dave Roberts said earlier this week. "I think Caleb's in a great spot physically, mentally. The body just looks more athletic. I think that'll show itself ball out of hand."
Nelson, on the other hand, failed to record an out in his first real game action since blowing out his elbow in July 2021.
Resigned by the club this spring on a one-year, $1.2 million deal, Nelson gave up a leadoff single before walking two batters and being replaced by Roberts with no outs in the fifth inning. More concerning was his fastball velocity, which topped out at just 90 mph.
Nelson's outing might have been impacted by rain conditions and a muddy mound. After the second batter of the inning, he took a few moments to clean off the bottom of his cleats.
Following his removal from the game, Nelson went to the bullpen for a few extra throws.
Mookie Betts, Jason Heyward hit home runs off former Dodgers pitcher Andrew Heaney
In their first meeting with left-hander Andrew Heaney since he signed with the Texas Rangers this offseason, two Dodgers hitters took the ex-Dodger pitcher deep.
Mookie Betts led off Wednesday's game with a deep home run to left field, the ball carrying all the way to the top of the grass pavilion for his first home run of the spring.
An inning later, Jason Heyward also hit a big fly against Heaney — who had a 3.10 ERA with the Dodgers last year, but also gave up 14 home runs in 72 2/3 innings.
For Heyward, it was the latest positive sign he's making progress with his new swing. His performance this spring has become a more important story line for the Dodgers, who might need him to take on a bigger role in center field if Chris Taylor is needed on occasion at shortstop.
Chris Taylor to play shortstop 20-25% of time, per Dave Roberts
PHOENIX — Wednesday will mark the first time Chris Taylor will play shortstop for the Dodgers this spring, but it won't be the last.
A day after the Dodgers announced Gavin Lux will miss the season with a torn ACL, Taylor was moved to shortstop for the Dodgers spring training visit to the Texas Rangers.
It's far from a foreign position for Taylor, who played there regularly until last year, when an elbow injury limited him to outfield duties.
But it's a spot the Dodgers want — and now need — the 32-year-old to get reacquainted with in the wake of Lux's injury.
Manager Dave Roberts said shortstop duties will be split between Taylor and Miguel Rojas to begin the season. Rojas will be the primary option, but the Dodgers are planning to rotate Taylor in from the outfield to play shortstop about 20-25% of the time, per Roberts.
"Everything is kind of trending in the right direction as far as arm strength, the health is there," Roberts said of Taylor, who spent just one inning at shortstop last season though did make 18 starts at second base.
"So now it's just to bet on the player, the person," Roberts added. "We feel good about CT obviously."
Taylor said Tuesday he had already began an infield throwing program prior to Lux's injury, and expects he'll be able to get comfortable at shortstop again quickly.
"I've been throwing from the infield and the outfield," he said. "I was trying to anticipate something happening. So I was prepared."
On days Taylor isn't at shortstop, he'll be playing either left or center field.
"As far as playing time," Roberts said, "I see CT playing quite a bit."
Here is the rest of the Dodgers lineup for Wednesday's game at Surprise Stadium:
Dodgers get sharp outings from Noah Syndergaard, Julio Urías in 7-1 loss to Reds
Noah Syndergaard didn't light up the radar gun in his first Dodgers spring training game on Tuesday, topping out at 93 mph with his fastball during the team's 7-1 loss to the Cincinnati Reds.
However, the right-hander still completed two scoreless innings, giving up just one hit while striking out two and showing good feel for his slider and changeup.
"I thought he was good," manager Dave Roberts said. "I thought he threw some good breaking balls. I thought the fastball had some life in the zone. It seemed like he was comfortable with his delivery. So positive there."
Syndergaard acknowledged he was expecting more velocity behind his fastball, which averaged more than 94 mph last year but used to be in the upper 90s before he had Tommy John surgery in 2020.
"But it's just motivation to keep on working," he said. "Not too worried about it. I know it's still in there."
Who could replace Gavin Lux? Four ways the Dodgers can fill the hole in their lineup
It might not have been a house of cards. But after an offseason talent exodus and significant turnover in the clubhouse, the Dodgers' roster seemed to be built almost like a Jenga tower.
Strong and steady as constructed, but dangerously vulnerable with even a few missing pieces.
The first piece was pulled out Tuesday when manager Dave Roberts announced shortstop Gavin Lux would miss the season because of a torn anterior cruciate ligament in his right knee.
It was a blow for Lux, the 25-year-old former top prospect who solidified himself as a big leaguer last year and was looking forward to his first opportunity as the everyday shortstop.
"That's one of the hardest parts," he said Tuesday, leaning on crutches and fighting back tears. "Every baseball player's dream is to play shortstop for the Los Angeles Dodgers."
Gavin Lux tears right ACL and is expected to miss 2023 season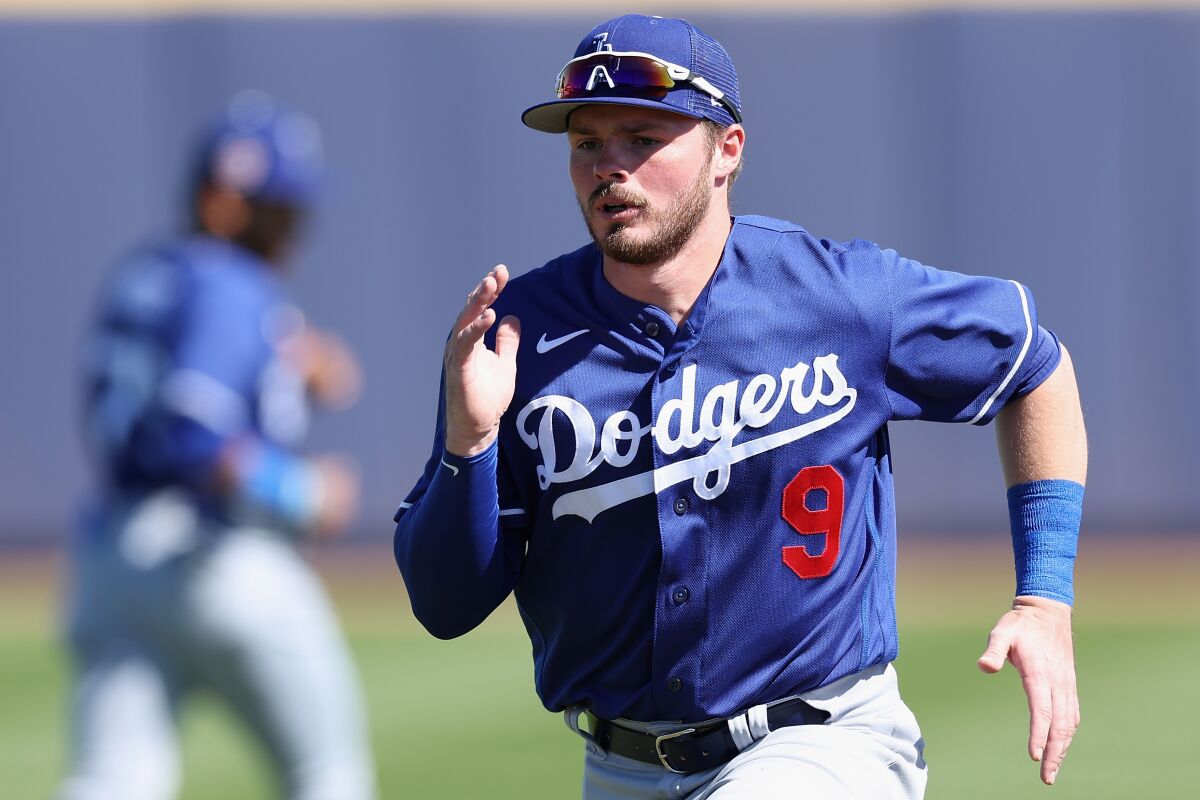 The Dodgers are in need of a new shortstop. Again.
Gavin Lux suffered a torn anterior cruciate ligament in his right knee and it is expected to keep him out for the season, manager Dave Roberts announced Tuesday morning.
Lux is scheduled to have surgery next Tuesday. It will be performed by the team's head physician, Dr.<TH>Neal ElAttrache. Roberts said Lux's recovery will take eight months and called it "a huge blow."
"It's heartbreaking, you know," Lux said, fighting back tears while leaning on crutches at the team's Camelback Ranch spring-training facility. "The hardest part is just not being able to be on the field."
The news came a day after Lux's knee buckled while he was running the bases against the San Diego Padres.
"I felt it kind of pop right away, and the outside of my leg kind of went numb," Lux said. "I figured something wasn't right. I've strained stuff before, pulled stuff. That definitely felt different. So I kind of knew right away."