'It's a huge blow.' Gavin Lux tears right ACL and is expected to miss 2023 season
PHOENIX —
The Dodgers are in need of a new shortstop. Again.
Gavin Lux suffered a torn anterior cruciate ligament in his right knee and it is expected to keep him out for the season, manager Dave Roberts announced Tuesday morning.
Lux is scheduled to have surgery next Tuesday. It will be performed by the team's head physician, Dr. Neal ElAttrache. Roberts said Lux's recovery will take eight months and called it "a huge blow."
"It's heartbreaking, you know," Lux said, fighting back tears while leaning on crutches at the team's Camelback Ranch spring-training facility. "The hardest part is just not being able to be on the field."
The news came a day after Lux's knee buckled while he was running the bases against the San Diego Padres.
"I felt it kind of pop right away, and the outside of my leg kind of went numb," Lux said. "I figured something wasn't right. I've strained stuff before, pulled stuff. That definitely felt different. So I kind of knew right away."
Lux confirmed he had been trying to duck a throw from a Padres infielder when his cleat got caught in the dirt and it sent him tumbling to the ground.
He joked that, "In hindsight, I probably should have taken the throw to the nose and worn it."
Moments later, though, the 25-year-old, who was a first-round pick in 2016, got choked up again.
"Every baseball player's dream is to play shortstop for the Los Angeles Dodgers," Lux said. "So yeah, that's one of the hardest parts."
The moment Lux clutched at his right leg Monday, it was clear the Dodgers' infield plans were about to be altered.
Dodgers shortstop Gavin Lux hurt his right knee running in a spring training game Monday. The team does not know the extent of the injury yet.
After losing last year's shortstop, Trea Turner, in free agency and not signing any big names on the market this winter, the Dodgers were planning to have Lux man the position, hopeful the former top prospect could fulfill his potential at his natural defensive position.
Instead, an MRI exam Monday night confirmed everyone's worst fears.
"He's been working his ass off every day to be ready for the season, to be the everyday shortstop for this team," infielder Miguel Rojas said. "I just feel bad for him."
Rojas likely will "take on the brunt" of playing time at shortstop, Roberts said, sliding into a role the team hadn't envisioned for the 34-year-old when it acquired him from the Miami Marlins last month.
Rojas is an experienced shortstop with strong defense. His bat, however, has been in decline over the last couple of seasons, including a .236 average last year while he was hampered by right hand and wrist problems. He had two surgeries in the offseason.
"It's unfortunate what happened to Luxy," said Rojas, who texted encouragement to Lux as soon as he saw video of his injury Monday. "But if that means me playing shortstop, that's what I need to do. I prepared for this opportunity. I need to be ready for it."
Roberts voiced confidence in Rojas, emphasizing his ability in the field and noting that "it's not gonna be his job to carry us offensively."
First baseman Freddie Freeman, who seemed shaken while discussing Lux's injury, also maintained optimism.
"We're going to miss Gavin. It's a left-handed bat that I thought was going to be hitting close to .300 all year for us, and I truly believe in the potential that he has," Freeman said. "But we've got veteran guys that can take the reins. ... We've got Miguel Rojas, who's been doing this for a long time. We'll be just fine."
Still, even if Rojas proves capable as Lux's replacement, the ensuing roster shuffle could have other effects.
Without another established backup infielder, the Dodgers likely will have Chris Taylor and Mookie Betts play more shortstop and second base, respectively. As a result, fellow outfielders David Peralta, Trayce Thompson and Jason Heyward could be forced into more regular playing time than anticipated.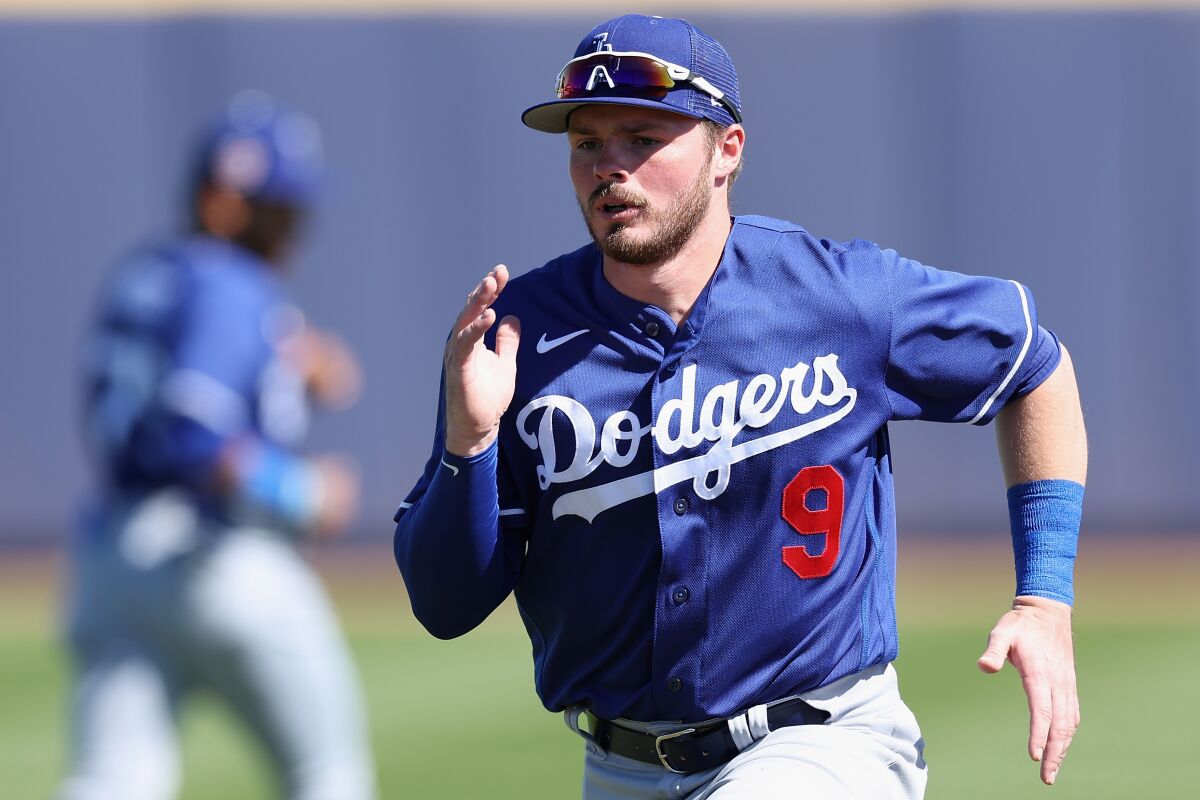 The Dodgers also could explore external options before the start of the season — either in free agency, where Jurickson Profar and José Iglesias are two of the most established unsigned infield options available, or on the trade market, where the club could target a shortstop such as Milwaukee's Willy Adames but likely would have to pay an inflated price.
Roberts said the Dodgers are "always trying to get better, whether it's internally or externally" when asked about the possibility making an addition. But he didn't believe it was a necessity.
"It cuts into [our depth]," he said. "But to have a guy play a premium position and that we trust as a defender first and foremost in Miguel Rojas, that's huge."
Cody Bellinger's career with the Dodgers ended after three straight poor seasons. He signed with the Cubs in December.
Still, there was a reason Lux was expected to be a key cog. Playing second base last year, he impressed with a .276 batting average and power numbers that improved as the season went on.
The Dodgers were hoping his development would continue, potentially helping to soften the blow of losing Turner, a critical piece of last year's 111-win team.
Instead, before the calendar even turned to March, the Dodgers were forced to go back to the drawing board to come up with a new way to bolster their suddenly thinning depth.
That had been tricky enough when all their players were healthy. And now they will have to proceed with few obvious or appealing alternatives to pursue.
Get our Dodgers Dugout newsletter for insights, news and much more.
You may occasionally receive promotional content from the Los Angeles Times.