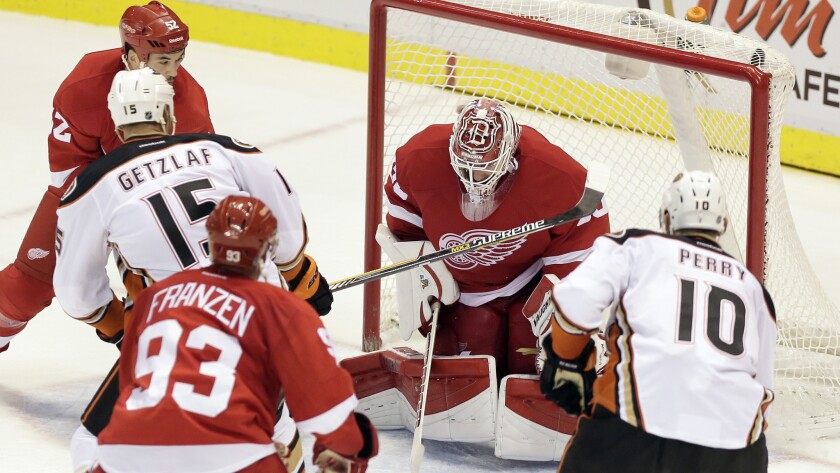 Reporting from Detroit —
A one-goal, third-period deficit in proud, raucous Joe Louis Arena wasn't the place the Ducks wanted to be, not with a career record of five wins in 38 previous regular-season games inside the building.
"The history," said center Ryan Getzlaf, "is the history."
A determined Getzlaf rewrote the ending the Detroit Red Wings and their fans were expecting Saturday night, scoring with 24 seconds remaining in regulation for a 3-2 victory.
He battled for a loose puck, outworked defenseman Niklas Kronwall for it along the boards and then flipped it backhanded to the roof of the net.
Detroit Coach Mike Babcock heatedly wanted a hooking call on Getzlaf, and Detroit captain Henrik Zetterberg said, "They got away with one."
Getzlaf explained, "I chipped it by [Detroit's Johan] Franzen, he tried to hit me, then I went into the zone and I think [Kronwall] kind of toe-picked. One of those plays … the puck turned up and I was able to take it to the net. Nice to get a bounce like that."
The Ducks (1-1) claimed their third straight regular-season victory in Detroit by playing a far more defensively aware game than they did in giving up 39 shots on goal in Thursday's season-opening 6-4 loss at Pittsburgh.
They limited Detroit (1-1) to five first-period shots, and second-year goalie Frederik Andersen had 27 saves in the hostile building.
"They started coming harder at me [after the first], but I felt great out there," Andersen said.
Getzlaf opened scoring early in the second period when forward Patrick Maroon swiped the puck from goalie Jimmy Howard and shuttled a pass to the front of the net.
The Red Wings' charge was triggered by killing a penalty later in the period.
Justin Abdelkader had a breakaway. On a power play, Zetterberg fired a shot obstructed by Darren Helm that Andersen stopped with his left leg pad. And Andrej Nestrasil was denied on a point-blank try.
After all those theatrics, Detroit's Luke Glendening tried something new, shooting backhanded and making it 1-1 with 4:27 left in the second.
Detroit center Gustav Nyquist gave the Red Wings a 2-1 lead early in the third by balking on an open shot, causing Andersen to commit to his right and get beat high to his left.
Andersen not wilting there was a slap to the face of the way it used to be. He had 10 third-period saves.
And the Ducks answered Nyquist's goal 1 minute 21 seconds later when center Ryan Kesler slammed Detroit defenseman Brendan Smith into the boards behind the Red Wings' net, took away the puck and fed it to Matt Beleskey for a tying goal 3:18 into the third.
Just before Getzlaf scored, Andersen stopped Zetterberg, then watched Franzen miss wide right on a shot, eliciting an arena-rocking groan from the crowd.
"I don't know if there were some nerves in Pittsburgh, but tonight we played how the Ducks play — grinded down low, got pucks to the net," Beleskey said. "We worked hard on those forechecks in practice.
"Always nice to win here in Detroit, coming back is our M.O."
---