Bettman says door closed on NHL participation in 2018 Winter Olympics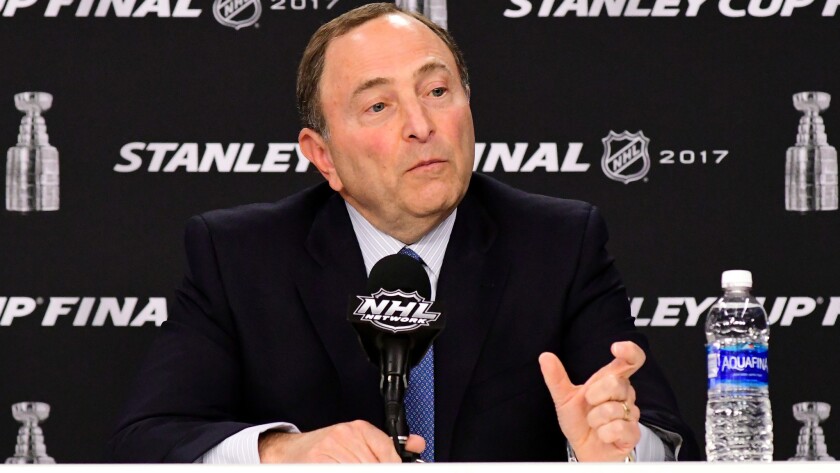 Reporting from Pittsburgh —
Using his most emphatic language to date, NHL Commissioner Gary Bettman said Monday that the league will not take a break next season to allow players to participate in the 2018 Winter Olympics in Pyeongchang, South Korea.
In addition, he said the 2018 NHL All-Star Game has been awarded to Tampa, which reinforces his resolve because the league has not held its All-Star festivities during recent Olympic seasons.
NHL players have represented their homelands in each Winter Olympics starting with 1998. Bettman has often indicated that owners' appetite for interrupting the season had waned and that the league didn't gain sufficient benefits from temporarily shutting its doors. However, executives of the International Ice Hockey Federation have said they'd be willing to pay insurance and transportation costs and they believed the matter was still negotiable.
"Six weeks ago we were very clear and definitive that the teams had no interest in going to the Olympics in Pyeongchang," Bettman said during his annual pre-Stanley Cup Final news conference. "And I know there have been a variety of comments either from Rene Fasel of the International Ice Hockey Federation or from representatives of the Players' Assn. suggesting that this was still an open issue. It is not, and it has not been. ...We're not anti-Olympics. We're anti-disruption to the season."
He also said the NHL will focus on growing its business in China and will send the Kings and Vancouver Canucks to play exhibition games in Shanghai and Beijing in September. However, the NHL hasn't committed to allowing players to compete in the 2022 Winter Games in Beijing.
Also, deputy commissioner Bill Daly said the salary cap, which was $73 million this season, will be "flat or slightly up" next season depending on whether the NHL Players' Assn. exercises its right to apply a 5% inflator.
Asked about rumors the Kings were interested in bringing back defenseman Slava Voynov, who spent two months in jail in 2015 after entering a no-contest plea to a misdemeanor domestic violence charge and was suspended by the NHL, Daly said the league would have to approve any such effort. Voynov returned to Russia to play in the KHL but the Kings retain his rights. The NHL wouldn't approve his inclusion on Russia's roster in last year's World Cup of Hockey.
"If that was ever something that was proposed we're on record as saying it would require a proceeding before the commissioner as to the status of the suspension and what more would need to be done before he would be eligible to play," Daly said. "I've heard from time to time that he might have an interest in coming back to the National Hockey League but that hasn't advanced in any material way to this point. Let's wait and see if it happens, and Gary will deal with it if he has to deal with it."
---
Get the latest on L.A.'s teams in the daily Sports Report newsletter.
You may occasionally receive promotional content from the Los Angeles Times.