Two-quarterback system works for Corona Centennial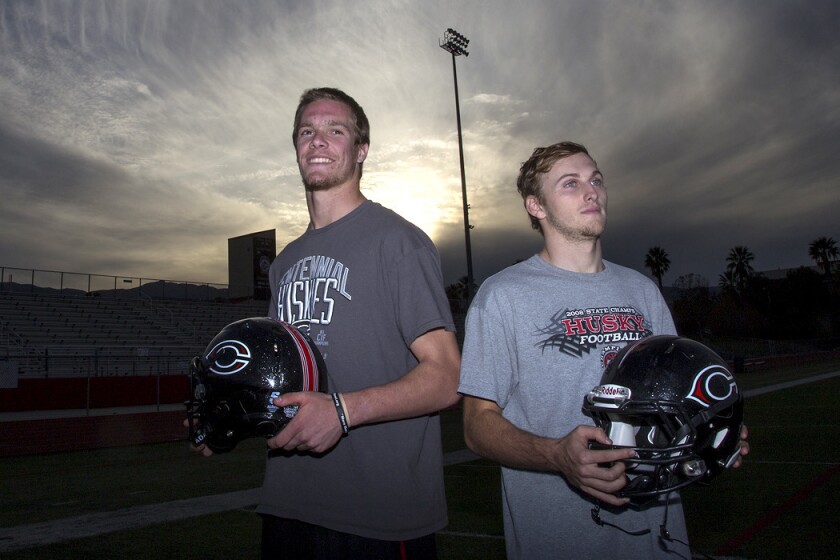 Going against the conventional wisdom that rotating quarterbacks after every series is not the best way to win football games, Corona Centennial has proved that the unconventional strategy can work.
"Everybody told me, 'If you have two, you don't have one.' I'm never someone who follows people," Coach Matt Logan said.
His two-quarterback system featuring junior Anthony Catalano and senior Nate Ketteringham resulted in a Pac-5 Division championship for the Huskies.
"It's not conventional," Logan said, "but I told them, 'You're both good and we can win if you have success, and this is the way it's going to be.' "
Centennial (12-2) has one more game left, an 8 p.m. Saturday matchup against Concord De La Salle (13-0) in the CIF state championship Open Division bowl game at StubHub Center. Catalano will start and handle the first series, then Ketteringham will come in on the next series, alternating throughout the game no matter who's doing well.
To sell the idea of equal quarterbacks, Logan had to have a long talk with both and convince them to sacrifice individual glory for the good of the team. In fact, both have almost identical statistics. Ketteringham has completed 63.7% of his passes for 1,890 yards and 16 touchdowns. Catalano has completed 63.5% of his passes for 1,832 yards and 16 touchdowns. They are both efficient runners as well, averaging more than five yards a carry.
"We both wanted the job for ourselves, but we weren't able to separate enough in practice and scrimmages," Catalano said. "Coach Logan came up with the two-man system. Both of us wanted to be the starter, but at the end of the day, we had to do it for the team in order to win. We had to not worry about our stats. It did take a while to get comfortable."
Added Ketteringham: "You don't want to hear you're going to be rotating with somebody, but we each bring something different to the table. We had to get over it."
Logan admits there were times early on he wanted to go with the hot quarterback. In the opening game, a 38-18 loss to Santa Ana Mater Dei, Catalano played the entire second half. But since then, Logan has stuck with alternating quarterbacks every series.
"We practice that way, so it naturally lends itself," Logan said. "There's not a coach out there saying, 'I'm going to rotate quarterbacks.' They both were good and both deserved to play."
The quarterbacks had to put aside personal goals and aspirations. Catalano had been the varsity backup for two years and was planning to be the starter when Ketteringham showed up during the summer from San Diego Westview. Ketteringham wanted to impress college scouts to earn a scholarship.
"It's taught me not to be selfish," Ketteringham said. "You have to give up some of your own stuff to benefit the team. It's been a big learning year."
Said Catalano: "I definitely learned that nothing is given to you for sure and that the team comes first and if you want to win, trust your coaches. At first, I didn't know if this is going to work out. Coach Logan had my back. He said, 'I believe in you and you have to believe in you and your teammates.' "
And so the question, "Can you win alternating quarterbacks after every series?" has been answered.
"It's working," Ketteringham said. "We're going to the state championship game."
Twitter: LATSondheimer
---
Get the latest on L.A.'s teams in the daily Sports Report newsletter.
You may occasionally receive promotional content from the Los Angeles Times.