Drew Doughty's frustration grows as Kings' penalty-killing unit continues to struggle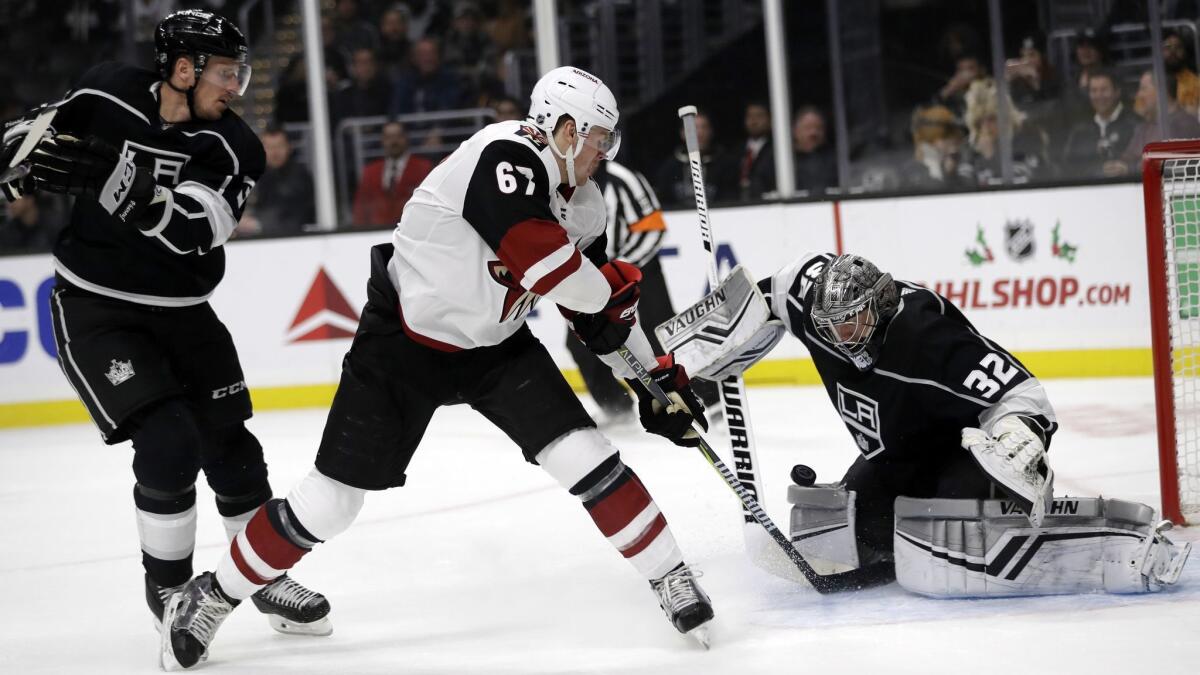 Drew Doughty cut through the statistics and got to the heart of why the Kings' penalty killing has dropped off so profoundly.
Having been on the ice for some of the 22 power-play goals allowed by the Kings, Doughty knows it's taken a toll on their collective psyche.
"I think we're sometimes going out there hoping that they're not going to score a goal, rather than going out there and believing that everything's going to go the right way and they're not going to score a goal," Doughty said. "When you have that little slight bit of doubt, things go in the wrong direction, but it's hard to think positively when we are getting scored on so much."
Doughty acknowledges it dents their pride to see their typically-strong unit go from a No. 1 ranking last season to No. 28. It's one of their confounding areas considering that it's mostly the same unit. They are without integral penalty killers Trevor Lewis and Carl Hagelin, but that doesn't fully explain a fall from an 85% success rate to 73.8%.
Doughty said it's not being aggressive enough. But assistant coach Dave Lowry, who oversees the penalty kill, said it's also about using that aggression right in knowing when to go for the puck and preventing the puck from going into their zone.
"We call it intelligent pressure, and there are breakdowns," Lowry said. "The unfortunate thing this year is when we have had breakdowns, it's ended up in our net. You try and go back and you look at what made you successful. You see a lot of the similar traits. We're getting clears, and now we aren't getting clears. You're not going to make excuses. We have to be better. We know that."
Lowry has used video from last season as a reference point and it still comes down to active sticks and shutting down shooting lanes.
"You have stay firm in your beliefs because if you start changing everything, then that shows panic," Lowry said. "We'll make subtle changes. You look at the top teams and what they're doing — there's a lot of similarities in what we're doing. We call it a copycat league. You're trying to steal ideas, and you're trying to steal things that will work. Obviously we know that we take a lot of pride in it, and we'll continue to get better."
The goals against aren't necessarily born out of volume. The Kings rank around middle-of-the pack in most times short-handed (19th) and shots allowed short-handed (21st), according to naturalstattrick.com. And it's not because of goaltending, the one strength of the team.
"It's interesting because a lot of things haven't changed from last year, yet the PK's not going as well," interim coach Willie Desjardins said.
The Kings' penalty kill never fell below 11th during their playoff runs from 2012 to 2014. Doughty doesn't need to be reminded.
"It's frustrating, because we know how good we are at it, but we still have a lot of season left and we can still work our way out of this PK hole and the hole we're in in the season," he said. "We've just got to get to work. It's all about working and believing."
Etc.
Derek Forbort left practice early and Desjardins said he would get evaluated but "I think he should be able to go" on Thursday. Forbort briefly left the game Tuesday … Desjardins said he was waiting on immigration clearance for Nikita Scherbak.
UP NEXT
VS. NEW JERSEY
When: Thursday, 7:30 p.m.
On the air: TV: FS West; Radio: iHeartRadio (LA Kings Audio Network)
Update: Devils goalie Keith Kinkaid has stopped 101 of 102 shots in four appearances against the Kings, including two shutouts, but reportedly sat out part of practice Wednesday in pain.
Twitter: @curtiszupke
Get the latest on L.A.'s teams in the daily Sports Report newsletter.
You may occasionally receive promotional content from the Los Angeles Times.