Darryl Sutter and Kings agree to terms on new contract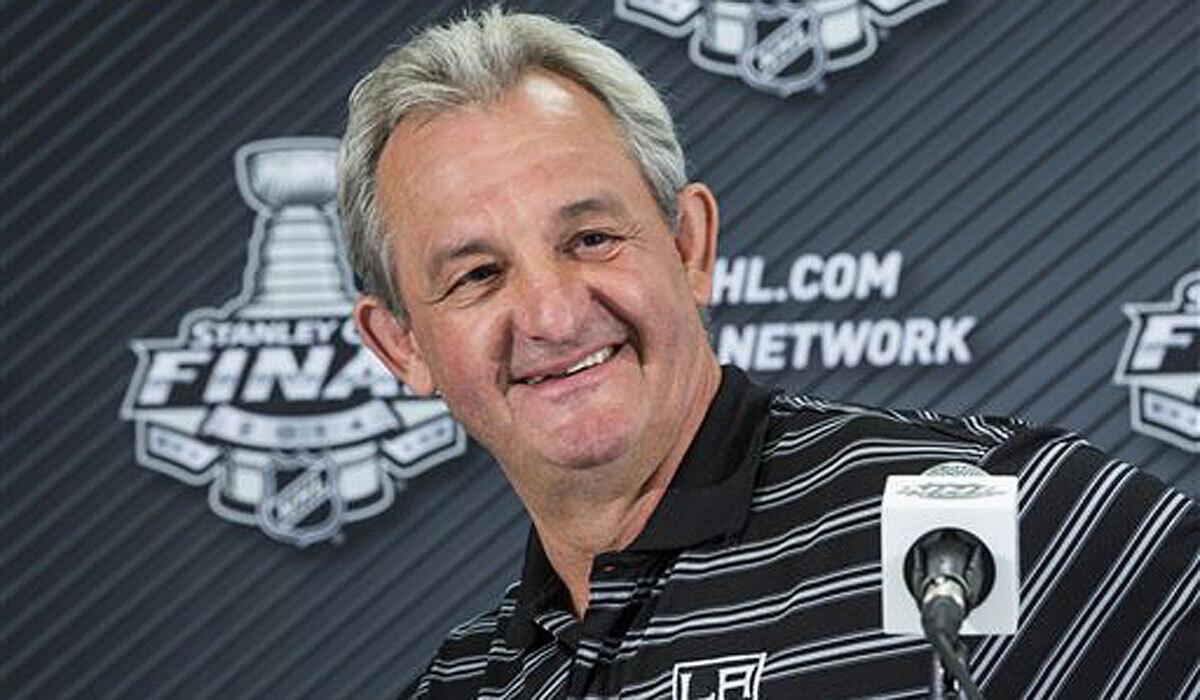 Weeks of rumors, gossip and speculation about his future will officially end Friday when the Kings announce a contract extension for Coach Darryl Sutter.
Sutter and the Kings agreed to terms on a new deal Thursday, according to individuals familiar with the situation. Specific financial details were not immediately available but the contract is said to be in excess of what Todd McLellan received from the Edmonton Oilers and less than what Mike Babcock got from the Toronto Maple Leafs.
McLellan is reported to be making $3 million per season. Babcock, the NHL's highest-paid coach, last year signed an eight-year deal worth $50 million.
Those deals essentially triggered a new era in terms of NHL coaching salaries. In some ways, the McLellan's five-year deal carried more influence because his best playoff coaching performances came when he twice reached the Western Conference finals with the San Jose Sharks. Sutter has twice won the Stanley Cup with the Kings, in 2012 and 2014, and reached the Stanley Cup Final when he coached the Calgary Flames in 2004.
Sutter's extension is understood to be for two years plus an option. Kings General Manager Dean Lombardi said last week that the contract offer was "very fair." Negotiations had started during regular season and the length of the talks is in keeping with Sutter's previous approach to contracts. He likes to evaluate the organizational framework and then moves forward, which was also the pattern when Lombardi and Sutter worked together in San Jose.
Sutter's playoff record with the Kings is 42-27. They reached the Western Conference finals in 2013, in between the two Stanley Cup championships. When Lombardi hired him in December 2011, Sutter was out of hockey, at home in Canada and working on the family ranch in Viking, Alberta.
The Kings were eliminated from the playoffs nearly three weeks ago, and Sutter gave an extended interview and addressed some of the speculation Thursday morning. He did not sound like a man who was contemplating other NHL options or even planning to raise cattle full time.
"I have no desire to go anywhere else or do any of that," Sutter said in a telephone interview with The Times. "We'll get it worked out. That's my plan."
Apparently, it didn't take much longer.
After winning the Stanley Cup in 2014, the Kings missed the playoffs last year and last month lost a first-round series against the Sharks. Those results, plus the continued success of their American Hockey League team in Ontario (Calif.), suggest that changes are looming.
"We have a lot of players that are free agents and a lot of young players that are close to playing here," Sutter said. "As coaches, you're trying to get through where you could be next year with your roster. That was more important to me the last two or three weeks than any of my stuff."
The fit has worked for him on a personal and professional level.
In recent years, his wife Wanda and his youngest son Christopher have been able to spend more time with him in Los Angeles since Christopher finished school. His oldest son, Brett, plays for the Kings' minor league team, the Ontario Reign.
"Two things for me are important," Sutter said. "Family obviously. Wanda and Chris really like it here. The next part is: Our team is going to change. We have to be able to adjust. You want to be able to do it sooner than later. So you want to know what you're going to have and how you're going to play. That's the challenge and that's the good thing."
He has kept a close eye on the playoff run by the Reign, who are in the midst of a second-round series against the San Diego Gulls after winning the AHL title last season as the Manchester (N.H.) Monarchs.
"We want to get a good read on some of those kids over there," Sutter said. "That's been fun, seeing a lot of those boys from last year's playoffs to this year's playoffs, seeing how they've come along. When we talk about our team next year, we have five or six guys that show they can contribute to our team. It's been a really good experience for them to go through a long playoff run again.
"They basically gained a year's experience. They're doing it again. That's going to help them become NHL players … hopefully sooner than later."
Follow Lisa Dillman on Twitter: @reallisa
Get the latest on L.A.'s teams in the daily Sports Report newsletter.
You may occasionally receive promotional content from the Los Angeles Times.