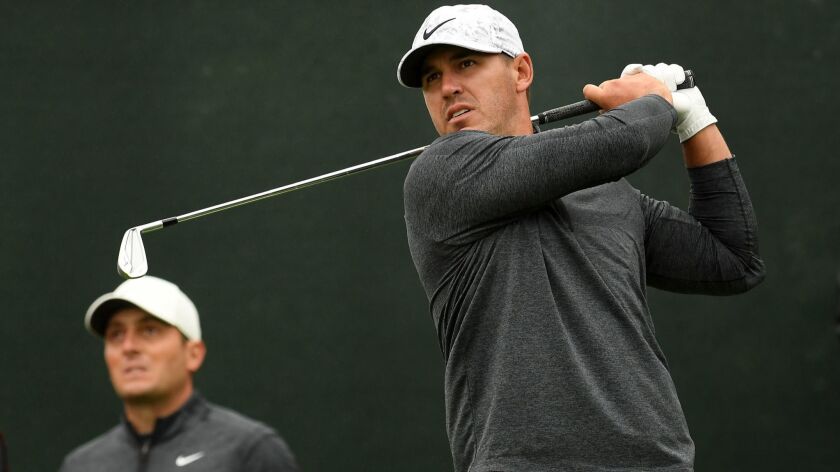 Reporting from pebble beach —
He's in a cluster of players a few shots off the lead in the U.S. Open, but Brooks Koepka is lurking.
It's just where he likes to be, waiting to make another weekend climb up the leaderboard for his third consecutive U.S. Open victory. The only player to win the tournament three times in a row was Scotland's Willie Anderson, and that was more than a century ago.
Koepka shot a 69 on Friday, matching his opening round, and is at four-under par, five shots behind leader Gary Woodland.
"I feel great," said Koepka, whose three birdies offset his bogey. "I'm excited. I've got a chance. That's all you can ask for. I just need to make a few putts. Sometimes the hole just needs to open up.
"If I can get off to a good start tomorrow, have that feeling where the hole's opening up, it could be a fun round. And I'll be honest with you, I struck it so poorly Monday and Wednesday. I wasn't playing good. And then it's been nice to kind of find some confidence, especially on the golf course."
Koepka has won four of his last eight major championships, and has said he's capable of getting to 10 such victories.
"[Koepka] looked rusty in Canada, and come here, it's a great first couple of days," said Justin Rose, second at seven under, referring to last week's Canadian Open. "He's probably feeling like he can build into the week and put a good weekend together. And no doubt, him on the leaderboard, with his recent form in majors, absolutely. He's a threat. He is the guy probably that his name is standing out more than anybody else's, for sure."
Before last month's PGA Championship at Bethpage Black, which he won, Koepka said he doesn't head into majors laser focused on winning. Instead, he aims to play well enough to hang around on Sunday, figuring good things will happen if he stays in contention.
He's certainly not an afterthought to his fellow competitors. They know how dangerous he is. But he hangs on to enough perceived slights to use them like rocket fuel.
For instance, he didn't show up in a Fox promo for the U.S. Open, a serious oversight considering he and Curtis Strange are the only two modern-era golfers to have won two in a row.
There was some buzz this week when Koepka unveiled his floral Nike cap, specially designed for the U.S. Open. To some people, evidently, he's best suited for camouflage.
While working out at a gym in Canada last week, Koepka went unnoticed by a loudmouthed lifter who was going on and on about spotting golfer Dustin Johnson in the place.
"I think [Johnson is] pretty recognizable; he's 6-3, he's going to stand out when he walks into any gym," Koepka conceded.
But Koepka and his trainer had a chuckle about the star-struck gym patron "talking about how he was working out next to Dustin and how cool it was."
Sign up for our daily sports newsletter »
Did the guy recognize the burly golfer in his midst, the world's No. 1-ranked player?
"I don't think so," Koepka said. "I mean, I don't know. I don't know if he was just trying to get my attention or what. But he talked about Dustin for about 10 minutes to anybody within earshot."
If Koepka still has a shred of anonymity with some, it won't last long. His muted personality might not sell but his play certainly does.
So far, his biggest issue with Pebble Beach isn't the course, but the practice area. He has been hitting his irons a touch thin lately, and practice on the driving range hasn't helped. He said he has been hitting into a wind on the range that's in his face and pushing shots left.
"It's in a direction I hate," he said. "The turf on the range is a little firmer, a little tighter than it is on the golf course. And it's been easier to find my game actually on the golf course. I feel like I can really be down on the ball, come in a little bit steeper than it is the range.
"The range is — I don't know what it is. So I'm not going to hit balls today."
It doesn't seem to be throwing off his game much. And, if history is a guide, that wind soon will be at Koepka's back.
Follow Sam Farmer on Twitter @LATimesfarmer
---