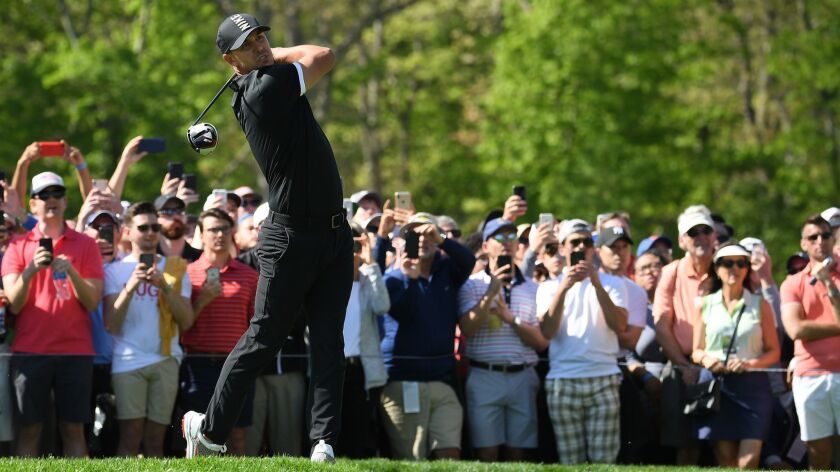 Reporting from farmingdale, n.y. —
Brooks Koepka was a young man with a plan.
He made the high school golf team when he was in sixth grade, and mapped out his future from that point — or at least thought he did. Riding home from a tournament with his dad at the wheel, the kid broke the news.
"We were driving back and he made the comment, 'I'm probably going to drop out of school in about four years and turn pro,'" Bob Koepka recalled last year.
"I immediately pulled the car off to the side of the road and said, 'Let me tell you something, son. You're going to finish high school. You're going to go to college. And after that, if you're good enough, then you can turn pro.'"
Fast-forward about 17 years, and Koepka is taking the rest of the golf world to school.
Just as he has won the past two U.S. Opens, Koepka moved a day closer Saturday to his second consecutive PGA Championship, shooting an even-par 70 to maintain his seven-shot lead at 12 under. His is the largest 54-hole lead in the history of the tournament.
Koepka didn't hesitate when asked if he has any doubt he'll walk away Sunday with another major win.
"No," he said.
"I feel confident going into tomorrow. I don't know what the forecast is. But if I can hit a few fairways, there's really a couple key holes out here, you know, you play 7 well, play 10 and 12 well, and then from there, you just hit the center of the greens and try to par this place to death."
The muscular Koepka, 29, is as much a pure athlete as he is a golfer. Especially on a long, brutal course like Bethpage Black, his power off the tee is an overwhelming advantage. As Tiger Woods said of him Friday after failing to make the cut: "He's driving it 330 yards in the middle of the fairway. He's got nine-irons when most of us are hitting five-irons, four-irons."
What's more, the postcard weather Saturday reduced the likelihood of any dramatic scoring swings that would reshuffle the leaderboard. Koepka is locked in with Terminator-like focus.
There's no question Koepka is the golfer of the moment. He finished one stroke behind Woods at the Masters. But that's not to suggest the trend will hold up for the foreseeable future. Lots of golfers have looked invincible in recent years, only to drop back into the pack, among them Rory McIlroy, Jason Day, and Jordan Spieth. Each has been No. 1 in the world at some point.
(All that further underscores how impressive it was that Woods could stay on top of the world for as long as he did, winning 15 major championships, 81 PGA Tour events, and earning PGA Tour player of the year a record 11 times.)
One of the compelling aspects of Koepka's rise is, after he was a three-time All-America at Florida State, he started his career on the Challenge Tour in Europe. In 2012 and '13 he won such events as the Challenge de Catalunya, Montecchia Golf Open, and Scottish Hydro Challenge.
Earlier this year, before the Abu Dhabi HSBC Championship, he reminisced about those simpler days of group bonding, when everybody was trying to scratch out a living as pro golfers.
"It seems there's 30 or 40 guys on a flight, basically the whole flight is everybody, you know, players, caddies, things like that," he recalled."Everyone kind of hangs out in two or three hotels and everybody seems to — you go to dinner, you have a hard time over here running into one player because there's 30 or 40 of them or caddies or coaches, whatever it might be, all at the same restaurant and I think that's kind of fun. Everyone's always laughing, joking."
Sign up for our daily sports newsletter »
Sounds strange, Koepka laughing and joking. He's mostly guarded and serious, intensely focused, when playing in tournaments these days.
Koepka missed the Masters last year with a wrist injury, and later noted how Phil Mickelson reached out to him with an encouraging text. Mickelson was asked Saturday about sending that.
"I just have a lot of respect for him and his game and how hard he works, and the process he went through after he left amateur golf as a pro to make it out here," Mickelson said. "And just I've always had a lot of respect for him. And he's playing some remarkable golf. It's not easy. It's really not an easy test."
Likewise, Woods is impressed with the way Koepka earned his stripes overseas, an unconventional path compared to other players on the tour.
"To get to where he's at, to go to the Challenge Tour, the European Tour, he paid his dues," Woods said. "He found a game and a dedication that he needed to play well and he's doing that.
"And everyone's different. Everyone peaks differently and does things differently, and he's found what he needs to do for himself, and at, what is he, 29? He's got many more years ahead of him where he can do this."
Considering the way he's lapping the field at Bethpage, that's a frightening thought.
Follow Sam Farmer on Twitter @LATimesfarmer
---