Store wouldn't sell Nike gear after Colin Kaepernick ad. Now it's going out of business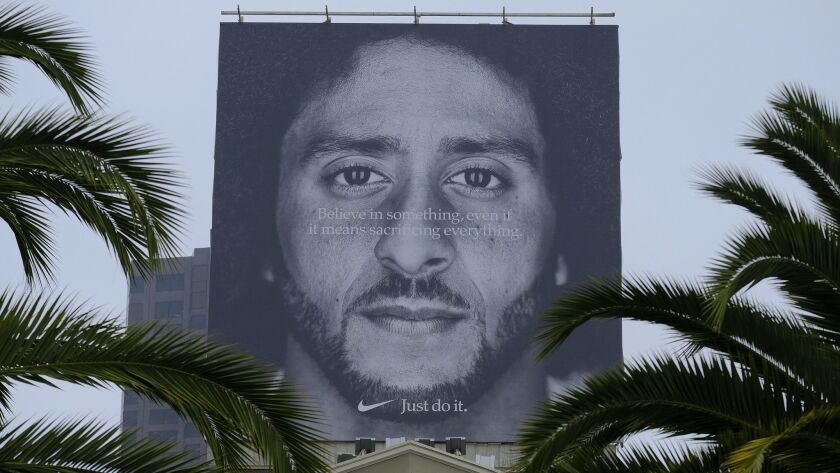 Stephen Martin made a decision last fall that was bad for business. But he felt good about it. And he still does — even though that decision has cost him his store.
When Nike made controversial former NFL quarterback Colin Kaepernick the spokesman for a new ad campaign in September, Martin decided he was no longer going to carry any products made by the company at Prime Time Sports, the sports merchandise store he's owned for more than 20 years in Colorado Springs, Colo.
Now Martin has been forced to make another decision — "I just can't keep the doors open anymore," he told southern Colorado's KOAA-TV.
"Being a sports store without Nike is kind of like being a milk store without milk or a gas station without gas," Martin said. "How do you do it? They have a monopoly on jerseys."
Kaepernick started a movement in 2016 by refusing to stand during the national anthem as a protest against social injustice. The former San Francisco 49ers quarterback has become a polarizing figure nationwide, with Martin on the side that thinks such protests are disrespectful to the military.
Wisconsin GOP lawmakers strip Colin Kaepernick's name from Black History Month resolution »
Back in 2016, Martin cancelled a scheduled store appearance by Brandon Marshall after the Denver Broncos linebacker took a knee during the anthem.
"That part of the military respect that's in me just cannot be sacrificed or compromised, as I believe Brandon Marshall and Colin Kaepernick both did," Martin said. "I don't like losing a business over it, but I rather be able to live with myself."
Although Prime Time Sports is the only fan shop of its kind in the area, Martin said, its sales have declined by 15% over the last three years because of competition from online sales. The decision to stop carrying products by the company that has exclusive NFL apparel rights didn't help matters.
Sign up for our daily sports newsletter »
Martin said that with rent bills past due, he made the tough choice to go out of business on Sunday night. The next morning, his employees — he has nine total — were hanging "40% off" signs around the store.
"I didn't give in to big Nike and big dollars," said Martin, who expects the store to remain open for about a month before closing for good. "I didn't give in. I did it my way."
Twitter: @chewkiii
---
Get the latest on L.A.'s teams in the daily Sports Report newsletter.
You may occasionally receive promotional content from the Los Angeles Times.