Wisconsin GOP lawmakers strip Colin Kaepernick's name from Black History Month resolution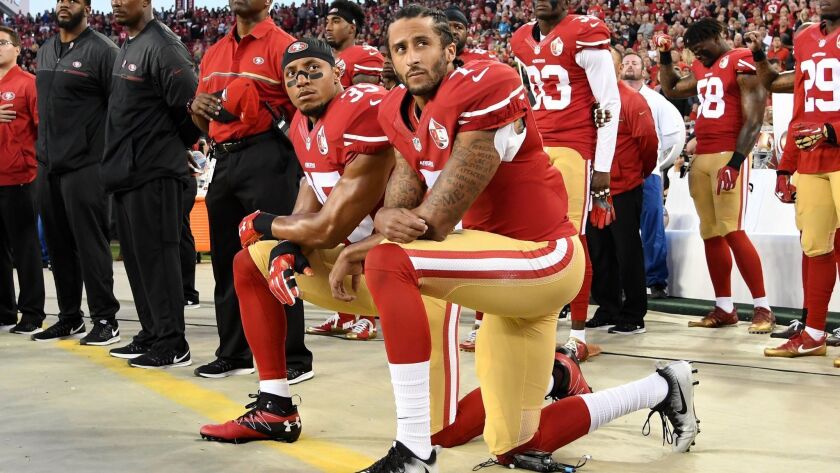 Some Republican lawmakers in Wisconsin successfully forced Colin Kaepernick's name to be removed from a resolution honoring prominent African Americans with ties to the state in recognition of Black History Month.
The state Legislature's Black Caucus — which is comprised entirely of Democrats since there are no African American Republicans in the Legislature — drafted a Black History Month resolution honoring six people. Some Assembly Republicans objected to two of those people, Kaepernick and Greg Lewis.
Lewis, a Milwaukee pastor who has criticized GOP-led voter ID laws in the area, ended up being included in the resolution that was eventually passed by the state Assembly on Tuesday.
But Kaepernick, a Milwaukee-born quarterback who led the San Francisco 49ers to a Super Bowl and started a movement by refusing to stand during the national anthem as a protest against social injustice, was not.
Voting on the resolution was blocked by Republicans until Kaepernick's name was not included. Rep. David Crowley (D-Milwaukee) called the situation "a textbook example of white privilege" and a "slap in the face," noting that "I had to get the blessing of all of my white counterparts" before the resolution he wrote could pass.
"Many of these people that you don't agree with will still be in the history books that your children and grandchildren will be reading," Crowley said on the Assembly floor.
Rep. Shelia Stubbs (D-Madison) said: "The Wisconsin Legislative Black Caucus unanimously agreed upon the names to honor in our resolution. It is beyond disappointing and offensive that Wisconsin republicans are choosing not respect the leadership of Wisconsin's Legislative Black caucus on this issue."
Rep. LaKeishia Myers (D-Milwaukee) was the sole vote against the final resolution. "Whether you dislike the method that he used, understand that it is a part of America's DNA — not just African-Americans' protest," she said of Kaepernick.
Assembly Majority Leader Jim Steineke (R-Kaukauna) said, "Colin Kaepernick is obviously a controversial figure" and that members should be "all in agreement" on their honorees.
Sign up for our daily sports newsletter »
Assembly Speaker Robin Vos (R-Rochester) said, "I think it's important to recognize the contributions of literally thousands and thousands of African-Americans to our state's history but also trying to find people who, again, bring us together. Not look at people who draw some sort of vitriol from either side."
The state Senate is expected to take up the resolution on Wednesday.
Twitter: @chewkiii
---
Get the latest on L.A.'s teams in the daily Sports Report newsletter.
You may occasionally receive promotional content from the Los Angeles Times.