Column: Re-signing Kenley Jansen and Justin Turner redefines Dodgers
Who are the Dodgers?
For the last couple of years, they were Clayton Kershaw, Adrian Gonzalez and a group of replaceable mercenaries. They were Andrew Friedman's mad experiment, a statistically driven machine that made transactions with minimal regard for the human cost.
They were the team that enraged its fans by failing to re-sign Zack Greinke and moved their players to tears by trading A.J. Ellis.
This off-season has redefined them.
The Dodgers have become more than their sabermetrically inclined front office, more than their league-high payroll and more than their troubled television contract.
They are now also Kenley Jansen and Justin Turner, who were re-signed this off-season and reintroduced Wednesday at Dodger Stadium.
Jansen is a homegrown player. Turner started his career elsewhere, but remade himself as an everyday infielder in Los Angeles.They were quintessential Dodgers. That they are still Dodgers signals the start of a new period for the franchise.
On top of a foundation that was reset over the previous two off-seasons, the Dodgers are establishing an identifiable culture.
Bringing Jansen and Turner back made sense from a baseball perspective. They were arguably the top free agents at their positions, Jansen at closer and Turner at third base. But the players offered more than that, which is why the Dodgers signed Jansen to a five-year, $80-million contract and Turner to a four-year, $64-million deal.
They are admired by their teammates because of their strong character. They are adored by fans because they clearly want to be here.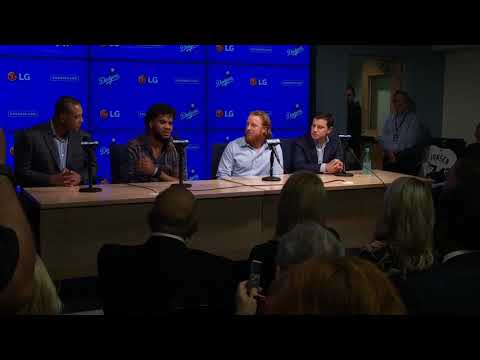 Video by Marcus Yam / Los Angeles Times
The same could be said of the team's other high-priced expenditure this off-season, left-hander Rich Hill, who made a lasting impression on Kershaw and others in the couple of months he spent with the Dodgers last season.
"It's part of that clubhouse dynamic, that culture that we're trying to cultivate and continue to build," Friedman said.
Jansen selflessly extended beyond his usual workload during the playoffs, doing so even when it potentially jeopardized his health and, by extension, his chances for a rich free-agent contract. He closed out the final game of a division series by pitching 2 1/3 innings against the Washington Nationals. He pitched more than an inning in each of his three games in the National League Championship Series, including three no-hit innings in a Game 6 loss to the Chicago Cubs that marked the end of the Dodgers season.
"Kenley's the leader of the bullpen down there," Turner said. "Just his leadership, his experience, his willingness to be unselfish and take the ball whenever the team needs him to take it, not just in the ninth inning so he can go get a crazy contract. That sets an example for those guys down there."
Turner came to the Dodgers as a free agent after he was unceremoniously dumped by the New York Mets. He flunked his physical and agreed to a minor league contract. Over the last three seasons, he not only worked his way into the middle of the lineup, but also became one of the most respected voices in a star-studded clubhouse. Raised in Lakewood, the former Cal State Fullerton star formed an instant bond with the community.
"With J.T., sometimes when I get out of line — I'm not going to lie — he'll pull me aside and put me back on track," Jansen said.
Long-term contracts for closers rarely, if ever, work out well for teams and Turner has a history of knee problems. But Friedman said the team's owners were "extremely supportive" of his pursuit of the two players.
"Heading into an off-season where they're at the top of the list, in terms of players, coupled with who they are and how well we know them, I think gave everyone more confidence to stretch and be creative," Friedman said.
The deals came together in early December, when Turner visited Curacao for Jansen's wedding. Dodgers outfielders Yasiel Puig and Scott Van Slyke also attended.
Turner was leaning toward a return. Jansen looked as if he was heading to the Nationals, who were offering him a five-year deal. The Dodgers were offering four.
On the morning of Jansen's wedding, the Dodgers called and proposed a five-year contract.
"The first couple days we were there, there wasn't a single word spoken about baseball," Turner said. "When it actually came up, it was the day of his wedding. He was getting a haircut. We were just talking about our situations. I don't think either of us was really trying to pressure anyone to make any decision.
"You do want to explore and you do want to see the other options. But, obviously, my experience here with the Dodgers had a pretty big weight on it."
Jansen was offered a more lucrative contract by the Nationals but said, "It's not about the money sometimes."
And, for the Dodgers, it wasn't all about the saves and batting averages.
Follow Dylan Hernandez on Twitter @dylanohernandez
Get our high school sports newsletter
Prep Rally is devoted to the SoCal high school sports experience, bringing you scores, stories and a behind-the-scenes look at what makes prep sports so popular.
You may occasionally receive promotional content from the Los Angeles Times.