Ex-NFL players want to join XFL even if there's skepticism it will survive
Fred Davis nervously watched the clock Friday morning as his Uber driver negotiated LAX work zones and the morning commute of a city the former USC tight end once called home. If all goes to plan, it might soon be his home again.
Davis' day had started hours earlier. At the crack of dawn, he boarded a flight from Washington, D.C., to Los Angeles. Jet-lagged, he hopped in the Uber and headed for Long Beach City College, where the rebooting XFL was hosting a summer showcase for prospective players.
For Davis, it was the first step in restarting a professional career that has been dormant for six years. He showed up just in time for the first drill.
"Wish I got here earlier," said a laughing Davis, who won a national title at USC and spent six seasons in the NFL with the Washington Redskins. "But it feels good to be out here, running around, catching balls."
There were dozens of players with similar stories on the field Friday: former pros like Davis and Rahim Moore, an ex-UCLA safety who spent five years in the NFL, looking to prolong their careers, or recent college graduates just hoping to start their own, including former Trojans Aca'Cedric Ware, USC's leading rusher in 2018, and wide receiver De'Quan Hampton.
Yet when it comes to the XFL — an eight-team league, including a Los Angeles squad, that is scheduled to kick off in February — all of them had reason to be doubtful. They know the spotty history of professional football held during the NFL's offseason. The idea has failed several times, from the United States Football League in the 1980s to the recent Alliance of American Football. Even the first iteration of the XFL lasted just one season — 2001.
"It is easy to be skeptical, because it's just now getting started," Davis, 33, said. "You're fighting the big giant — the NFL."
Even if this version of the XFL does survive, it's almost certain to have less sparkle than the NFL, offering lower paychecks and limited exposure. According to XFL commissioner Oliver Luck, only about one-fourth of the summer showcase participants — the Los Angeles stop was one of eight being held in the XFL teams' cities in June and July — will be included in the league's draft pool later this year. The majority will be current NFL players who get released during the preseason.
Which begs the question: Why did so many players, despite the potential pitfalls, convene Friday to run drills and chase down a faint hope?
The answer is simple.
"It's still football, you know?" Moore, 29, said. "There's a risk in everything you do. But if you love something, man, just go do it."
An All-American with the Bruins who was drafted in the second round by the Denver Broncos in 2011, Moore has been burned by non-NFL pro football before. He was a victim of the AAF's sudden failure earlier this year, competing for the Arizona Hotshots — he played for his former UCLA coach, Rick Neuheisel — before the cash-strapped league folded with two weeks left in the regular season.
"It was a little bittersweet, a little emotional," Moore said. "Because the group of guys that we had, it was the best team I've ever been on, as far as the camaraderie. ... It was different."
Davis, on the other hand, is trying to make an unlikely comeback. The 2008 second-round draft pick and one-time Redskins offensive player of the year hasn't played a competitive game since he violated the NFL's substance-abuse policy in 2014. A month ago, his agent called and said the XFL had invited him to a summer showcase. Davis, who said he has stuck to a training program even after being cast off from the NFL, obliged.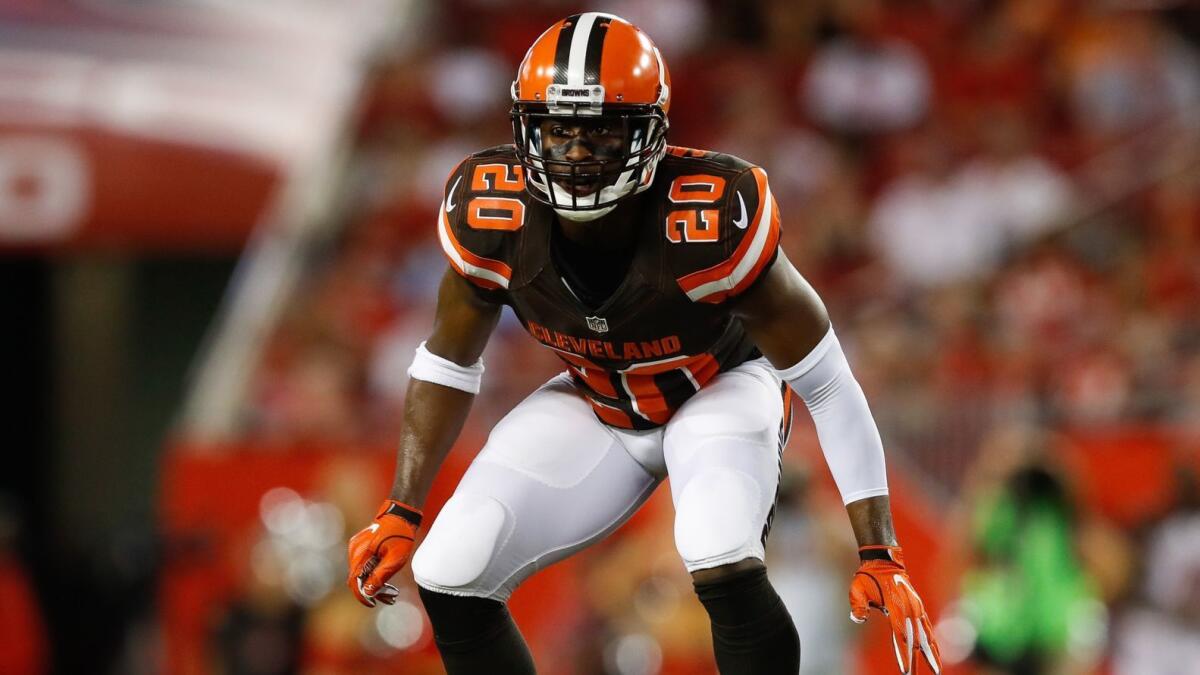 "For me, that's what it's really about — having the chance to still be able to play the game you love to play, that you've played for a long time," Davis said. "Even though you take a break off, it doesn't mean you can't play it now."
Despite the disenchanting turns their careers have taken, both players are somehow still spellbound by the sport. Luck knows the condition well.
Covered in XFL-branded gear seemingly pulled straight from the box, Luck couldn't help but see himself in the group of players trying out for his league Friday. Long before his distinguished career as a sports administrator and executive — president of the Houston Dynamo of MLS, athletic director at West Virginia and executive vice president for regulatory affairs with the NCAA — the Cleveland native was a backup quarterback in the NFL.
Sympathetic to their struggles, he treated the summer showcase as a "two-way street." The players were trying to impress the XFL, of course, but the XFL was also trying to impress them.
"They really should be skeptical," Luck said. "Maybe not cynical, but they should be at least skeptical. So putting an invitation-only thing together with good facilities … I think leaves an impression on these young men that, 'Oh, this league, it is going to be a little bit different.' "
Just how different this version of the XFL actually will be remains to be seen, a dark cloud that hung over the gridiron Friday. Even amid so much uncertainty, the players were still looking for rays of hope.
"I mean, I'm trying to play football," Moore said. "If I can't come out of my breaks, then I'll stop. But as long as I can keep doing that and making plays on the ball, I'm going to play until God says time."
Twitter: @Jack_A_Harris
Get our high school sports newsletter
Prep Rally is devoted to the SoCal high school sports experience, bringing you scores, stories and a behind-the-scenes look at what makes prep sports so popular.
You may occasionally receive promotional content from the Los Angeles Times.