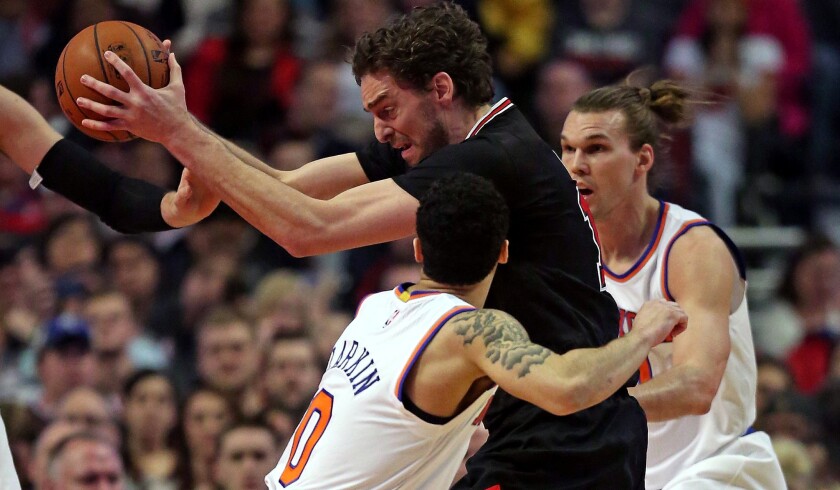 Rookie Nikola Mirotic scored 24 points, Pau Gasol had 19 points and 12 rebounds, and the Chicago Bulls handed the New York Knicks their franchise-record 60th loss, 111-80, on Saturday night in Chicago.
A night after tying the team's previous single-season loss mark, the Knicks dropped their seventh straight and 14th in 16 games.
The Bulls fell four points short of their most lopsided win this season. They're two games behind Central Division leader Cleveland and 1 1/2 ahead of fourth-place Toronto in the Eastern Conference.
Golden State 108, at Milwaukee 95: Stephen Curry scored 25 points as the Warriors set a club record with their 60th win and clinched top seeding in the West. They lead second-place Memphis by 10 games with nine games left and will have home-court advantage in any Western Conference playoff series.
at Utah 94, Oklahoma City 89: The Jazz surged after halftime to beat the Thunder and Enes Kanter, who earlier had criticized his former team, saying "I never liked playing" in Utah. Kanter had 18 points in his first game in Salt Lake City since his trade to the Thunder. Russell Westbrook had 37 points in defeat.
at Charlotte 115, Atlanta 100: Kemba Walker had 21 points as the Hornets beat a Hawks team missing all five starters, only one of whom, guard Jeff Teague, was injured.
at Portland 120, Denver 114: LaMarcus Aldridge had 32 points and 11 rebounds as the Trail Blazers won their third in a row.
---