Agent believes Dodgers' Matt Kemp will be traded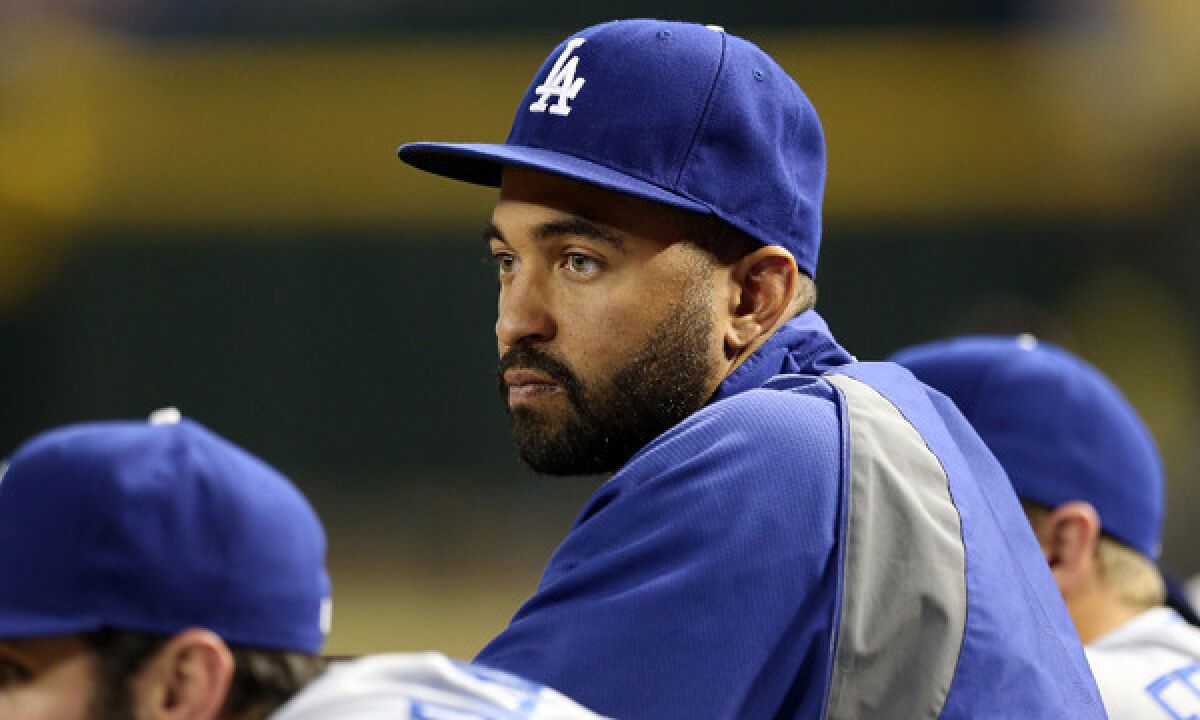 LAKE BUENA VISTA, Fla. — Matt Kemp doesn't want to go anywhere, but his agent is convinced the Dodgers will trade him this off-season.
"I'd be surprised if it doesn't happen," said Dave Stewart, the former major league pitcher who represents Kemp.
Stewart noted that Kemp's possible departure has been rumored for more than a month.
"I haven't heard a player's name floated around like that and something not happen," Stewart said.
So, for the first time in his decade as an agent, Stewart will attend baseball's winter meetings, which start Monday. His primary objective will be to gather information about Kemp's future.
Stewart said General Manager Ned Colletti told him the Dodgers aren't actively shopping Kemp or any of their other three high-profile outfielders but will listen to trade proposals from teams. Colletti made a similar statement to reporters on a recent conference call.
Stewart emphasized that Kemp wants to return to Los Angeles.
"Matt wants to be a Dodger as long as the Dodgers want him," Stewart said.
Asked how Kemp is taking the trade rumors, Stewart replied, "At first, not very well."
But Stewart told Kemp to look at the positive aspects of a trade, which include the possibility of learning something from new teammates.
Stewart used his own career as an example. He played for the Dodgers, Texas Rangers and Philadelphia Phillies before becoming an All-Star with the Oakland Athletics in the late 1980s. Stewart said he grew at each stop.
Whatever happens, Stewart is confident Kemp will recover from a frustrating 2013 season in which he was limited to 73 games because of injuries. Kemp hit .270 with six home runs and 33 runs batted in.
Stewart revealed that Kemp was less than truthful when he insisted his surgically repaired left shoulder didn't bother him.
"Any time he tried to lift weights, it caused irritation," Stewart said. "He went the whole season without any upper-body work."
The condition of the shoulder has improved dramatically as a result of a procedure Kemp underwent in early October. With Kemp back to lifting weights, Stewart anticipates his trademark power will return. Kemp hit a career-high 40 home runs in 2011.
Kemp is also recovering from an ankle operation. Although he is still wearing a walking boot as a precaution, he has started weight-bearing exercises on his ankle.
If Kemp regains his All-Star form, he could represent a significant bargain for a team in search of a center fielder, particularly if the Dodgers agree to pay a portion of the $128 million he is owed over the next six years. Jacoby Ellsbury, the top center fielder on the free-agent market, signed a seven-year, $153-million contract last week with the New York Yankees
The Seattle Mariners and Boston Red Sox, who lost Ellsbury, are among the teams known to be interested in Kemp.
The Dodgers have also received inquiries on outfielders Andre Ethier, Carl Crawford and Yasiel Puig. Colletti said he would consider trading one for a package of minor league prospects.
However, if the Dodgers trade Kemp, they would be trading him when his value is at an all-time low. And Colletti said the Dodgers wouldn't make a deal for the sake of making a deal, noting the shortage of top-level outfielders who are expected to be available in free agency in coming off-seasons.
"There's a lack of impact outfielders that are going to be available," Colletti said. "We've looked at the list and it's not overloaded. We can't sell off to sell off, and then, in 2015, be saying, 'We need to go get an outfielder.' "
Twitter: @dylanohernandez
---
Get our high school sports newsletter
Prep Rally is devoted to the SoCal high school sports experience, bringing you scores, stories and a behind-the-scenes look at what makes prep sports so popular.
You may occasionally receive promotional content from the Los Angeles Times.