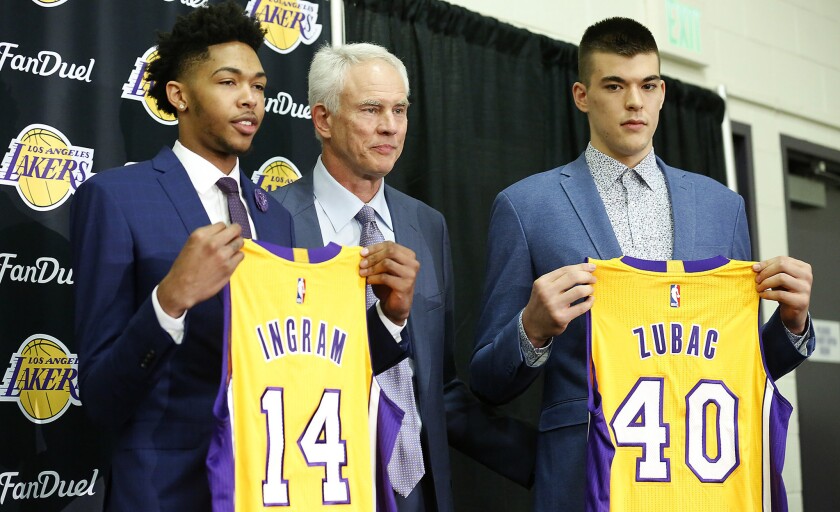 Kobe Bryant's nameplate has been removed from his locker at the Lakers' training facility. In its place is one for Brandon Ingram.
It's symbolic, or something like that, as the second overall pick in last month's draft takes the spot of the franchise player from all those years past.
No pressure, man.
"Mitch told me I had some big shoes to fill when I came in here, but I liked it. I like the pressure that's on me right now," Ingram said Tuesday at his introductory news conference in El Segundo. "It's going to motivate me to do great things on the court."
Mitch would be Mitch Kupchak, the Lakers' general manager. He was there to hand jerseys to Ingram and second-round pick Ivica Zubac.
Including the two rookies, the Lakers' roster is pretty much complete other than some presumably minor signings to be determined.
They have little money left to spend in free agency after agreeing to terms with Timofey Mozgov, Luol Deng, Jordan Clarkson and Tarik Black. They're also heavily committed to future payrolls, with four-year contracts for those first three players totaling $186 million. Black re-upped for two years and about $13 million.
This means Ingram and the other young Lakers are already the focal points for the Lakers next season, in case it isn't obvious.
"I think if you can score the ball, you can play at any level," said Ingram, whose 190-pound weight has been a big discussion topic with the 6-foot-9 small forward.
"Just playing against stronger guys, I know I have to adjust a little bit just like I did at the college level," he said.
Ingram said all the right things Tuesday, including the part where his brother would live with him in an undetermined part of Los Angeles "to keep me in line."
He spoke highly of his mentor, former NBA player Jerry Stackhouse, who happened to hail from the same hometown of Kinston, N.C.
Currently penciled in as a backup to Deng, Ingram liked his first impression of Coach Luke Walton, particularly Walton's vision of the Lakers' pushing the ball downcourt on offense.
Ingram, who turns 19 in September, hasn't formally signed yet but will play Friday when the Lakers begin their summer-league schedule in Las Vegas.
He will wear jersey No. 14, which wasn't his first choice. He wanted No. 13 but that was already retired by the Lakers. It belonged to Wilt Chamberlain.
"It was the closest thing to 13," Ingram said of his new number.
It also represented the four state championships he won at high school in North Carolina, he said, and he wanted to win one at Duke, which didn't happen, or possibly one in the future with the Lakers.
The other guy
Zubac agreed to a three-year contract after being drafted 32nd overall, with the first two years guaranteed. He is currently the Lakers' third-string center.
The Bosnian-born Zubac, who played professionally in Croatia, was a lifelong Lakers fan because of Bryant.
"I've not even realized yet I'm with the Lakers. When I realize, I will tell you," the seven-footer said Tuesday.
Zubac showed a touch of humor when it was pointed out that Ingram got Bryant's locker, not him.
Mike Bresnahan and Lindsey Thiry discuss the arrival of Lakers draft picks Brandon Ingram and Ivica Zubic in Los Angeles. Both players are scheduled to participate in the Las Vegas summer league. 
"He can have that pressure," Zubac said, creating a laugh among media members at Tuesday's news conference.
Buechler joins staff
Walton will add former NBA forward Jud Buechler to his coaching staff.
Buechler won three championships as a role player with the Chicago Bulls in a 12-year NBA career that ended in 2002.
It was unclear what his role would be on the staff. Walton has already hired three assistant coaches: Brian Shaw, Mark Madsen and Jesse Mermuys.
Times staff writer Broderick Turner contributed to this report.
mike.bresnahan@latimes.com
Twitter: @Mike_Bresnahan
---