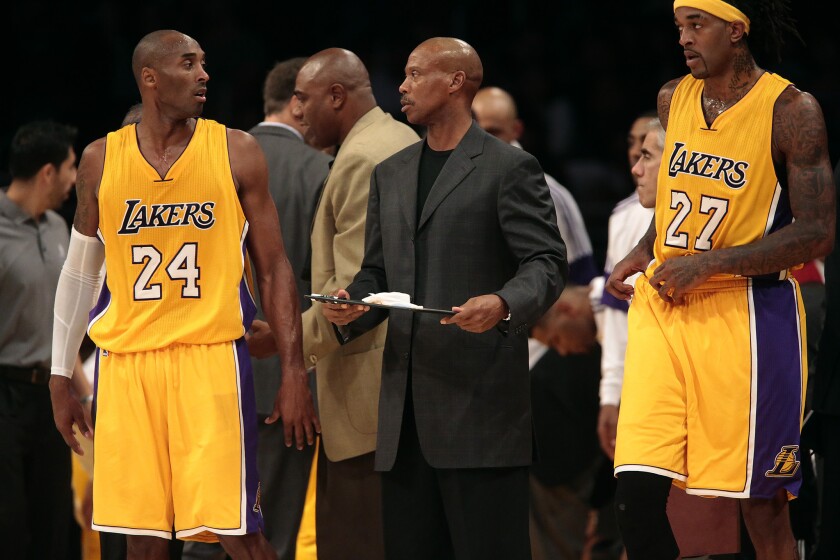 The Lakers are almost at the NBA's bottom in three-point shooting, their 29.9% a mere 0.2% better than Philadelphia before Friday's games.
Notably, Kobe Bryant was making only 28.6% of his three-point attempts, Wesley Johnson was at 25.6% and Ronnie Price an unsightly 14.8%.
Their coach shot 37.3% from three-point range in 11 seasons with the Lakers. He recently offered some advice to the team.
"We talked about trying to get to the basket more, quit settling for the threes every time because they do look inviting at times," Byron Scott said.
"But there are good ways to get threes and there are bad ways," Scott said. "The Denver game, we had some great looks but they weren't the best looks. You could have probably one or two dribbles to the paint and kick it to a guy who probably gets a better look."
Scott had his own way of getting out of a slump as a player who averaged 15.1 points and shot 49% overall with the Lakers.
"To be honest, when I had shooting slumps, I wouldn't shoot," he said. "I wouldn't go to the gym and get extra shots.
"My routine was always to come out before the game and get up a bunch of shots," Scott said. "But when I thought I was in a little bit of a slump, I wouldn't do extra shots after practice, things like that.
"The other thing that I did as I got older is realize that, you know what, my first shot I want to be something aggressive, see if I could get a layup or points in the paint," he said. "And if I could get to the free-throw line, that would be even better, so I'd try to get myself going that way."
Bryant's rest
With the 36-year-old Bryant averaging nearly 36 minutes of playing time per game, the question remains as to when Scott hopes to find the optimum minutes to rest the league's leading scorer.
"I really have no set timetable on how to find them, it's just trying to find them at points [in games] where I feel it's a good time," Scott said.
"This is all a work in progress between Kobe and I — just trying to figure out how to get him as much rest as possible so he can still be as fresh as possible the last six, seven minutes of the game," Scott said.
In the first half Friday night, Bryant played all but the final minute of the first quarter, then returned with 7:09 left in the second quarter and played the rest of the quarter.
Twitter: @Mike_Bresnahan
Twitter: @PeltzLATimes
---