Lakers could shut down Kobe Bryant before end of season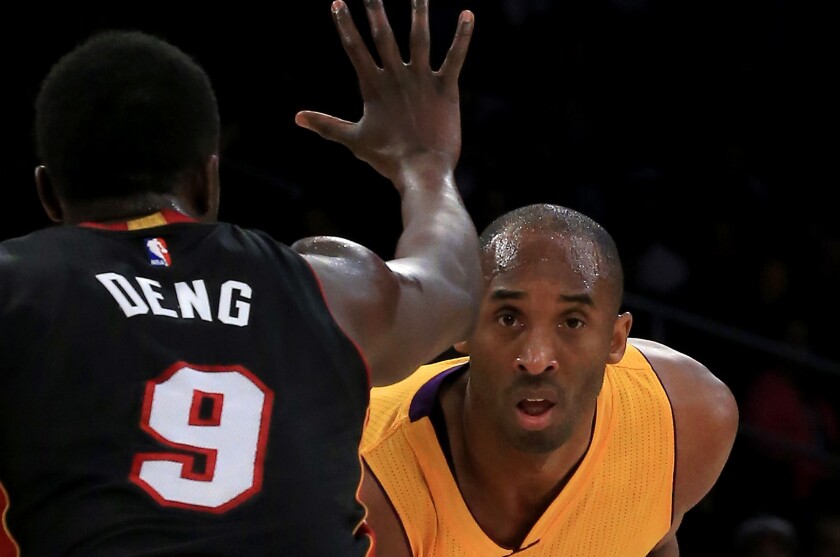 Don't be surprised if it happens after the All-Star break, maybe in late February or March.
The Lakers haven't yet talked about shutting down Kobe Bryant later this season, but it makes sense.
They're terrible with him. Terrible without him. And there's the unspoken importance of keeping the top-five protected draft pick they owe Phoenix for the Steve Nash trade.
The Lakers are already thinking big picture and have had internal meetings to determine how to "preserve" Bryant over the final 11/2 years of his contract, Coach Byron Scott said Tuesday.
Lakers trainer Gary Vitti has also been part of the discussions, along with Bryant, who had another rough outing in the Lakers' 78-75 loss Tuesday against the Miami Heat at Staples Center.
"A lot of it is trying to preserve [Bryant] as much as possible," Scott said. "That's the biggest thing, to be honest with you, is just trying to make sure that he can get through this season healthy — relatively healthy — and get ready for the next season as well."
Bryant, 36, will make $23.5 million this season and $25 million next season. He had only 12 points against the Heat on three-for-19 shooting, including a missed three-point attempt that would have tied the score with 1.9 seconds to play. He had missed six of the last 12 games, including the last two, to rest.
"This is going to be game by game," Scott said. "And I think it's going to be that way until the end of the season or until March or February if we ever decide to say, 'OK, let's just shut it down for the rest of the season.' We haven't got nowhere near that point at this particular time."
If the Lakers decided to save Bryant until next season, there would be no guarantee of a vast improvement in the roster. They have enough money for another maximum-salary player, though they haven't been successful in free agency the last two summers, with Dwight Howard and Pau Gasol taking less money to go elsewhere.
Long before this unendurable season ends, Bryant will surely want to play in his 17th All-Star game on Feb. 15 in New York. It's anybody's guess what happens after that in these admittedly "unchartered waters," Scott said.
The Lakers (12-27) will paddle along with some guidelines for Bryant. He won't play both games in back-to-back situations, of which the Lakers have eight remaining. He would be capped at 32 minutes a game even if there was overtime, Scott said, admitting it could be difficult but adding, "I've got to stick to it."
"He's not 20, guys. He can't play 40 minutes a night like he used to and he can't play every single night," Scott said.
Bryant seemed subdued as he sat in front of his locker after the game Tuesday, his feet planted in a now-familiar ice bucket.
"I'm just trying to work through it and get the body moving. The hard part is sitting down for stretches and trying to get back in. You feel like the Tin Man," he said. "It's not something that I'm whining or complaining about. Just get my body loose, being more active throughout the day, get my legs used to playing again."
Bryant has said there isn't anything specific keeping him on the sidelines — no sharp knee pain, no Achilles' tendon issues. Just general soreness.
Even so, it's not easy for him to sit and watch. Or to come out and not play well.
"It's a no-win situation," he said. "You just end up picking the lesser of two evils."
Bryant was one for 10 entering the fourth quarter and two for nine in the final five minutes.
The first half was unbearably bad, the Lakers scoring 34 points on 25.5% shooting. Bryant was one for nine.
Fans seemed bored — when they weren't booing.
The Lakers made a game of it mainly because Miami (17-21) wasn't exactly incredible. Mario Chalmers had 19 points but Chris Bosh made only four of 17 shots and Luol Deng was four for 13. It didn't help that Dwyane Wade exited in the second quarter because of a strained hamstring.
The Lakers shot 31.5% for the game and also had an injury crop up — a hyperextended left knee for Jordan Hill. He will be re-evaluated Wednesday.
Scott wasn't sure he would watch the game video, but if he did he joked he would have a bottle of vodka nearby. "We just couldn't throw a pea in the ocean," he said. "And that's an understatement."
Follow Mike Bresnahan on Twitter @Mike_Bresnahan
---
All things Lakers, all the time.
Get all the Lakers news you need in Dan Woike's weekly newsletter.
You may occasionally receive promotional content from the Los Angeles Times.