Lonzo Ball sat on the sideline for all of his 19-year-old brother's workout with the Lakers on Tuesday. He watched LiAngelo Ball go through team, shooting and endurance drills for Lakers coaches and executives.
The workout included five other players, but none with as unique a road to this point as the middle Ball brother, who left UCLA in December after being suspended for shoplifting during a team trip in China. Eventually, LiAngelo and his younger brother, LaMelo, signed with Lithuanian team Vytautas.
"I think it prepared me a little better as far as going against grown men that care about their job every day," LiAngelo said, when asked if he thought his time overseas prepared him as well for the NBA as UCLA could have. "Because if you are not producing out there, they will fire you quick. Every game is hard out there."
LiAngelo, who played at Chino Hills High just like his brothers, played in 14 games for Vytautas, averaging 12.6 points and 21.2 minutes. He and his brother left the team in a mutual decision to part ways, according to the Associated Press.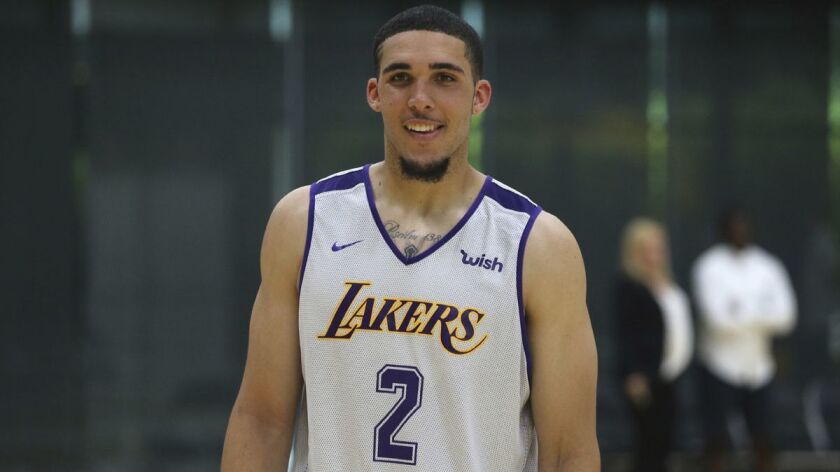 Each step of the way, their boisterous father took ownership of their moves. On Tuesday, though, LiAngelo said every decision was his own.
"No, it is all my decision really," he said. "They come at me with what they think what might be going on or whatever, but at the end of the day it is my decision and they are going to be on my side no matter what."
The Lakers selected Lonzo second overall in last year's draft. His brother is not as highly ranked a prospect. He did not garner an invitation to the NBA Draft Combine, participating last week in the Professional Basketball Combine. He's got a workout scheduled with the Warriors next, and is expected to have a few more after that.
So far through his journey, LiAngelo believes he's grown.
"Just being more mature as far as coming in and doing what you have to do and don't worry about outside stuff," he said. "Just more focus around the game really. That is what I picked up most."
Follow Tania Ganguli on Twitter @taniaganguli
---