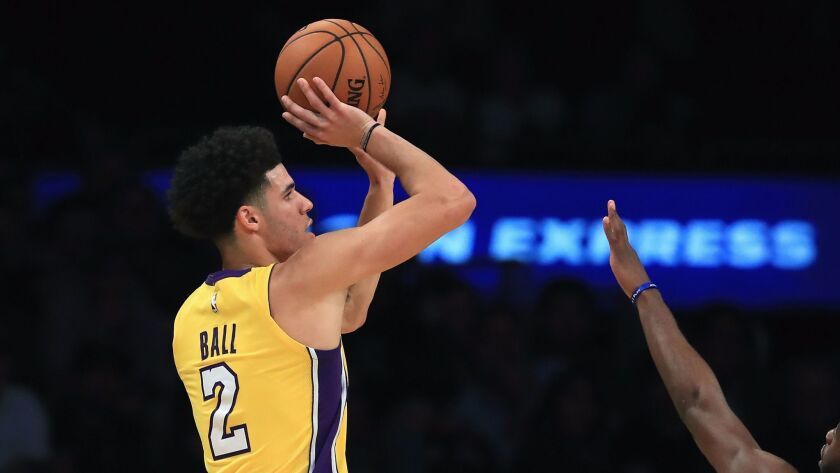 Hi, I'm Tania Ganguli, Lakers beat writer for the L.A. Times, here to welcome you to the first edition of our Lakers newsletter.
Happy opening day. The Lakers tip off their season against the Clippers at 7:30 p.m. Thursday. Let's get into what's been going on with them.
The offseason was fun to cover. There was a lot going on, but the most important thing is that the Lakers have saddled themselves with great expectations. They've offered the promise of a return to Lakers exceptionalism. But they've also warned that it won't happen this year. Next year, they'll chase two superstars, in a summer when LeBron James and Paul George are expected to be available. James will be a real possibility for the Lakers, but he'll have to know he can come here and turn this team into a winner.
But that's all in the Lakers' future. Right now, they just want to win.
That might seem like an obvious goal for a professional sports franchise, but it really hasn't been one for the Lakers for the past few seasons. For four years in a row, the Lakers have been in the lottery. For three consecutive years, they needed a pile of losses to help them keep their lottery pick. Their five-game winning streak at the end of last season jeopardized the pick, in which they wound up taking Lonzo Ball. They kicked the can down the road for three years of the first-round picks they'd promised as part of the trade for Steve Nash. Now it's time to pay up: The Lakers won't have their first-round pick in 2018.
And that can be a good thing.
Now, they don't have to try to manipulate the system, to avoid winning games, for the sake of the pick. Now, winning has no downside. Winning will make the Lakers seem like a more attractive destination to those pending free agents.
In a loaded Western Conference, winning will be difficult. But even missing the playoffs with a reasonable record could go a long way toward convincing superstars they can turn this team into a championship contender.
Three key players
Lonzo Ball: The Lakers point guard has a knack for making everyone better, just by his presence on the court. He started showing this in Summer League, including one impressive performance in a game for which James was courtside. He's the kind of player who could be a tremendous recruiting tool for free agents. Ball sprained his left ankle in the Lakers' second preseason game, an injury that wound up being worse than either he or the team initially thought. Lakers Coach Luke Walton admitted that Ball's two-week absence was a setback for the Lakers' offense. The squad couldn't teach everything it wanted to with the point guard out. In the scheme of Ball's career, though, it should be a small setback. Ball's first challenge? Being guarded by Patrick Beverley on Thursday night.
Brook Lopez: Ball isn't going to put up gaudy numbers, especially not early. Lopez might. The way he shoots and spaces the floor is critical to Walton's style of play. He should be the Lakers' leading scorer and is their most talented offensive player. People sometimes forget how talented Lopez is because of his silly personality. I talked with him a little bit about that this week and asked whether he thinks the "kid-at-heart" label fits. He said it does and it's important to have that spirit. Life is more fun that way.
I also wrote about Lopez recently here. My favorite interaction didn't even make it into the article. As we discussed his love of action/adventure/fantasy novels, especially "The Lord of the Rings," I asked whether he and his twin brother, Robin, were so immersed in that world that they tried to learn the language the elves spoke.
"No, no," he said with a chuckle. "We tried a little bit. We're not that level. And I don't know any Klingon either. I know very little."
In all seriousness, there's some irony in that Lopez could be the most critical player to the Lakers' offense, but he might not be here to see the team's true turnaround. Lopez is on the last year of his contract. When his deal expires, it could free up the salary cap space needed to sign a superstar next summer.
Brandon Ingram: Magic Johnson said he sees Ingram and Ball creating a modern-day James Worthy-Magic Johnson connection. That's a lofty goal and shows both the expectation and the faith the Lakers have in their 20-year-old small forward. One reason for optimism is that Ingram is bigger and stronger than last year. He's still working on when to attack the basket, when to pull up and when to find somewhere else to go to. Several players have noticed the shift in his attitude and confidence. Even Ingram talks about his confidence now. That's a good sign for a player the Lakers refused to part with as they engaged in trade talks.
Kyle Kuzma: Among the Lakers' key players, he is the only nonstarter. Kuzma was terrific during the preseason, leading the Lakers in scoring and shooting better than 50% from the field. His starting at power forward was discussed, but that would have led to an exceptionally young lineup — one the Lakers aren't likely to try, at least at the beginning of the season. Off the bench, though, and throughout the season, he is definitely one to watch.
When a preseason game means something
Basketball will tend to dominate this space, but I wanted to take a minute to note one of the highlights of the preseason that happened off the court. When the Lakers played in Las Vegas earlier this month, they hosted a family whose son was among the 58 people killed Oct. 1 in the mass shooting outside Mandalay Bay. Their youngest son is a big Lakers fan, and the family had planned to attend the game. When the Lakers found out, they gave the family courtside seats and brought them back to the locker room to meet some players. I wrote the scene here. Walton took the reins after the game, spending time with the family. He made the 12-year-old boy who had lost his brother a week before feel like part of the team. Walton has a gift for making people feel at ease, and it was never better used than on that day.
Upcoming schedule
Thursday: vs. Clippers, 7:30 p.m. PT, TNT
Friday: at Phoenix, 7 p.m. PT
Sunday: vs. New Orleans, 6:30 p.m. PT
Wednesday: vs. Washington, 7:30 p.m. PT
That's all for now. Stay tuned for future newsletters. Subscribe here, and I'll come right to your inbox. Something else you'd like to see here? Email me. Or follow me on Twitter @taniaganguli
---