Newsletter: Lakers! What's happening with the Lakers' handling of Julius Randle?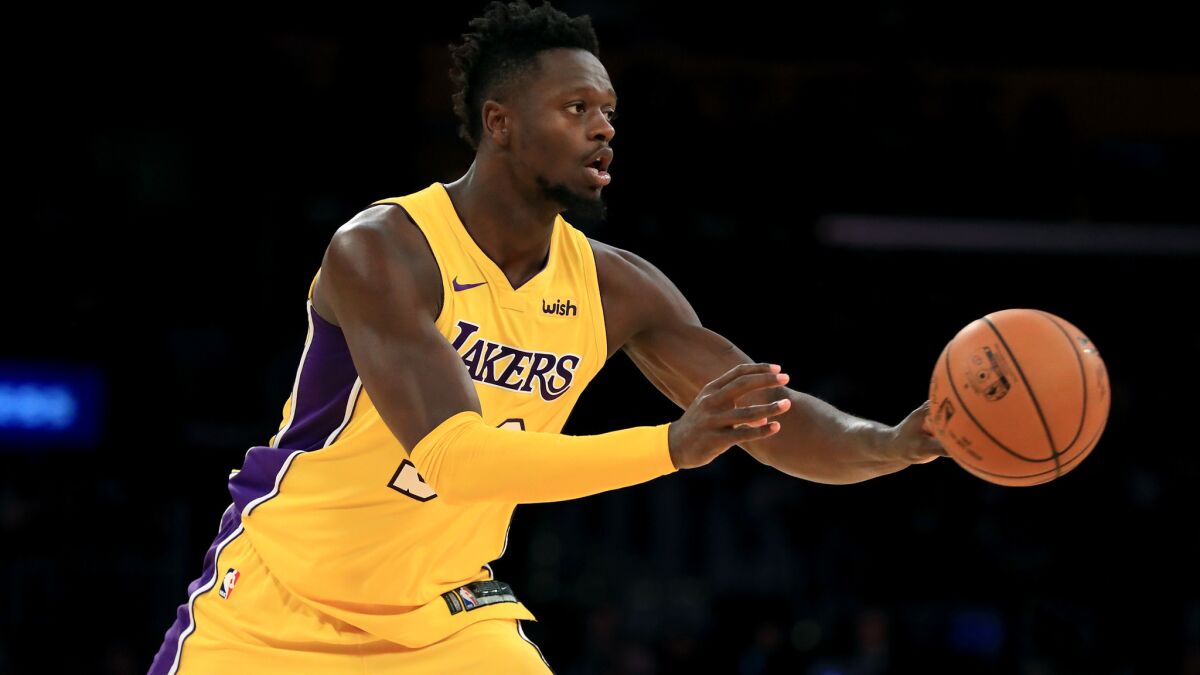 Hi, this is Tania Ganguli, Lakers beat writer for the L.A. Times, here with your weekly newsletter.
The Lakers have had a lot of close calls this week, but they emerged from it winless.
Coach Luke Walton has said repeatedly that wins and losses aren't how he'll define this season, and he said the same thing last year. But this year's team has shown the ability to move past that set of expectations.
Like this? Sign up for the Lakers! newsletter »
"The difference is early in the year I was telling our guys that it doesn't matter if we win or lose, it's how we're playing, it's building our habits," Walton said after the Lakers' loss to the Portland Trail Blazers on Saturday. "But I told them today they've set an expectation and a standard for themselves that I now believe they are ready to win ball games. I thought tonight was one that we let get away from us."
The point is, he doesn't want these young guys feeling like losing is fine as long as they learned something and grew. It's a good lesson for these young Lakers and the next step in the progression for this team.
What's happening with Julius Randle?
In a win against the Houston Rockets, Randle only played eight minutes and didn't seem delighted with it. While his demeanor indicated frustration, Randle said the right things when he spoke to reporters. He said his playing time didn't matter since the team won, and then had a strong game against the Golden State Warriors the Lakers' next time out.
Randle's situation is worth watching, though. The Lakers would love to trade him if they could, and Jordan Clarkson fits in that category too. Both players know they have been offered in trades by the Lakers, and they're handling it in different ways.
Clarkson is taking a freewheeling approach to this season. He's having fun, he's doing his best to listen to the coaches and he's not worrying too much about the way he portrays himself to reporters.
Randle has more of an intense personality and his approach is showing that. He worked hard to change his body over the summer and it shows in some ways on the court. There have been times when he's made a big impact in games, just as Clarkson has, but his style doesn't always fit what the Lakers are seeking. That's part of why Randle's minutes tend to yo-yo. He'll play 30 minutes one night, then eight the next. Last night against the Grizzlies, he only played 11 minutes.They could lose him for nothing during free agency and if that's an option, the Lakers' desire for a trade makes sense.
The problem is, this all can be distracting for a team during the season. Andrew Bogut addressed that elephant in the room after the Lakers' game against Portland.
"You would be lying to say that there are guys that are not frustrated on this team," Bogut said. "Everyone knows what is going on with the salary cap situation next season and all that. That is just distractions that we can't let affect us. That is part of the league, the business decisions that front offices and coaches make. So if that is distracting guys, that is going to be like that your whole career — that is just the nature of this league."
Since last we talked
--During the first two months of the season, I tried to catch up with as many of the league's top point guards as I could about what they experienced during their rookie years. My main takeaway from all of these interviews? It was never easy. From that, I gleaned five lessons for Lonzo Ball from those players' rookie years.
--Ball suffered a shoulder sprain that caused him to miss two games this week and will cause him to miss likely another couple of games. It doesn't help that the Lakers are essentially playing every day until the All-Star game.
--Walton tends to get testy with officials during games, but rarely goes in depth about what problems he has with their calls. He did so this week after the game against Portland. That game was a frustrating one for the Lakers all around and offered several points of release. The lack of focus in the Lakers' three-point loss actually made sense. They'd just finished a tremendously taxing series of games, and were on the second night of a back-to-back with the first night having been the Golden State Warriors. They played well in Oakland, expending the energy they might have needed for that game the next night.
--Kyle Kuzma's superlatives keep piling up. He had another 30-plus point game on Christmas, his third of the season. The rest of us might have been, but Kuzma was not impressed.
--Brandon Ingram missed a couple games with quadriceps injuries. He returned Wednesday night against the Grizzlies.
Coming up
The Lakers face the Clippers on Friday, and Blake Griffin might be back from the injury he suffered a month ago against the Lakers.
Then the Lakers will head out for a two-game road trip for a back-to-back in Houston and Minneapolis on New Year's Eve and New Year's Day.
Schedule
All times Pacific
Friday vs. Clippers, 7:30 p.m.
Sunday at Houston, 4 p.m.
Monday at Minnesota, 7 p.m.
Wednesday vs. Oklahoma City, 7:30 p.m., ESPN
Until next time
Stay tuned for future newsletters. Subscribe here, and I'll come right to your inbox. Something else you'd like to see here? Email me. Or follow me on Twitter @taniaganguli
---
All things Lakers, all the time.
Get all the Lakers news you need in Dan Woike's weekly newsletter.
You may occasionally receive promotional content from the Los Angeles Times.