LeBron James has made Lakers' ticket prices higher than the Warriors'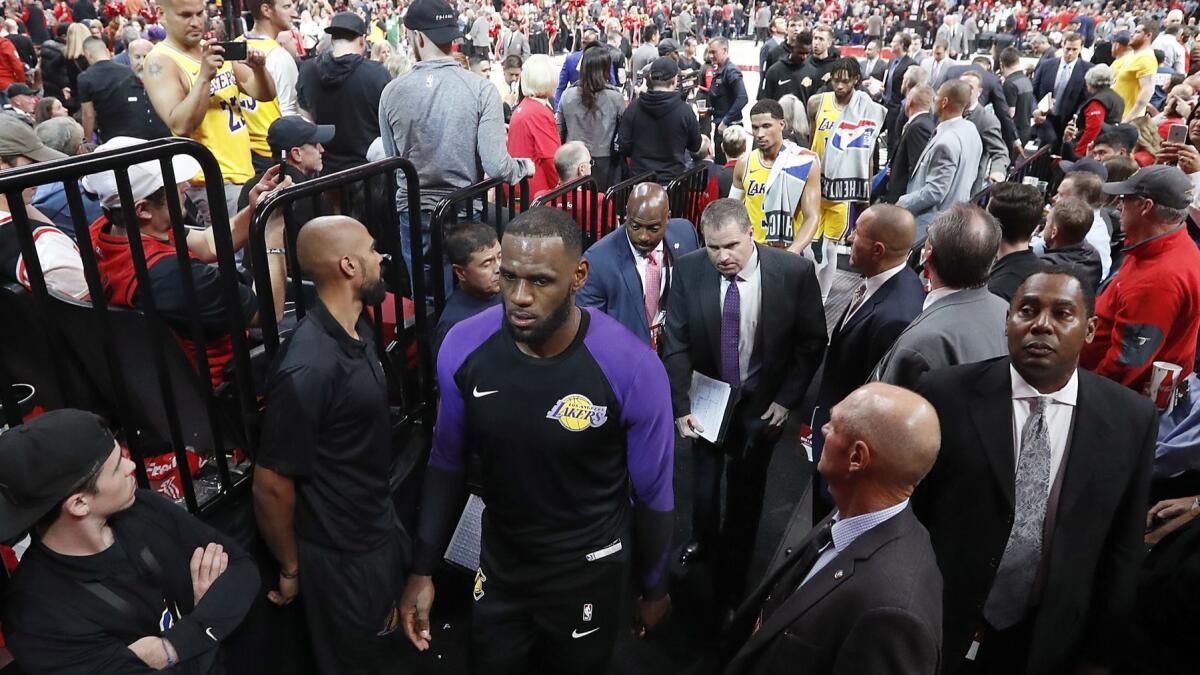 Want to buy a ticket to see LeBron James and the Lakers play the Houston Rockets and James Harden on Saturday night at Staples Center?
Good luck. The Lakers' home opener is sold out.
Want to buy Lakers season tickets? Good luck. Those are gone too.
If a fan wants to see the Lakers play this season, they'd better be prepared to shell out some big dough to buy tickets on the secondary market.
"Where you are going to see the greatest impact on ticketing, not attendance, is going to be in the secondary market, because that's where the impact of LeBron is going to be most felt." said Tim Harris, the Lakers' president of business operations and chief operating officer.
Ticket prices on the secondary market went up 71% for James' home debut compared to last season, according to TickPick, a no-fee ticket marketplace. The average price for the game against the Rockets is $526.73.
The average price for the Lakers' opener against the Clippers last year was $235. Currently, the "get-in" price for the cheapest ticket in the 300 level is $229 for the game against the Rockets.
Tickets to Lakers home games are up 20% from last season and have an NBA-high average purchase price of $285.48.
Jack Slingland, the director of client relations for TickPick, said the most expensive listing tickets they have would be center court in Section 101, from $2,500 up to $7,000.
To see the Lakers on the road this season, it's 19% more expensive than any other NBA team, at an average price of $490.
By comparison, the Warriors' average ticket for a home game cost $475 last season as they looked to repeat as NBA champions.
"But with the Lakers it's a little bit different," Slingland said. "One of the greatest players of all time, if not the greatest, decided to join a fan base with an historic franchise like that has kind of compounded all that to extreme prices."
The Lakers already had sold all their season tickets before James signed his four-year, $153.3-million deal.
"And we renewed at 99%," Harris said. "That's in April. So by the time LeBron committed and then signed, there wasn't much left."
Etc.
The Lakers signed 6-foot-9 forward Johnathan Williams to a two-way contract and waived forward Travis Wear. Williams played in all six preseason games for the Lakers, averaging 6.8 points and 4.3 rebounds in 14.5 minutes a game. Wear, a former UCLA star, averaged 4.4 points and 2.2 rebounds in 17 games last season.
UP NEXT
VS HOUSTON
When: 7:30 p.m., Saturday
On Air. TV: Spectrum SportsNet, ESPN; Radio: 710, 1330.
UPDATE: The Lakers' three-point defense will be tested by the Rockets, who shot 48 threes in their season-opening loss to New Orleans. The Rockets averaged the most three-point attempts (42.3) and makes (15.3) last season.
Twitter: @BA_Turner
All things Lakers, all the time.
Get all the Lakers news you need in Dan Woike's weekly newsletter.
You may occasionally receive promotional content from the Los Angeles Times.