Brandon Ingram's confidence hasn't wavered as he adjusts to the NBA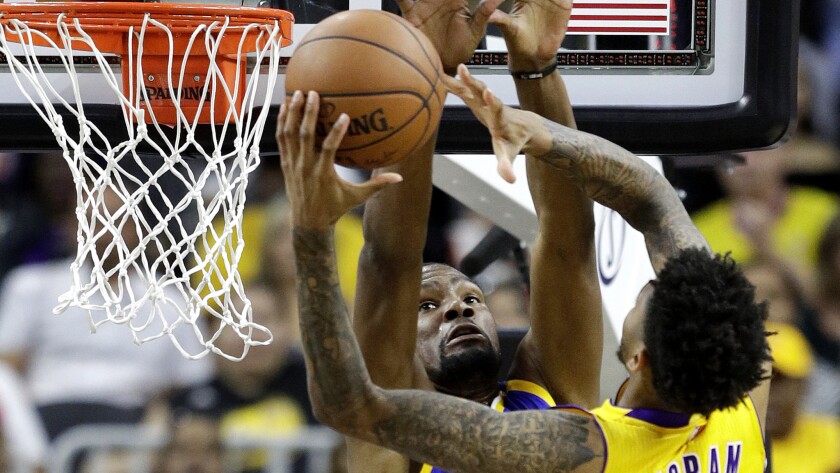 The matchups won't get much tougher for Brandon Ingram than one he faced Saturday night at T-Mobile Arena in Las Vegas.
Kevin Durant, another former second-overall pick, a seven-time all-star, the 2014 league MVP and new Golden State Warrior, metaphorically towered over Ingram during the Lakers' 112-107 loss.
Durant finished with 17 points in 22 minutes, some of that against Ingram. He shot 63.6%, collected five defensive rebounds and blocked two shots — one of them Ingram's. Ingram finished with 12 points in 25 minutes, shooting 50%, which marked one of his better shooting nights of the preseason. He had three assists and made both of his three-point attempts.
It was another learning experience for the 19-year-old rookie in a preseason full of them.
"He's gonna figure out his spots as it goes on," said Lakers small forward Luol Deng, whom Ingram backs up for now. "He's so talented that the game comes easy to him. It's preseason, so he's just going through the change of size, speed and everything. …
"He's always willing to listen and learn. I've been in the league a long time. I've seen guys that didn't listen, and it didn't work out for them."
Offensively, Ingram is still working through early kinks. He is making 32.4% of his shots, the fifth-lowest among first-round picks this preseason. He went 0-for-5 in the Lakers' exhibition opener against the Sacramento Kings, but has improved in the last week.
Ingram is quiet, so Lakers Coach Luke Walton often has to ask to check in on his confidence. Ingram always tells Walton he's fine, and that his aggressiveness on offense hasn't waned supports that answer.
"You have to do what got you here," Ingram said. "Keep battling, keep being aggressive, keep knocking your shots down that you know you're going to make and keep going."
Defensively, the Lakers are working to have Ingram learn how to better use his length. Walton has used film of Warriors forward Andre Iguodala for instructive purposes. Not to compare the two players, but to show Ingram an example of how length can work.
Practice is often better than games for Ingram.
"He looks way more comfortable in practice," Walton said. "He's in there all the time. He gets more opportunities as far as playmaking. We put him in at the point the last four, five minutes [on Saturday night]. He's the type of player that just goes off the feel and the flow of the game a lot. … From time to time it seems like he kind of just floats around out there and doesn't get a ton of touches or shots."
Closing that gap will help Ingram take the next step in his development.
Fundamentals before wins
With the task of rebuilding comes the inevitability of muddling through losses. It sometimes even means accepting a loss in the interest of teaching the right way.
To Walton, that balance is a matter of understanding one's priorities.
"The priority is making sure we are getting things in correctly," Walton said. "If that ends up costing a couple wins here or there, that something I think we have to live with as a group. In the bigger picture it's more important that we have those basics down, those fundamentals down."
The Lakers won 17 games last season, and while they expect a marked improvement this season, they're unlikely to have a winning record. As the team grows and develops, they'll need patience and so will the coaching staff.
They'll guard against their competitive nature affecting the process.
"It is very hard," Walton said. "But you have a big picture plan and you have a staff, I have a staff that I trust and we talk about things like that. We know the approach we're gonna take. I'll have them remind me of that when times are tough."
Etc.
The Lakers got Sunday off before returning to practice on Monday. Their next preseason game will again be against the Warriors in San Diego on Wednesday.
Twitter: @taniaganguli
---
All things Lakers, all the time.
Get all the Lakers news you need in Dan Woike's weekly newsletter.
You may occasionally receive promotional content from the Los Angeles Times.