Lakers blow double-digit lead in 110-106 loss to Spurs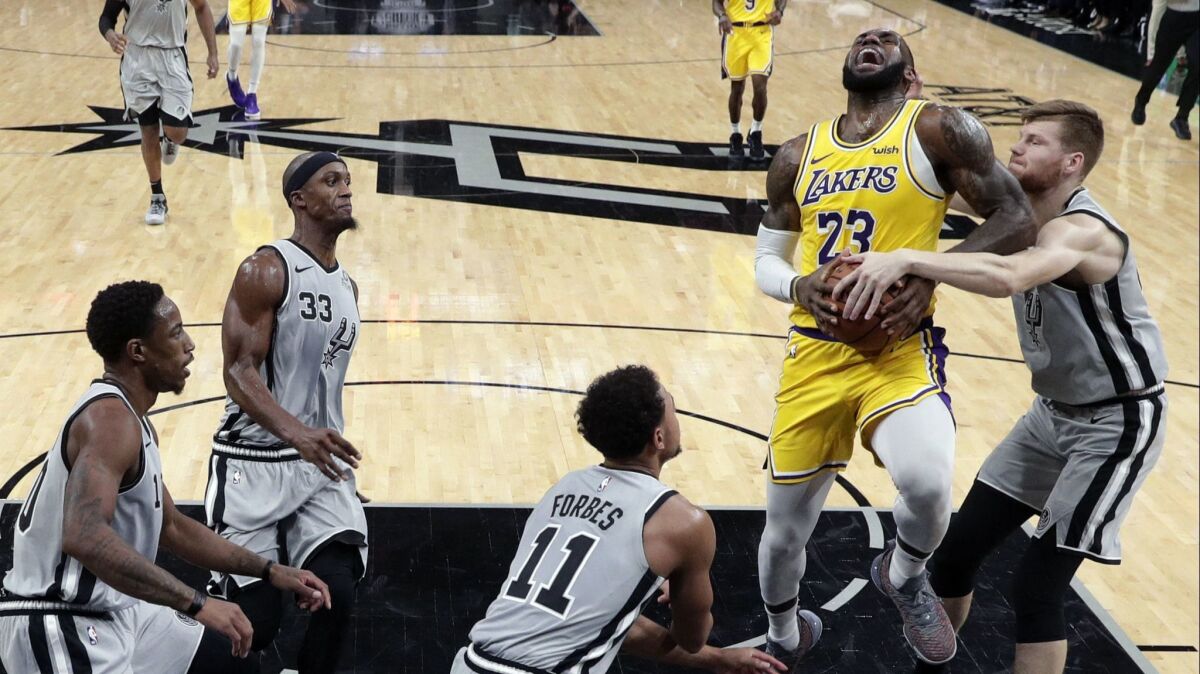 Reporting from San Antonio —
LeBron James reached two milestones Saturday night that lifted him among the ranks of all-time greats, but couldn't rescue the Lakers late in a 110-106 loss to the San Antonio Spurs.
Josh Hart's tough defense couldn't prevent San Antonio's DeMar DeRozan from scoring the key basket as the game hung in the balance at AT&T Center, and James missed a long three that would have tied the game with 5.1 seconds left.
The Lakers scored 60 points in the first half but were not the same offensive machine in the second. They scored just 46 points after halftime, 18 in the fourth.
"We got away from who we were halfway through the third," Lakers coach Luke Walton said. "We stopped pushing the ball. We got stagnant. They made some great plays. We missed some shots. But we just got away from what we've done really well so far this season."
Throughout his 16-year career, James has continued to reach new heights.
In scoring 35 points, he passed Dallas' Dirk No-witzki for sixth place on the NBA's scoring list with 31,202 points.
In going 13 for 21 from the field, James passed Hall of Famer Shaquille O'Neal for sixth in made field goals with 11,339.
"Guys that I've played against, played with, watched before I even got into the league, admired, was in awe of," James said. "Dirk has always been one of my favorite players. I think Shaq is the most dominant player to ever play this game.
"So for me to be in the same conversation with those guys in anything that we're talking about as far as basketball, it's a tribute."
If only he could have gotten the Lakers a third straight win in the process.
The Lakers led by as many as 14 before the Spurs finally caught them in the fourth quarter.
The Lakers were down one after Hart made a three with 37.1 seconds left, and the young guard kept his body close to DeRozan, who pumped faked twice before hitting a jumper for a 108-105 Spurs lead with 15.9 seconds left. DeRozan had 30 points, 12 rebounds and eight assists, his second game of 30 or more against the Lakers (2-4) this season.
"You do your job and live with the results," James said. "Josh did his job, stayed down on pump fakes all night, made him take contested twos and he buried them. That's why he's the All-Star he is."
Down three, Rajon Rondo drove into the lane and had a wide-open layup opportunity.
But he instead elected to pass out to James.
"I thought I could suck somebody in, but they did a good job staying at home," said Rondo, who scored 12 points in a reserve role while returning from a three-game suspension for spitting at and fighting with Houston's Chris Paul.
"The layup would have got us [within] one point ... We would have still had to foul, but we didn't have any timeouts. I just made a split decision that I made and we didn't get what we wanted."
James, who had two of the 13 threes the Lakers made, missed a contested three, and the Lakers were forced to foul.
"Sometimes when you drive it, you kind of mess with the defense and they start to shrink in and you're able to get a three and that's what [Rondo] was thinking, try to get Josh Hart one, but they stayed home and got it [the ball] back to me," James said. "I took one that missed."
Twitter: @BA_Turner
---
All things Lakers, all the time.
Get all the Lakers news you need in Dan Woike's weekly newsletter.
You may occasionally receive promotional content from the Los Angeles Times.