Lakers end eight-game losing streak with victory over Suns, 122-110
Reporting from PHOENIX —
During the Lakers' 122-110 win over the Phoenix Suns, one Lakers fan sitting in the first row of seats at Talking Stick Resort Arena vocalized the complicated emotion felt by many like him these days.
"I'm fine with winning this game so long as we lose the rest of them," said Jonathan Ajimine, a 29-year-old from Anaheim.
Ajimine wore a Kobe Bryant jersey and sat next to his father, Vernon, who wore a Magic Johnson jersey. They picked Phoenix as the site of a golfing vacation because the Lakers played there, and paid $220 for their seats. The younger Ajimine wanted to see a win — but he also wants the Lakers to keep their lottery pick and get one high enough that they can draft UCLA point guard Lonzo Ball.
"The season is a failure if we don't keep our pick," he said.
Thursday night in Phoenix, the Lakers beat a team whose fans have a similar conundrum to theirs. Wins are more fun. But wins can also threaten the future. A better record can reduce the chance of a higher draft pick. The Lakers (20-45) would lose their top 2017 first-round pick to the Philadelphia 76ers if it falls out of the top three. If that happens, the late first rounder acquired in a trade with the Houston Rockets will be their top pick.
The worst record in the NBA — and consequently the best chance at a top three pick — is out of reach. The Brooklyn Nets only have 11 wins. The Lakers' chief competition for the second-worst record in the NBA is the Suns, who are now 21-44.
"That's going to play itself out in the end. No matter what happens, it's still going to come down to the luck of the balls type of thing," Lakers Coach Luke Walton said. "My job is to coach these guys to get better. We're going to continue to do that and try to win every time we play."
Driven by the memory of a 36-point loss to the Suns in February, and by the sour taste of an eight-game losing streak, the Lakers entered the game focused.
Suns forward T.J. Warren and Lakers forward Brandon Ingram reach for the ball during the first half of a game on Thursday.
(Matt York / Associated Press)
Suns forward T.J. Warren passes the ball away from Lakers forward Brandon Ingram (14) as forward Larry Nance Jr. (7) and guard D'Angelo Russell (1) defend during the first half of a game on March 9.
(Matt York / Associated Press)
Lakers guard D'Angelo Russell drives past Suns guard Tyler Ulis during the first half of a game on March 9.
(Matt York / Associated Press)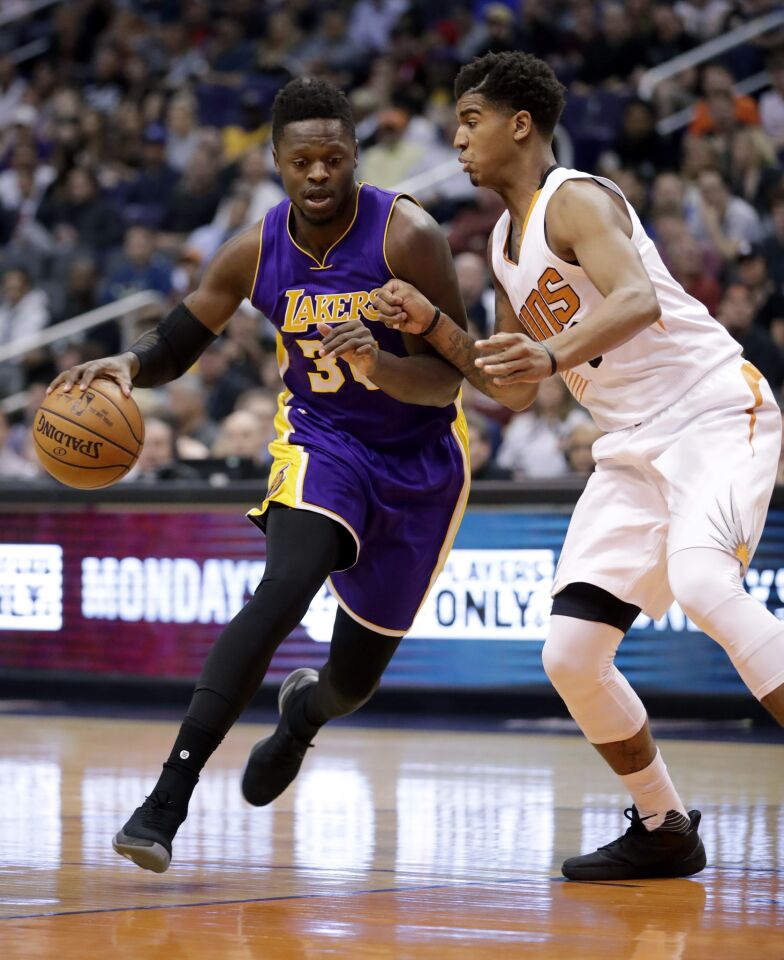 Lakers forward Julius Randle drives past Suns forward Marquese Chriss during the first half of a game on March 9.
(Matt York / Associated Press)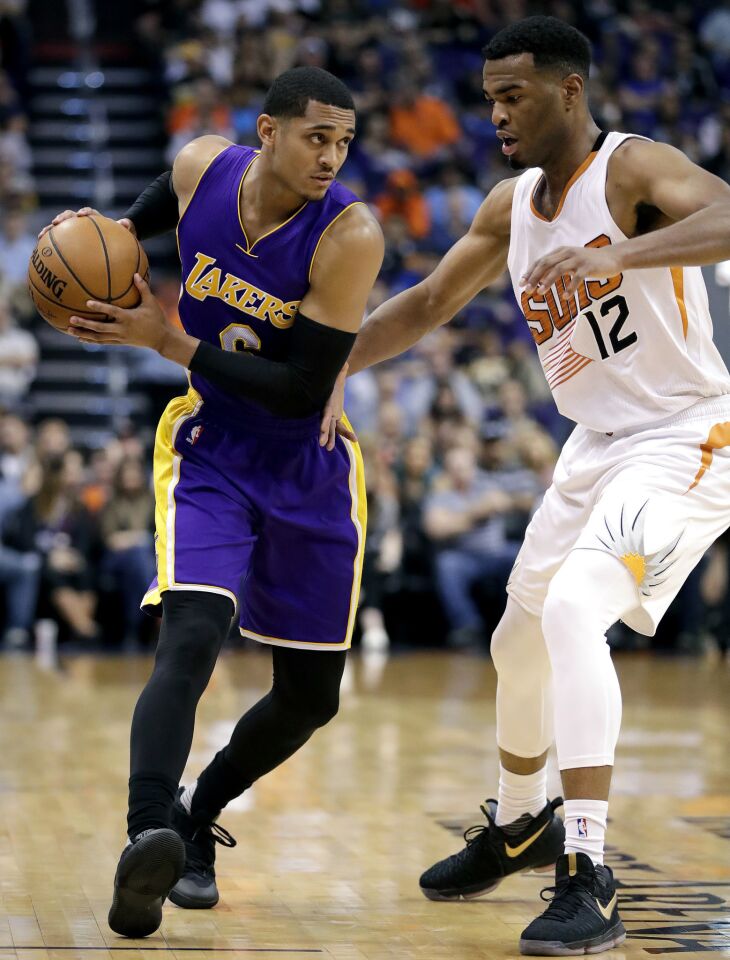 Lakers guard Jordan Clarkson looks to pass around Suns forward T.J. Warren during the first half of a game on March 9.
(Matt York / Associated Press)
D'Angelo Russell played one of his best games this season. He excelled both in scoring and his facilitation of the offense. Russell scored 28 points, making six of nine three-point shots. He had three steals, three assists and no turnovers.
"He did amazing running the show, getting everybody involved and attacking and scoring when we needed it," Lakers forward Julius Randle said.
Randle, Brandon Ingram, Jordan Clarkson, Larry Nance Jr. and Ivica Zubac also scored in double figures.
By midway through the third quarter, the Lakers had taken what proved an insurmountable 11-point lead in front of a very conflicted set of fans — on both sides of the aisle.
"Any time they go against the Lakers, the lottery goes out the window," said Javier Lugo, a 29-year-old Suns fan.
Joe Stack, 21, and Jack Shagren, 22, both go to school at a small college in Washington. They're Suns fans, they've seen Washington guard Markelle Fultz in person, and they'd like their team to draft him.
Did Stack find the Suns' recent three-game winning streak annoying?
"A little bit," he said. "But I can't do anything about that."
Lakers fan Anthony Maldonado took in the game with his dad and two brothers.
"I always in my heart want the Lakers to win," he said. "But I'm more relying on the lottery pick now that our season doesn't mean anything."
His father, on the other hand, said he didn't care about the pick. He just wanted to see the Lakers win.
That's a sentiment many lifelong fans can appreciate.
Like David Weller, 56, who has season tickets in section 226. He's been a Suns season-ticket holder for 25 years, and has lived in Arizona since before the Suns even existed.
He hears it from his friends all the time.
"Dave, why do you want them to win?" he said, imitating his friends. "Don't you want the lottery pick?"
He can't help it. He hates losing too much.
Follow Tania Ganguli on Twitter @taniaganguli
---
All things Lakers, all the time.
Get all the Lakers news you need in Dan Woike's weekly newsletter.
You may occasionally receive promotional content from the Los Angeles Times.