Lakers are ahead of schedule and earn their second win over Thunder in five days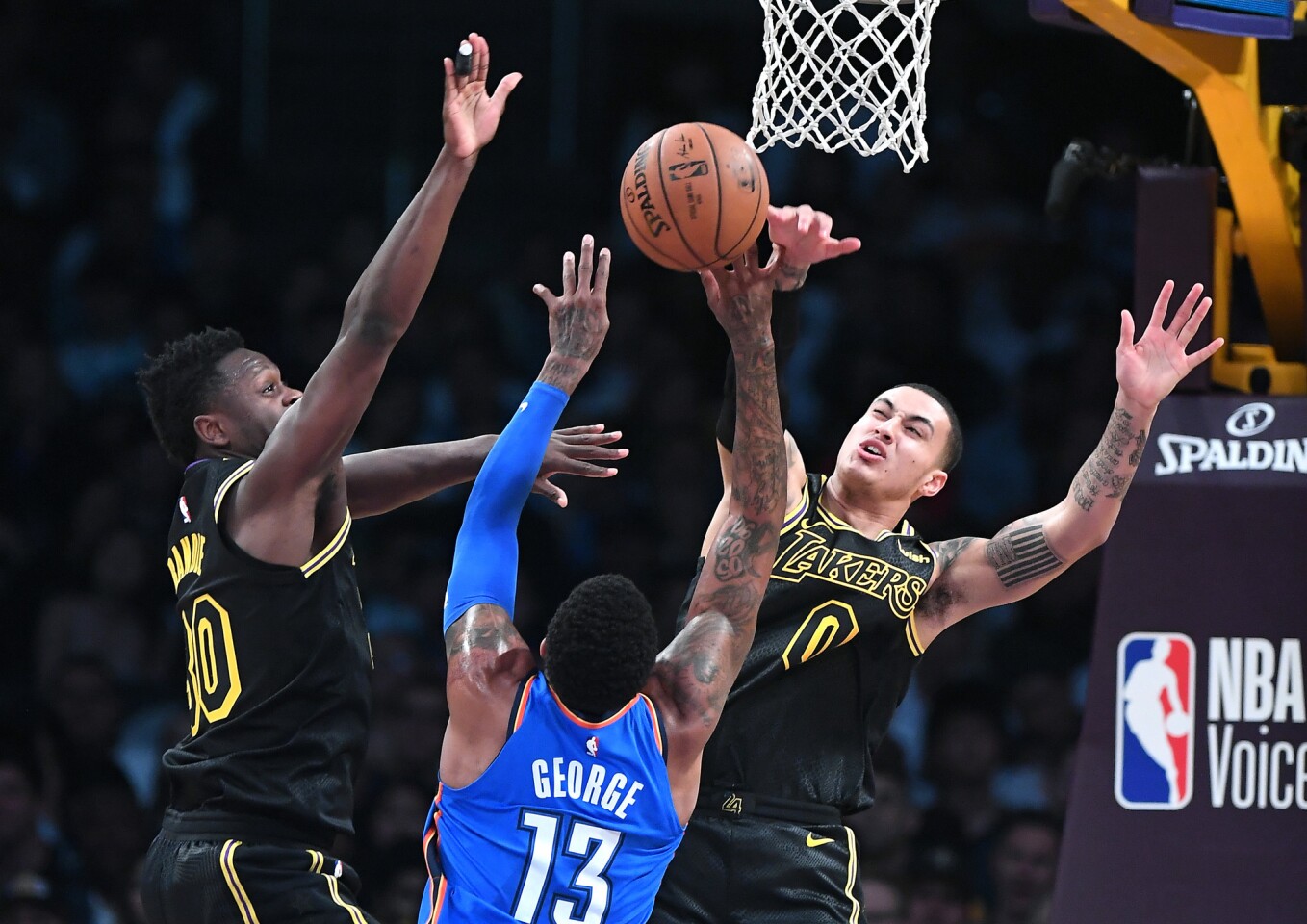 Lakers forward Kyle Kuzma, right, blocks a shot from Thunder forward Paul George as Julius Randle helps on defense during a game Thursday at Staples Center.
(Wally Skalij / Los Angeles Times)
Lakers forward Brandon Ingram drives on Thunder center Steven Adams during the first quarter of a game Thursday at Staples Center.
(Wally Skalij / Los Angeles Times)
Lakers guard Alex Caruso steps in front of Thunder center Steven Adams for a steal during a game Thursday at Staples Center.
(Wally Skalij / Los Angeles Times)
Lakers forward Brandon Ingram blocks a shot from Thunder center Steven Adams during a game Thursday at Staples Center.
(Wally Skalij / Los Angeles Times)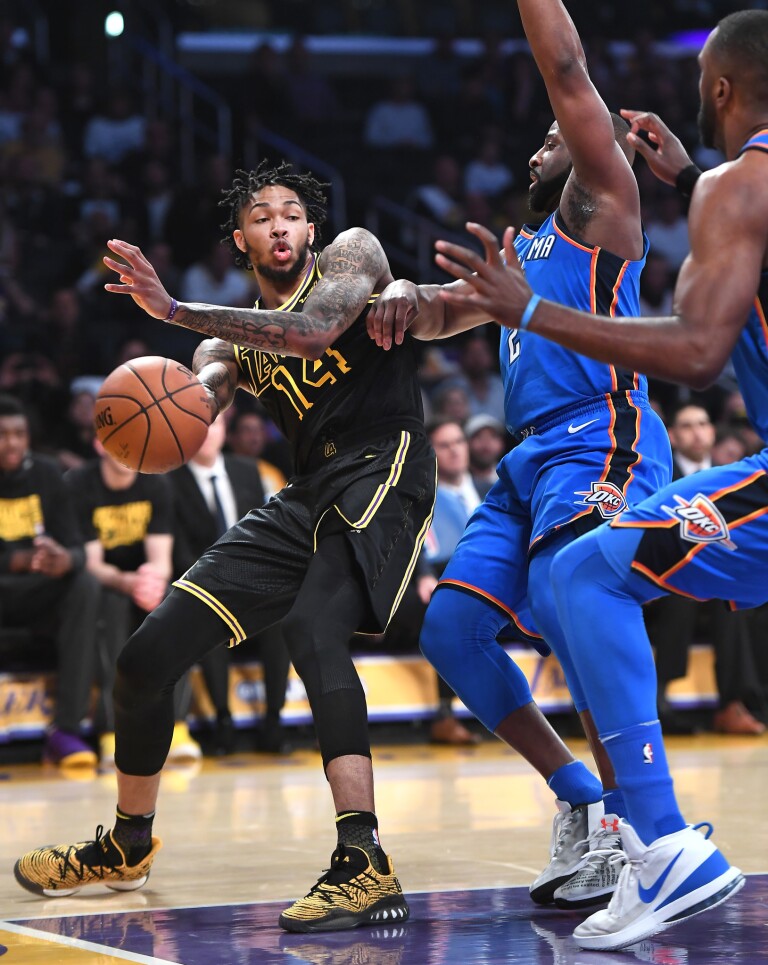 Lakers forward Brandon Ingram gets a pass off in front of Thunder guard Raymond Felton during a game Thursday at Staples Center.
(Wally Skalij / Los Angeles Times)
Lakers guard Josh Hart battles for a loose ball with Thunder forward Patrick Patterson during a game Thursday at Staples Center.
(Wally Skalij / Los Angeles Times)
Lakers center Ivica Zubac has his shot blocked by Thunder forward Jerami Grant during a game Thursday at Staples Center.
(Wally Skalij / Los Angeles Times)
When the Lakers first took the court at Staples Center this season, any reasonable expectations for the team had to be fairly muted.
It was, after all, a young basketball team playing in a conference with super teams in Golden State, Houston and Oklahoma City. There was a stalwart Spurs team in San Antonio, an arriving Timberwolves team in Minnesota and talented rosters across the hall at Staples Center and in Denver and New Orleans.
Wins and losses weren't going to be the way to judge the Lakers. Progress was going to be the metric of choice.
But with Thursday's trade that cleared the way for a run at a pair of star free agents, it's becoming clearer that this team's timetable might need to be accelerated.
Thursday night, the Lakers defeated the Oklahoma City Thunder 106-81, giving them their 12th win in their last 16 games.
"For us as players, it wasn't about the big picture," rookie Josh Hart said. "We want to win right now. And these last 16 games, we've started to figure it out."
It's the second time they've beaten the Thunder — who were without Russell Westbrook and Carmelo Anthony because of injuries — in a five-day span. But it wasn't as if the Lakers were at full strength, either.
Their two newest players, Isaiah Thomas and Channing Frye, won't join the team until Friday in Dallas. Their point guard, Lonzo Ball, is still in street clothes on game night. And, Jordan Clarkson and Larry Nance Jr., two of the longest-tenured players on the team, were sent to Cleveland, a sobering reminder of the business part of professional basketball.
But regardless, the Lakers played Thursday as if they were at full strength. They scrambled on the defensive end, stifling every player on the court with the exception of Paul George, whom they slowed down after a hot start.
And on offense, they played with a combination of speed and unselfishness that coach Luke Walton is trying to instill at the team's foundation.
It's working.
Before the game Thursday, Walton said he wasn't sure whether the team would keep playing well without key pieces like Clarkson and Nance — but he knew one way they could.
"We'll find out. Our guys had definitely found a nice groove together, counting on each other. But, this is part of it. Whether we struggle or not until we figure it out, that's part of the learning curve too," Walton said. "We've been having success because we've been competing our tails off, trusting each other, making extra passes. And we can do that no matter who is playing. That's more of a mind-set and an attitude to have.
"I would expect that to carry over."
Thursday, it did — and soon, it'll be on the Lakers and their players to figure out whether it can carry over to a team with George or LeBron James or both. If the current roster is auditioning for 2018's top free agents, of whom George is near the top of the list, they're beginning to leave strong impressions.
How could you see Brandon Ingram, at 6 feet 9 and 190 pounds of arms and legs, handling the ball and running the offense like a point guard and not take notice? How could you not notice how rookies Hart and Kyle Kuzma look like two more draft picks deep in the first round that the Lakers have hit on? How could you see Julius Randle continue this run of the best basketball of his professional career and ignore it?
Thursday, Ingram had 19 points and six assists, doing that with George, one of the premiere defenders in the NBA, draped all over him. Kuzma had 16 points off the bench and Hart had 10 points, eight rebounds and five assists.
And Randle, who had his toughness and physicality questioned in a loss to the Thunder on Jan. 17, pushed and shoved his way for 17 points and six rebounds.
Add in a team-high 20 from Kentavious Caldwell-Pope, and the Lakers had more than enough firepower to blow out the Thunder — especially considering their defense held Oklahoma City to only 54 points in the final three quarters.
"We're buying in to the fact that we can be into these games and that we can win these games," Ingram said. "I think the way we go in with the defensive pressure [determines] what the results will be. If we go in and hit first, battle as soon as we get on the floor, it's going to be a really good game for us."
Thursday's trade created expectations for next summer — but with the way the Lakers are playing right now, fans might not need to wait. While it's not a finished product, it's certainly an improving one.
"It's a big jump … as far as closing games from where we started the season out," Walton said. "We kind of needed other teams to miss shots or someone on our team to get really hot to win a game. Now, we can just consistently do the things, mainly defensively, to secure wins.
"It's huge progress for this group."
Etc.
The Lakers don't have plans to buy out the remaining time on center Brook Lopez's contract, which would allow him to join another team in the push for the postseason. Lopez is in the final year of his contract and will be an unrestricted free agent after the season. … Ball (knee) will travel with the team for Saturday's game in Dallas, but he will not play against the Mavericks.
Follow Dan Woike on Twitter @DanWoikeSports
---
All things Lakers, all the time.
Get all the Lakers news you need in Dan Woike's weekly newsletter.
You may occasionally receive promotional content from the Los Angeles Times.