Column: Roberto Osuna is in a better place after openly discussing anxiety issues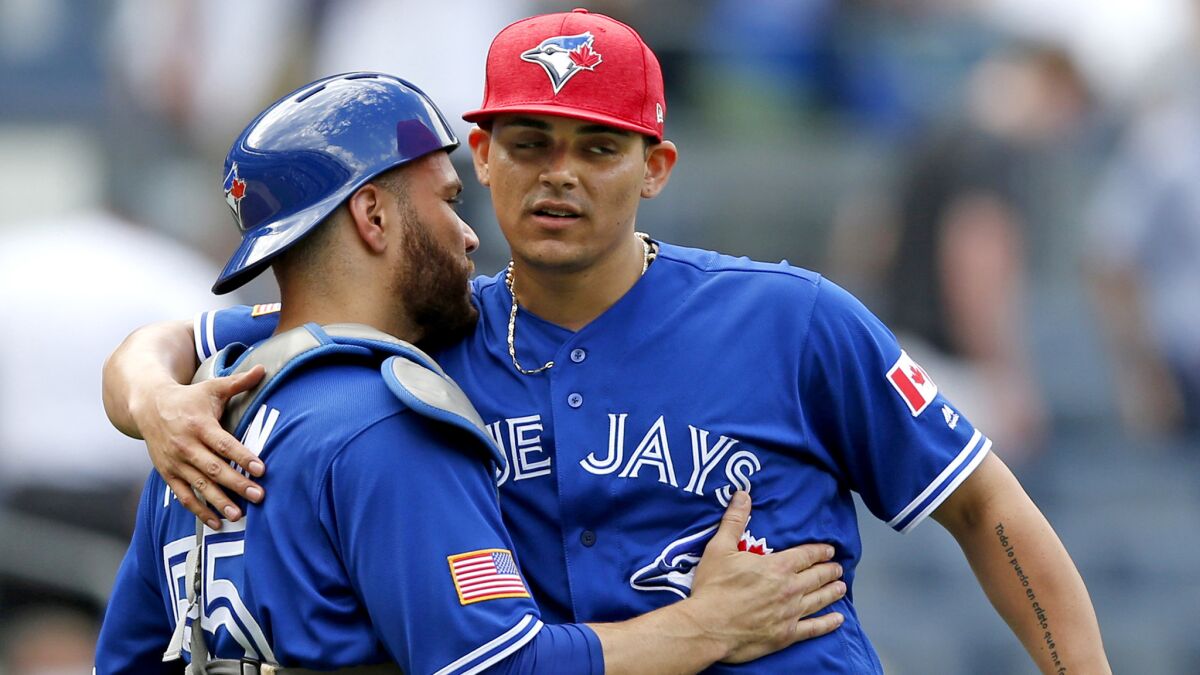 Roberto Osuna could have said he had a sore arm. Every pitcher does, at some point during the long season. His team could have checked him out and granted him a few days off, and by that time, maybe the symptoms would have gone away.
Osuna is the All-Star closer for the Toronto Blue Jays. When the Jays did not use him in a closing situation in June, manager John Gibbons explained that Osuna was not feeling well.
That might have been the end of the story, had Osuna not done something extraordinary the next day. He could have told reporters that, indeed, he was not feeling well.
Instead, he asked reporters to share with fans that he was dealing with anxiety.
"I wasn't able to pitch for a couple days, so I decided to tell the people what was going on with me," Osuna said. "I think they deserve to know what we've got, and what we go through in life."
That makes Osuna one of the most valuable players in baseball this year, in a society in which the prevalence of mental illness is great and the awareness is not so great.
In the culture of professional sports, where players try to play through injuries and sometimes consider talking about injuries a sign of weakness, it is remarkable that Osuna is willing to talk openly and comfortably — and in a second language — about what happened in those dark days.
"I was just feeling lost," he said. "I didn't feel like myself. I was feeling dizzy. I wasn't sure where I was. It was really weird."
He was in a hotel room, on the road, far from his family home in Mexico and his baseball home in Toronto. He never had experienced that sensation.
"It was absolutely really bad," he said. "I never want to go through that experience again."
Players like to say how they are a family from February through September. In their endless hours together, they talk about approaches for beating talented pitchers, places to go for dinner and their fantasy football leagues. They do not usually discuss mental illness, said Osuna's teammate, All-Star first baseman Justin Smoak.
"I think guys deal with it on their own," Smoak said.
Smoak said he was not sure whether he would be comfortable asking for a couple days off if he did not feel right mentally, as Osuna did.
"It takes a lot to do it," Smoak said. "He did it. Good for him. He's in a better place now."
Zack Greinke of the Arizona Diamondbacks, Joey Votto of the Cincinnati Reds and Andrew Toles of the Dodgers are among players who have publicly acknowledged issues with anxiety and/or depression in recent years. Anxiety disorders are the most common mental illness in the United States, affecting almost 1 in 5 American adults, according to the Anxiety and Depression Assn. of America.
Dr. Mark Oakley, who practices clinical psychology in Beverly Hills and has worked with major league players, said statistics are only estimates of the number of people affected because many Americans do not seek help for those conditions. He also said the rate at which baseball players are affected by those conditions might be higher than the rate in the general population.
"The pressure is on them," Oakley said. "They're making a lot of money. The major leagues are very unforgiving. Expectations are there. They've got to perform. If anything comes up that gets in the way of that, the pressures can bounce really quickly."
He has worked with some players who showed up on their own and hoped their team would not find out.
"There is still a stigma attached, unfortunately, with players not wanting to admit that to anyone," Oakley said. "Generally, my experience is, when the player is open about it, the teams are very, very supportive."
The Dodgers last year hired Eric Potterat, the former head psychologist for U.S. Navy SEAL teams, as their "director of specialized performance programs." He is in charge of the Dodgers' "sport psychology programs, mental assessment and selection programs, neurocognitive efficiency programs, etc.," according to his LinkedIn profile. (The Dodgers do not allow him to talk to the media, team spokesman Steve Brener said.)
Every major league team either has a mental health professional on staff or an association with one, said Dan Halem, the league's chief legal officer. And, as league rules become more progressive and players can take a few days leave when a baby is born or a loved one dies, they also can be put on the disabled list for treatment of mental health issues.
Halem said the league psychiatrist follows up to ensure each player is "getting treatment and progressing." He declined to say how many players the league evaluates every year but said the number is "less than 10, more than one."
"If a player is comfortable talking about it, I think it gives other players more comfort in going public," Halem said. "If a player is not comfortable going public, the last thing you want to do with a player that has anxiety or emotional distress is put them in a position that is going to make it worse."
Osuna said the Blue Jays have supported him completely through his acute episode of anxiety. He said he has not been prescribed medication but has found help in therapy sessions.
"Just talking to people," he said. "Just going through that and accepting that is a problem, and learning how to control it."
And, just by talking about it, Osuna is helping others.
"When somebody speaks out and says, 'I have this,' it opens a conversation," said Debbie Cohen, a marriage and family therapist based in Calabasas. "It doesn't make people feel so alone and isolated.
"Part of the problem is that, when there is something going on emotionally, people don't want to share it because they think there is something wrong with them. If they hear somebody they admire speak out about it, it helps give them a voice."
Osuna understands the perception some fans might have: You're rich, you're famous, what could possibly be wrong with your life?
"No, no, we are humans too," he said. "We've got our life off the field. We've always got a lot of things going on with us — on the field, off the field. I'm 22 years old. I have a lot of things going on at the same time."
The way he sees it, he got the help he needed, so he is paying it forward by speaking out so others can get the help they might need.
"Absolutely," he said. "I got a lot of support from everybody in Toronto, Canada, all around. It means a lot for me. Now I'm feeling better. I know how to control these things.
"Like a couple of my teammates told me, we all go through that. It's part of life."
Follow Bill Shaikin on Twitter @BillShaikin
Get our high school sports newsletter
Prep Rally is devoted to the SoCal high school sports experience, bringing you scores, stories and a behind-the-scenes look at what makes prep sports so popular.
You may occasionally receive promotional content from the Los Angeles Times.