Angels face a series of decisions that could determine their future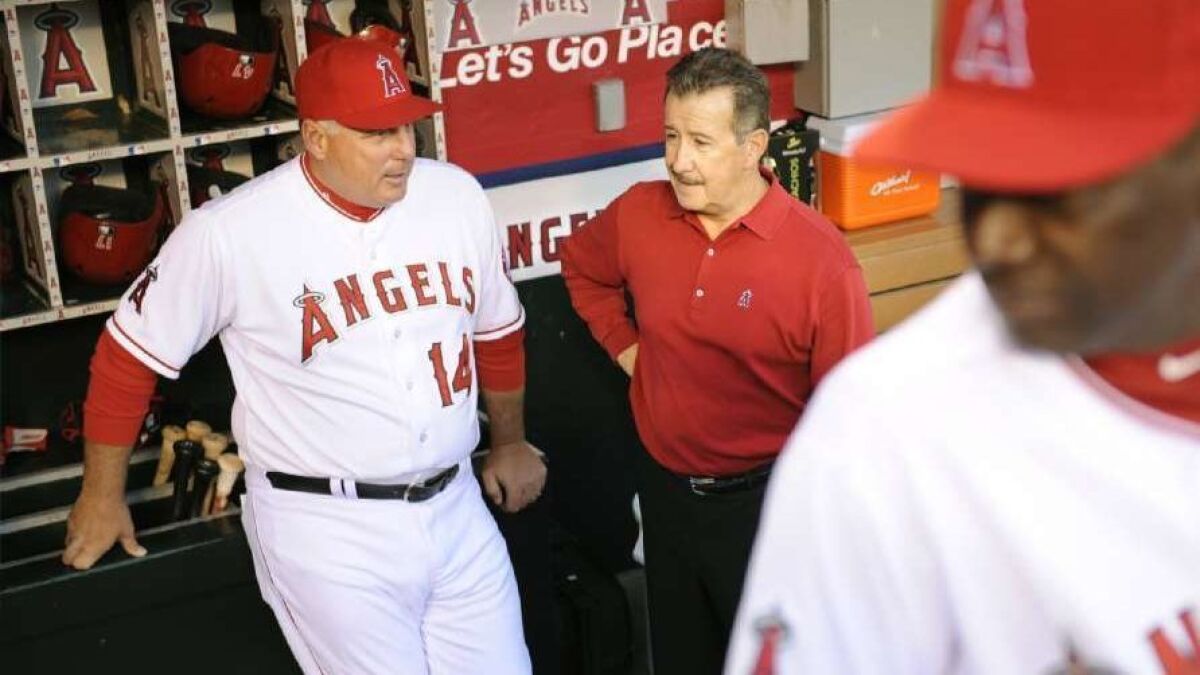 Whether they acquire or sell off players before the July 31 trade deadline is merely an appetizer on the buffet of daunting and potentially franchise-altering moves facing the Angels in the coming months.
The contract of Mike Scioscia, baseball's longest-tenured manager, expires after this season, and owner Arte Moreno and general manager Billy Eppler must decide whether to retain the only field boss to lead the Angels to a World Series title.
Mike Trout's six-year, $144.5-million contract expires after 2020, and if the Angels are to have any hope of retaining baseball's best player with a lucrative extension, they must make the moves necessary to build into a playoff contender by 2019 and a World Series contender by 2020.
And at some point in the next three years, the Angels could have an Albert Pujols dilemma: Do they keep the aging and expensive slugger in the lineup despite his declining production or possibly release him and swallow the rest of his hefty contract to clear a spot for a better player?
"You're always looking forward and thinking ahead in this game," Eppler said. "You have to be flexible and be able to multitask if certain situations call for it."
A closer look at the dynamics surrounding each issue:
Let's make a deal
It makes no sense for the Angels to trade top prospects such as Class-A outfielder Jo Adell and triple-A pitchers Griffin Canning and Jose Suarez from a vastly improved farm system for a rental player, even one as good as Manny Machado.
They entered Saturday 10 games out of the second wild-card spot, and it would take more than one star for their injury ravaged club to compete with Boston, New York and Houston for the AL pennant.
But if Eppler can acquire good big leaguers who are under club control for 2019 and beyond without trading his best prospects, he should pursue them.
The problem is Eppler lost his most valuable big-league trade chip when ace Garrett Richards suffered another elbow ligament tear on Tuesday. The Yankees, who have one of baseball's best farm systems, were an ideal suitor for Richards, who will be a free agent after the season. Richards will have surgery and be out until 2020.
Free-agent-to-be Martin Maldonado has value, but few contenders need catching help. Unless Ian Kinsler goes on a tear or someone is willing to assume a chunk of streaky hitter Justin Upton's $90- million contract over the next four years — highly unlikely — there isn't much to trade.
Hail to the chief
Scioscia's resume is Hall of Fame-worthy. He's led the Angels to the 2002 World Series title, six division titles and the AL championship series in 2005 and 2009. He ranks 19th on the all-time list with 1,618 wins over 19 years.
But the Angels have reached the postseason once in eight years and haven't won a playoff game since 2009. That hardly warrants a new deal.
Scioscia turns 60 in November. An argument could be made that the Angels are due for a change, that they would benefit from some new blood and fresh ideas. Eppler has plenty of in-house managerial options in special assistants Brad Ausmus and Eric Chavez and coaches Josh Paul and Dino Ebel.
But Scioscia is no quitter. He's stubborn. If the Angels miss the playoffs, he'll feel there is unfinished business and will probably want to return.
Scioscia is also a favorite of Moreno, who signed the manager to a 10-year, $50-million deal after 2008, and that Scioscia-Moreno axis is difficult to break.
Former GM Jerry Dipoto tried in 2015 when a power struggle drove a wedge between Dipoto and Scioscia that July. Dipoto gave Moreno an ultimatum — either Scioscia goes or I go. Off Dipoto went.
Scioscia and Eppler have a much better relationship, and they agreed to table job talks until after the season. If the Angels make a change, expect them to give Scioscia the opportunity to retire or accept a front office position.
Flight risk
Trout has won two AL most valuable player awards. He's the highest paid player in baseball, with a $34-million salary. The accolades and money are nice. But they are not what drive him.
Trout, who turns 27 in August, wants to be the best player in the game. He wants to perform on the October stage regularly, like the player he idolized growing up in South New Jersey, Yankees shortstop Derek Jeter.
The Angels are expected to approach Trout's agent about an extension after the season, but Trout has no incentive to sign so soon. He's the LeBron James of baseball. He'll be 29 when he hits free agency and could command a contract of $400 million or more. The money will be there. He'll have his pick of teams.
As loyal as Trout is to the Angels, as much as he likes his teammates and Southern California, he's not going to commit to staying until he is sure the Angels will be a perennial contender.
That will require a 2020 vision. The Angels must try to make incremental upgrades this summer. They must be sure injured two-way star Shohei Ohtani, who might need elbow ligament-replacement surgery this year, is 100% by 2020.
They must sign one or two impact free agents next winter from a class that includes Machado and Bryce Harper, pitchers Charlie Morton and Dallas Keuchel, relievers Kelvin Herrera and Sean Doolittle and second baseman Brian Dozier.
Moreno may have to overcome his aversion to the payroll luxury tax for a few years. If that's what it takes to secure Trout to a long-term deal, it will be worth it.
Diminishing returns
Pujols can still put a charge into a ball, as he showed with four home runs against the Dodgers and Mariners last week. And he can still deliver in the clutch, batting .304 with runners in scoring position.
He just can't do either as often as he used to, which is no indictment of the slugger. He's 38 and far removed from an 11-year reign in St. Louis (2001-11) when he was the most feared right-handed hitter in the game.
Pujols is batting .251 with 16 homers, a team-leading 52 RBIs and a .723 on-base-plus-slugging percentage, up from a career-low .672 OPS last season but far below his .940 career mark.
He's been strong enough to make 48 starts at first base, allowing the Angels to get Ohtani's lethal bat in the lineup at designated hitter, but the demands of defense have taken a toll. Pujols was placed on the disabled list Friday because of a sore left knee that has plagued him all season.
How much more can Pujols' body take? And at what point will the Angels be better off with the dynamic Ohtani as their everyday DH and possibly Matt Thaiss, a top triple-A prospect, at first base?
The answers would be clear if Pujols, who has three more years and $87 million left on his contract, had a Chris Davis-like drop in production. He hasn't. If he does in 2019 or 2020, things could get sticky.
The prideful Pujols Is not likely to quit, and it's doubtful his agent would agree to a contract buyout. It would also be awkward for the Angels to cut Pujols and expect the future Hall of Famer to promote the club for the next 10 years under his personal-services contract with Moreno.
The Angels may be far out of playoff contention, but they are far from boring. From Scioscia to Trout to Pujols, they're full of the kind of intrigue 19th century poet Sir Walter Scott would appreciate: Oh, what a tangled web they weave.
---
Get our high school sports newsletter
Prep Rally is devoted to the SoCal high school sports experience, bringing you scores, stories and a behind-the-scenes look at what makes prep sports so popular.
You may occasionally receive promotional content from the Los Angeles Times.