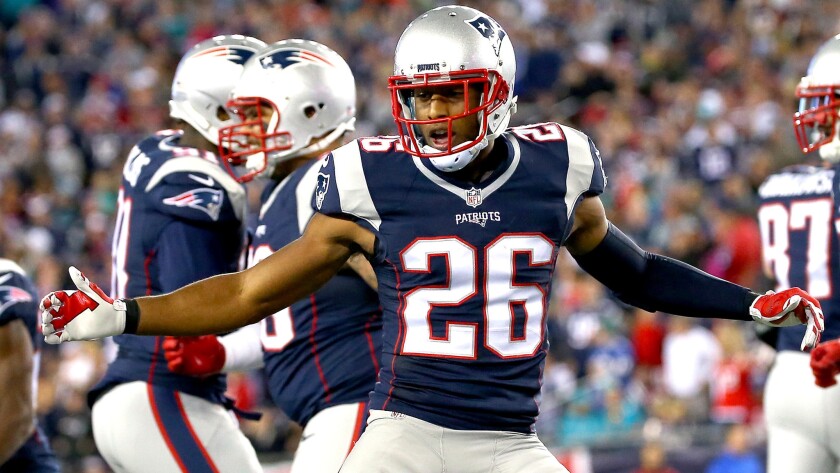 FOXBOROUGH, Mass. —
Tom Brady slammed the ball after taking a sack, then got up and passed for a touchdown pass on the next play to finish off another stellar performance.
Even when they look sluggish, Brady and the New England Patriots still dominate.
Brady passed for 356 yards and four touchdowns Thursday night, two to Julian Edelman, and the Patriots defeated the Miami Dolphins, 36-7, to become the first of the NFL's five unbeaten teams to reach seven victories.
Stephen Gostkowski broke Adam Vinatieri's franchise record for consecutive field goals by connecting from 52 and 36 yards, running his streak to 26 in a row. Rob Gronkowski had 113 yards receiving and a touchdown, and Dion Lewis had 93 yards receiving and a touchdown.
"I made a bad read and I shouldn't have taken a sack there," Brady said of his angry response to the fourth-quarter sack.
He was smiling afterward while backup Jimmy Garoppolo took the final snaps to seal the lopsided win.
The loss was the first for Miami (3-4) under interim coach Dan Campbell. The Dolphins scored 82 points in wins over the lowly Tennessee Titans and Houston Texans in Campbell's first two games after replacing Joe Philbin. But they were overmatched against the defending Super Bowl champions.
"You have to play good football in all three phases when you play the New England Patriots," Campbell said. "They've always been that way."
It could be an even bigger loss for the Dolphins because four-time Pro Bowl defensive end Cameron Wake was carted off the field with an Achilles' tendon injury. Campbell didn't have an update on the extent of the injury.
The Patriots are 7-0 for the second time in franchise history and first since 2007, when they were 16-0 in the regular season. They've scored at least 28 points in every game and 30 or more in their last six.
A week after setting an NFL record with 25 consecutive completions, Ryan Tannehill had a rough night against New England. He passed for no touchdowns and had two passes intercepted.
"We just couldn't get going," he said.
Brady connected with Gronkowski for a 47-yard scoring pass on the opening drive, but the Patriots managed only 65 yards on their next five possessions.
"We were doing things we don't typically do," Brady said.
They took a 9-0 lead on a safety after center Mike Pouncey snapped the ball before Tannehill was ready on a third down from the nine.
By halftime, the Patriots' lead was 19-0.
---