Can the Browns connect with Rosen or Darnold, or throw another pick?
Reporting from INDIANAPOLIS —
The decision is squarely in front of the organization that might be the least equipped to make it.
As a reward for finishing last season without a single victory, the Cleveland Browns own the No. 1 pick in the NFL draft. Via a trade last year, they also own the No. 4 pick.
And so, they'll get to settle the argument that was held at tailgate parties and on message boards since 2015. Who's better — Josh Rosen or Sam Darnold?
It has to be a question the Browns are asking (among others) as they begin to ramp up their evaluations at the NFL combine. History says whether they go with one or the other, it might not work out. This is, after all, the organization that picked Tim Couch, Spergon Wynn, Luke McCown, Charlie Frye, Brady Quinn, Colt McCoy, Brandon Weeden, Johnny Manziel and Cody Kessler to play quarterback before taking DeShone Kizer in the second round last year.
There are a lot of "answers" to the Browns' annual quarterback questions in there, and the team almost comically always gets them wrong.
In 2016, the team owned the No. 2 pick — in a perfect spot to land either Jared Goff or Carson Wentz. Instead, they traded down and took Kessler, the former USC quarterback, in the third round.
"You have to trust me on this one," Browns coach Hue Jackson said at the time.
Kessler went 0-8 as a rookie and threw only 23 passes in his second season.
It seems like this, finally, could be the year the Browns get the franchise quarterback they haven't had since Bernie Kosar was under center.
Wednesday, Jackson said the team is still early in its evaluation of the top quarterback prospects, a group headlined by USC's Darnold, UCLA's Rosen, Wyoming's Josh Allen and Oklahoma's Baker Mayfield.
"I've seen them all," Jackson said. "But obviously this is another opportunity, starting now at the combine, to get a chance to talk to them, to get a feel for them a little bit more. I think it's too early in the process to really talk about where they are, where they rank or anything like that. But I think obviously this is really the start of it."
Over the course of the past year, rumors have surfaced that neither Darnold nor Rosen would prefer to play in Cleveland. Darnold denied the rumor during the season, and in the past week, Rosen told the NFL Network's Mike Silver it wasn't true.
"I don't know that it's comfort. But again, as you know, this is the National Football League. We get to draft them and we're going to have those conversations with these young men about things that are said," Jackson said.
Attitude seems to be the major narrative surrounding Rosen, who has been outspoken about a wild array of topics — from Donald Trump to NCAA hypocrisy — and was photographed with a hot tub in his dorm room.
"Josh is a very talented quarterback. He looks like a pro on tape," Denver coach Vance Joseph said. "But meeting with him and watching him throw and compete this week is going to be a help to the evaluation. He's definitely a good football player."
Darnold won't make things quite as easy on the NFL top decision-makers after announcing he won't be throwing in drills at the combine.
This is another opportunity, starting now at the combine, to get a chance to talk to them, to get a feel for them a little bit more.
— Browns coach Hue Jackson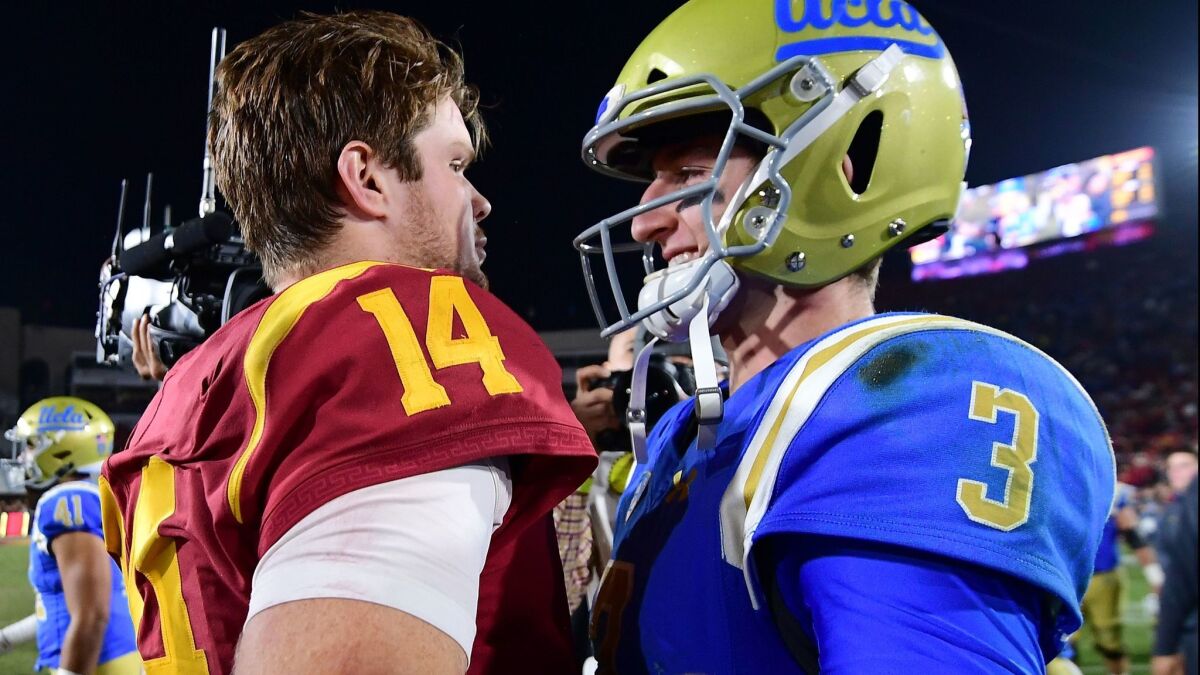 "I mean, Sam's making the decision. We wish he would throw, would like to see him throw," Jackson said. "But at the same time, there's going to be other time to have an opportunity to watch him work out" — such as at USC's pro day later this spring — "and do those things. But do I wish he was throwing here this weekend? Yes, I do, to watch him compete with the other guys. But at the same time, that's not going to hinder us making a decision about what kind of player he is for our football team."
What could most hinder Rosen or Darnold's landing with the Browns is a unique quarterback market, with players available via free agency and on the trade market in addition to a highly thought-of crop in the draft.
Free agent Kirk Cousins will fetch top money on the market, and all three Minnesota Vikings quarterbacks — Case Keenum, Teddy Bridgewater and Sam Bradford — are also set to be free agents. Add in someone such as Nick Foles, the Super Bowl MVP who could be dealt, and the Browns have plenty of options.
It just still seems like the best and most likely one would have them using either the No. 1 or No. 4 pick on the next savior for the franchise. And the process really begins now.
"I think the most important part is being able to sit in front of them and talk to them because you haven't been able to do that," Jackson said. "I think it's really about getting to know them as people and being able to dig into all of the medical things that you need to but be able to really put a face with a name."
Trust him on that.
Twitter: @DanWoikeSports
---
Get our high school sports newsletter
Prep Rally is devoted to the SoCal high school sports experience, bringing you scores, stories and a behind-the-scenes look at what makes prep sports so popular.
You may occasionally receive promotional content from the Los Angeles Times.