Column:: American figure skaters won't be on podium as Japan's Yuzuru Hanyu remains a cut above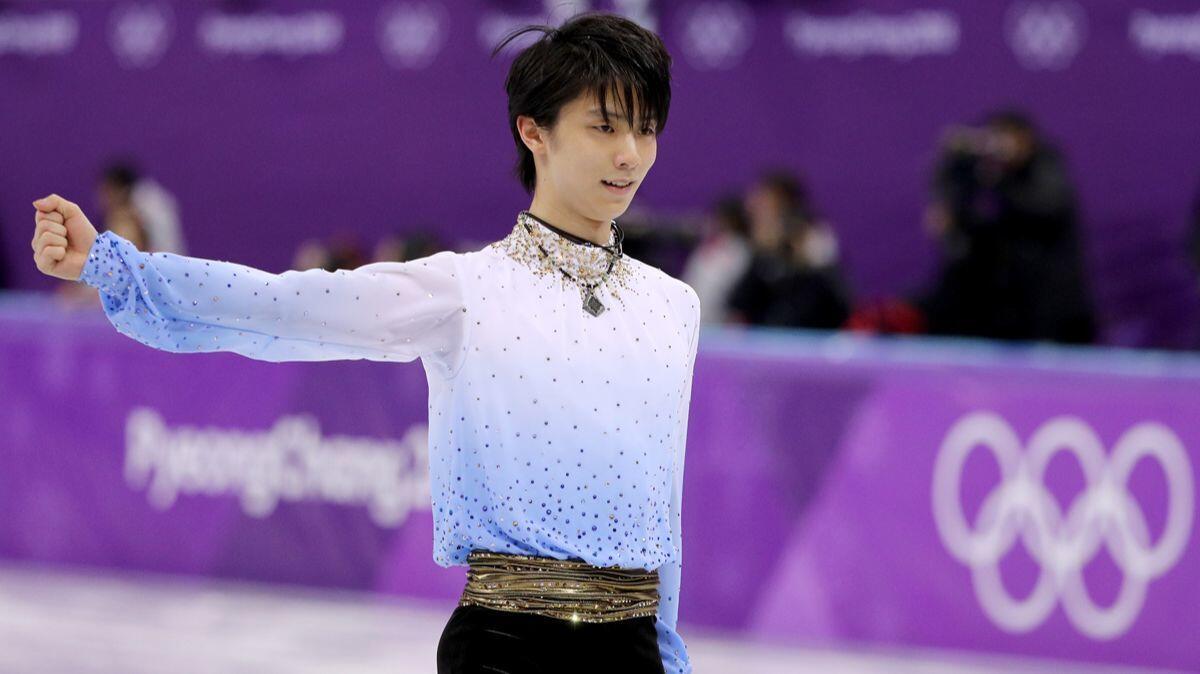 Reporting from PYEONCHANG, South Korea —
There is Yuzuru Hanyu, and then there is everyone else who aspires to unseat the Japanese icon from his Olympic figure skating throne.
Landing muscular jumps with ethereal ease and weaving a mesmerizing spell with his artistry, Hanyu on Thursday dispelled any doubts about his fitness following an ankle injury he suffered in November. He soared through an enthralling short program at Gangneung Ice Arena, performing two quadruple jumps with flair and finesse as he earned 111.68 points and took the lead after the first phase of the competition. He's not prohibitively far ahead of Javier Fernandez of Spain, whose fine "Modern Times" routine scored 107.58 points, or Japanese compatriot Shoma Uno, who's third at 104.17, but the quality of Hanyu's skating stood above all others.
"I didn't feel nervous. I'm just satisfied about everything," Hanyu said.
The brilliance of his performance to Chopin's Ballade No. 1 magnified the awful nature of the meltdown suffered by two-time U.S. champion Nathan Chen, who had the misfortune of following Hanyu out to the ice.
Chen, thought to have the best medal chance of the three-man American contingent, stumbled out of contention and was at a loss to say how he will recover before the free skate finale Saturday.
Chen, who trains at the Rinks-Lakewood Ice, fell on his opening jump — which was supposed to be a quadruple lutz combined with another jump — and then stepped out on the landing of a quadruple toe loop, and stepped out and put a hand down on the ice as he landed a triple axel. Unlike the strong performances pulled off by American teammates Adam Rippon and Vincent Zhou — with Zhou, 17, earning a spot in history by becoming the first skater to land a quadruple lutz in Olympic competition — Chen stumbled to 17th place, with 82.27 points. Rippon (87.95) and Zhou (84.53) are seventh and 12th, respectively.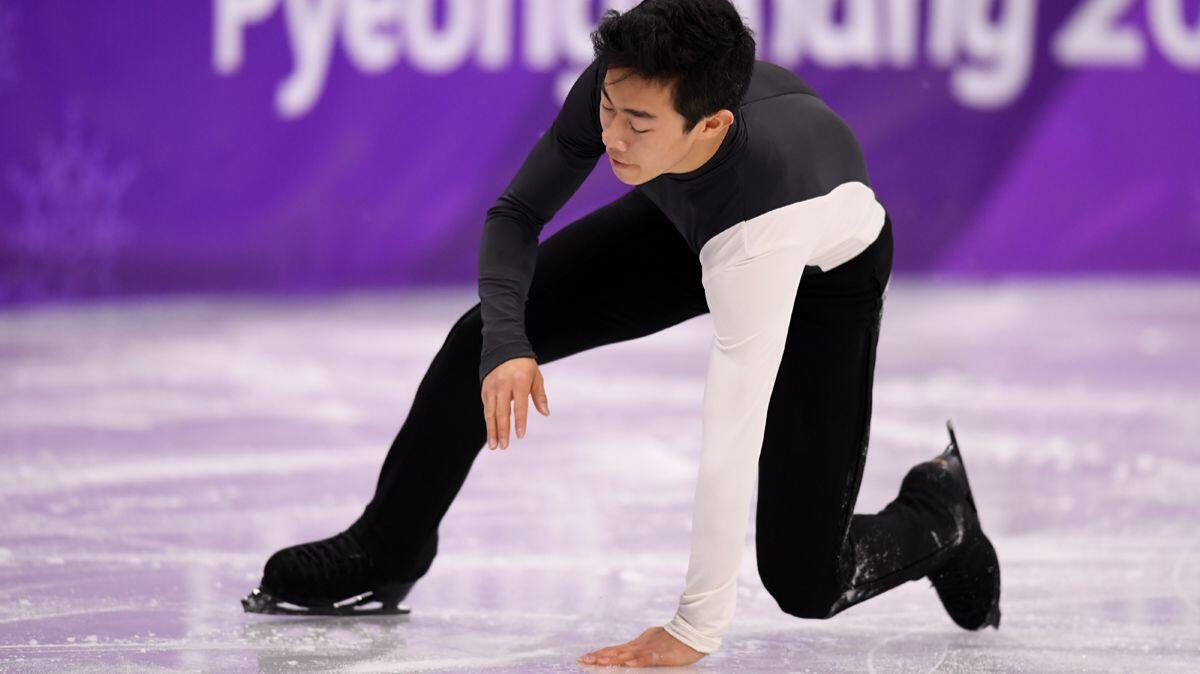 Chen said skating after Hanyu wasn't a problem. "I've skated after him before and skated well so obviously that didn't happen here," Chen said, adding that participating in the team event earlier in the week didn't tire him enough to explain his problems Friday. "It just was rough. Nothing really fit together. I did all the right stuff going into it. It should have been different, but stuff happens. I have to take it as it is and move on."
There wasn't much to take from this rare dud. "I've never been in this position before so I don't know exactly what to do," said Chen, who has not lost a competition this season. "But I'll talk to the rest of my team and we'll figure out what to do."
The top 24 advanced to the free skate finale.
Sochi bronze medalist Denis Ten of Kazakhstan, who trains in El Segundo, missed the cut after a performance in which he got no points for two elements. Ten, who is of Korean descent, stayed in the sport specifically to compete in these Games but has been hampered by foot injuries that leave him in constant pain.
"Certainly I'm disappointed with the way I skated here," he said. "I'm happy to come here despite all the challenges I've had in the past. It's great to be in Pyeongchang. I'm happy that I made it here, but of course, this is not the skating that I was looking forward to."
Rippon, skating in his first Olympics at age 28, acquitted himself well with a program that included no quads but was smoothly skated and was a fine followup to the strong contribution he'd made to the Americans' bronze medal in the team event. "I'm so happy with what I was able to do. I'm so prepared for this moment and for me to be able to go out there and deliver on what I wanted to do, I'm so happy. I'm so proud," said Rippon, who also trains at Lakewood Ice. "I want to show the world what I'm made of and I want to show the world why I fell in love with skating."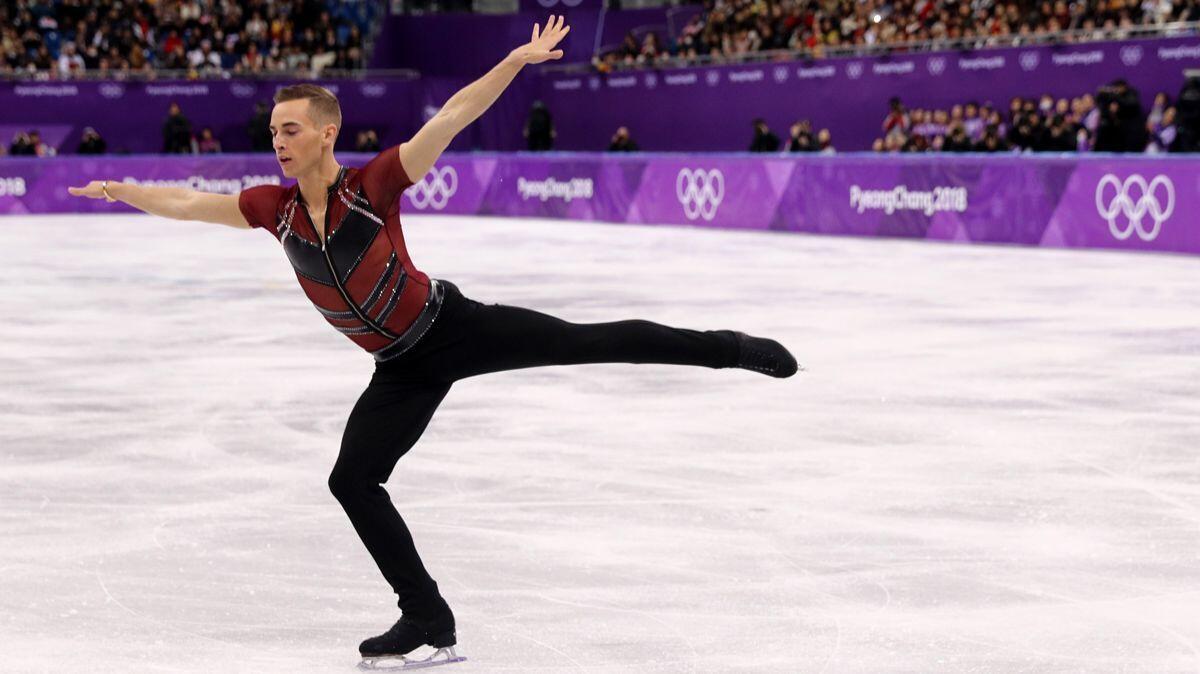 Good as his performance was, it wasn't enough to put him in medal contention. "Right now the name of the game is as many quads as possible. And I don't have any," he said. "So my most important thing at this competition was to deliver in the team skate and get a bronze medal for the United States. I was able to do that and now I'm able to go out in the individual event and show the world that I'm a cut-throat competitor and I'm an awesome skater."
Zhou, who trains in Riverside, landed the historic quadruple lutz — later duplicated by Dmitri Aliev and Jin Boyang — and a quadruple flip but had a shaky landing on a triple axel.
He acknowledged being nervous beforehand. "My entire life just kind of ran through my head and everything I'd done to get here," he said. "It's been extremely difficult for me to get here so I tried my best to live the moment and enjoy it, and I did just that."
So did Hanyu, who is vying to become the first back-to-back champion since Dick Button in 1948 and 1952.
"I just want to do my best, and do what is best for me. Not as an Olympic champion but for me," Hanyu said, though he probably will get to call himself a champion again.
Follow Helene Elliott on Twitter @helenenothelen
Get the latest on L.A.'s teams in the daily Sports Report newsletter.
You may occasionally receive promotional content from the Los Angeles Times.