Column: Olympic dream in sight for an energetic Adam Rippon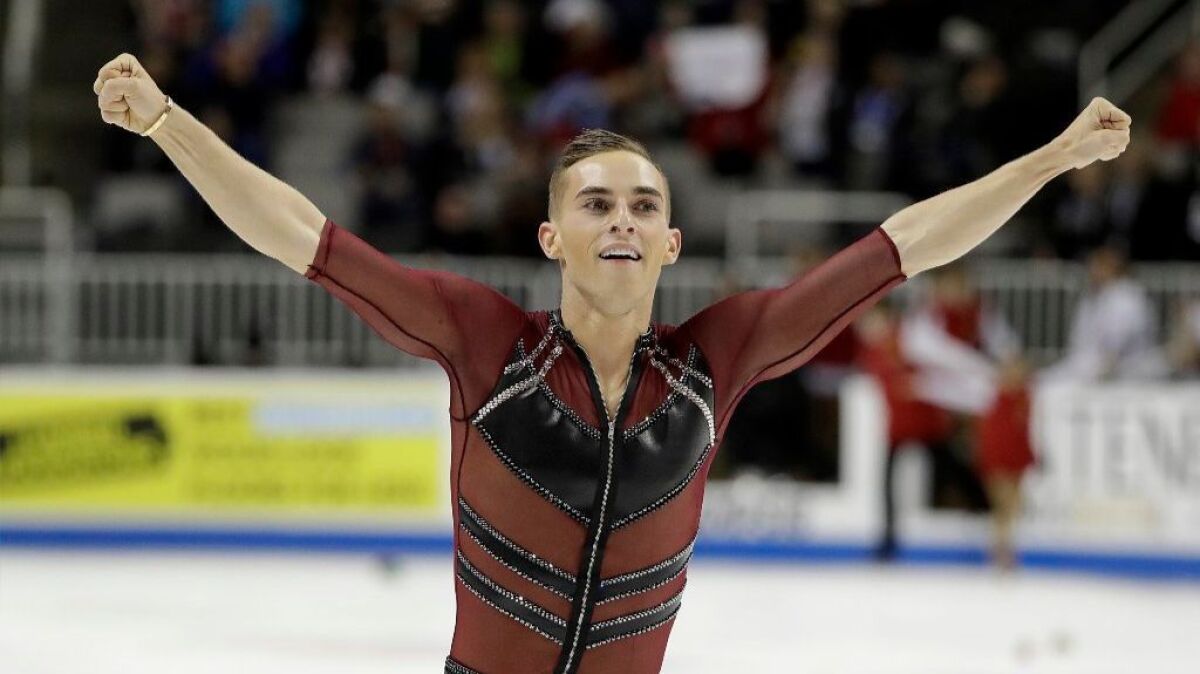 Reporting from san jose —
Not a single step of this journey has been easy for Adam Rippon. Not growing up "a little gay kid from the middle of nowhere in Pennsylvania," feeling he had to repress his true self until he came out in late 2015. Nor was it easy missing the 2014 U.S. Olympic figure skating team after he was weakened by the flu. And certainly not breaking his foot a year ago, which forced him to sit out the U.S. championships and deprived him of a chance to build a stronger resume.
That's why on Thursday, when he earned the second-highest score in the men's short program at the national championships, Rippon fell backward in joy in the "kiss and cry" area at SAP Center.
Rippon, who trains at Lakewood Ice, embraced all of that adversity for having forged his character and making him strong enough to perform an impressive routine that had no quadruple jumps but was loaded with crowd-pleasing energy.
"I wouldn't take anything I've ever done, back. I would never want to redo anything," said Rippon, whose personal-best total of 96.52 points left him behind defending champion Nathan Chen (104.45) and ahead of Jason Brown (93.23). "Every disappointment I've ever had has made me so much stronger and so much better. I wouldn't be the person I am now, I wouldn't appreciate what I'm doing right now as much as I do if I didn't have those ups and downs of not making the team, of breaking my foot, of feeling like I've come up short."
The U.S. can send three men to the Pyeongchang Olympics, a decision that will be made after Saturday's long program and will be based on the results here and in other major competitions. Rippon, 28, is making it difficult for the selection committee to shun him. Even Chen agreed.
"I'm super happy for him. He skated an amazing short program," said Chen, who watered down his own program to do a quadruple toe loop jump instead of a tougher quadruple lutz after finding mixed success with the lutz this week. "He does that all the time in practice. So I wasn't really expecting any less of him."
Chen pulled off the quadruple toe loop and a quadruple flip that was combined with a triple toe loop but got a negative grade of execution for his triple axel because he stepped out on the landing. Still, his performance went better than his practice Wednesday, when he fell four times. "Having a day to recover and recalculate helped a lot," Chen said.
Brown, ninth at the 2014 Sochi Olympics, did no quads Thursday and had a scratchy landing on his triple axel. His performance skills kept him .05 ahead of fourth-place Grant Hochstein, who trains in Artesia.
"I had a blast out there," Brown said.
So did Rippon. He was shaky during the six-minute warmup but coaxed himself to relax. "I said, 'Girl, you tight,'" he recalled. It worked, putting him in position to become one of the few openly gay figure skaters to compete at the Olympics. He joked that being a gay athlete is "exactly like being a straight athlete, only with better eyebrows," but he's serious about being a role model to kids because he never had one.
"I think sharing my story has made me a better competitor because I don't really care what other people think of me. I'm able to go out there and I'm really able to be unabashedly myself. And I love myself," he said. "When I'm able to go out there and just really be me, I'm able to put my hard work forward and I want somebody who's young, who's struggling, who's not sure if it's OK if they are themselves, to know that it's OK that there are so many people out there who have the same worries. ...If you set your mind to something, you can truly do anything."
In the pairs short program, 2015 champions Alexa Scimeca-Knierim and Chris Knierim — who are husband and wife — hung on through a couple of wobbles to earn 71.10 points and take the lead. Tarah Kayne and Danny O'Shea of Ellenton, Fla., were second with 68.93 points, and Deanna Stellato-Dudek and Nathan Bartholomay were third at 67.84.
The Knierims sat out the 2017 competition while Alexa dealt with a stomach ailment that caused her to undergo three surgeries. After that, a few errors Thursday seemed insignificant. "We had two mistakes, little ones, but we were just happy to be back at the U.S. championships," she said. Stellato, 34, began her career as a singles skater and returned to competition last season after a 16-year absence. "A lifetime," Stellato said, smiling. The U.S. can send only one pair to the Olympics, the residue of years of struggle and famine at the Olympic level since Jill Watson and Peter Oppegard won bronze at Calgary in 1988. The pairs event here will end Saturday.
Follow Helene Elliott on Twitter @helenenothelen
Get the latest on L.A.'s teams in the daily Sports Report newsletter.
You may occasionally receive promotional content from the Los Angeles Times.