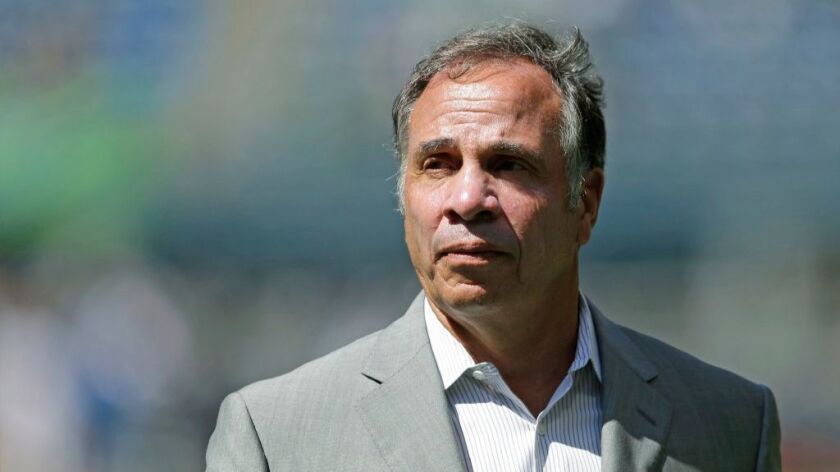 A decade ago, U.S. Soccer President Sunil Gulati decided Bruce Arena wasn't the man to lead the national team anymore and declined to renew his contract as head coach.
On Tuesday, Gulati had a chance of heart, prying Arena away from the Galaxy to rescue a struggling U.S. program in danger of missing the World Cup for the first time in 32 years.
"I don't view it as Bruce 2 but sort of Bruce 2.0," Gulati said in naming Arena to replace Jurgen Klinsmann, who was fired as the national team coach Monday. "He's got far more experience than he did when he had the national team the first go-around and has proven … many times and at all levels that that he is an extraordinarily capable and successful coach."
Arena, 65, who signed a two-year contract, is considered a short-term solution to get the U.S. qualified for the 2018 World Cup in Russia. The U.S. hasn't missed the tournament since 1986 and failing to do so would not only mark a big step backward for the development of soccer in the U.S., it probably would cost U.S. Soccer millions in sponsorship dollars as well.
Arena has already coached a record 130 games with the national team, guiding the U.S. to the 2002 and 2006 World Cups before winning three Major League Soccer titles with the Galaxy.
More important, he has a history of turning teams around. In his first stint as U.S. coach, he inherited a program that had lost three straight games in the 1998 World Cup and took it to the tournament quarterfinals four years later. With the Galaxy, where he was coach and general manager, he took over a team that would win a franchise-low eight games in 2008 and guided it to the MLS Cup final the next season.
Arena faces a similar challenge in his return to the national team, which is last in the six-team standings two games into the final round of World Cup qualifying. The 10-game tournament resumes in March with the U.S. playing Honduras and Panama.
And while the new coach said he doesn't expect massive changes to the roster, he does think the team needs a change in attitude.
"We need to build the chemistry of the team and have a common goal and really work on the team concept," said Arena, who had already begun reaching out to players before he was officially announced as the new coach. "Individually and positionally we have good players. We just have to get them working together as a team."
Arena also clarified some comments from a 2013 interview in which he said players on the national team should be native born. That would have ruled out four of the players Klinsmann started in his final two games.
"Anyone who has a passport in the United States is eligible to play for our national team," Arena said Tuesday. "I embrace all players that are eligible to play and I just want to make sure their heart is in the right place and when they put that U.S. jersey on that they're playing for that crest that's on their shirt."
Gulati said the decision to replace Klinsmann was made Sunday night. He and federation CEO Dan Flynn then began formal talks with Arena's agent and the Galaxy to get Arena released from a two-year contract extension he had signed with the team this fall.
Gulati said Klinsmann's firing was triggered by more than this month's World Cup qualifying losses to Mexico and Costa Rica. Since the 2015 Gold Cup, in which the U.S. finished fourth, "we had some very up and down results," Gulati said.
Klinsmann's refusal to take ownership of those failures reportedly was also an issue.
"That wasn't easy on a personal or a professional level," Gulati, who hired Klinsmann in 2011 after a years-long pursuit, said of his dismissal. "But [it was] something I felt we had to do in order to put ourselves in the best possible position going forward."
Klinsmann, who went 55-27-16 in 5½ years with the national team, had two years left on a contract that reportedly pays him a U.S.-record $3.2 million annually.
For the Galaxy, Arena's departure creates openings for both a coach and general manager. It could have a wider impact on the coaching staff because longtime associate head coach Dave Sarachan — who resigned last week — and current Galaxy assistants Matt Reis, Pat Noonan and Kenny Arena could follow Arena to the national team.
Among the internal candidates to replace Arena as the Galaxy's coach is Curt Onalfo, manager of the franchise's USL Pro affiliate and the former head man with the Kansas City Wizards and D.C. United. Peter Vagenas, who captained the Galaxy during a 13-year playing career, is expected to receive consideration for the GM post. Vagenas is currently the team's vice president of soccer operations.
Follow Kevin Baxter on Twitter @kbaxter11
---