LAFC makes Mexico's Carlos Vela the team's first designated player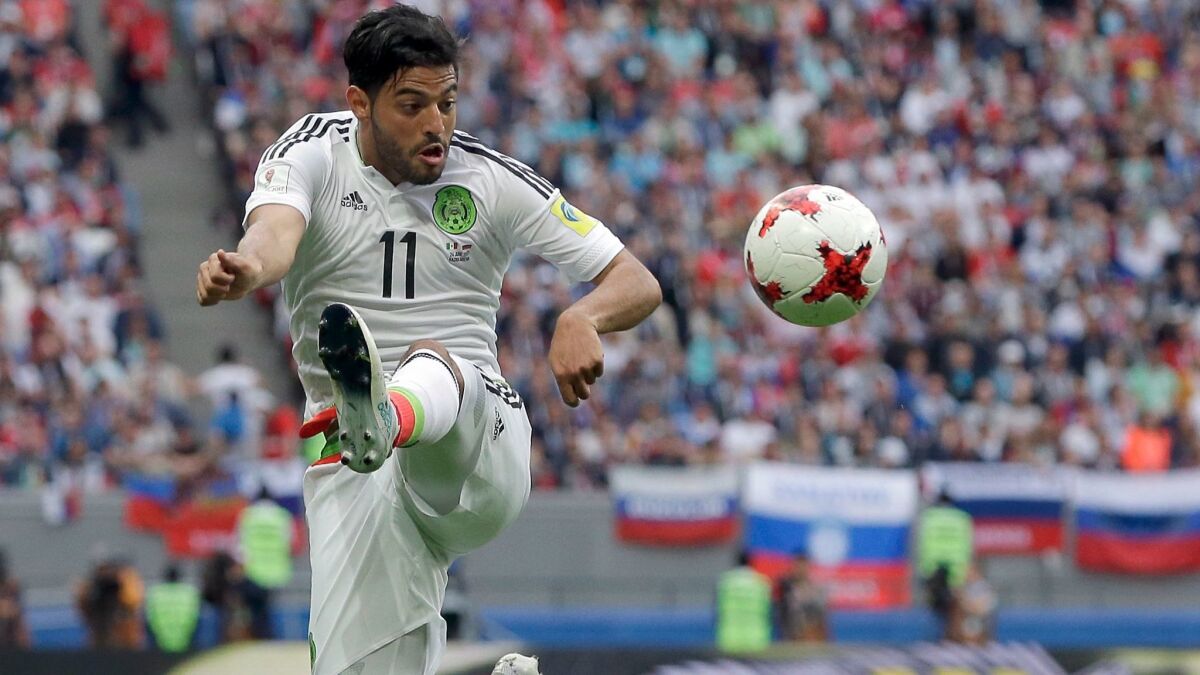 Los Angeles Football Club is still seven months from its Major League Soccer debut, but the franchise laid the cornerstone of its foundation Tuesday when it agreed to contract terms with Mexican national team forward Carlos Vela.
Vela, 28, has played the last six seasons for Real Sociedad of Spain's La Liga, scoring 65 goals in 204 games. He has 17 goals in 58 games with the national team, the most recent coming in June's World Cup qualifier against the U.S.
Vela announced the move on social media Tuesday, first penning a thank-you note to Real Sociedad and its supporters, then posing in LAFC colors four hours later.
An LAFC official, who was not authorized to speak about Vela on the record, also confirmed the deal, which is expected to be finalized Wednesday morning. If that happens, Vela will be introduced as LAFC's first designated-player signing Friday.
"All along this was what we wanted," the official said. "A dynamic, attacking player in his prime. He's eager and excited to come to L.A. and make history, do something special. That matters."
Vela is LAFC's second major signing in the less than two weeks. Former national team coach Bob Bradley was introduced as the expansion team's first manager 12 days ago.
An important factor in Vela's signing was the fact he will be able to continue playing for Real Sociedad through the end of the year before joining LAFC for preseason training in January, and the team's first game in March. Signing a player in a World Cup year can be difficult, especially for an expansion team, because many do not want to change teams until after the tournament. By then LAFC's first season would be half over.
Instead LAFC, which has only seven months to put together a first-team roster, starts that process with a player who arguably ranks among the top forwards in MLS. A creative player who can challenge defenders one-on-one, Vela was the leading scorer when Mexico won the U-17 World Cup in 2005 and has also played in a senior World Cup and on two Gold Cup-winning teams.
But the deal wasn't popular at home. Vela is the second Mexican national team player to join MLS in less than two weeks, following midfielder Jonathan dos Santos, 27, who left Spain's Villarreal last month, then made his league debut for the Galaxy last Sunday.
National team coach Juan Carlos Osorio repeatedly has said he wants his players competing at the highest level in preparation for next summer's World Cup. But in the last 10 days Vela and Dos Santos have left one of the world's strongest leagues for MLS, following Dos Santos' older brother Gio, who made the move two years ago.
Social media lit up Tuesday with fans and soccer commentators in Mexico lamenting Vela's "retirement" and musing about how the move from La Liga to the U.S. would affect the play of Vela and the younger Dos Santos.
Vela has long drawn the interest of MLS teams, although LAFC didn't land him until losing out on two other Mexican national team players in Javier "Chicharito" Hernandez and Andres Guardado.
Hernandez, Mexico's all-time leading scorer, was believed to be a prime LAFC target, but talks reportedly broke down over price. A deal with Guardado was little more than a signature away from being done in June before the midfielder changed his mind and signed with Spain's Real Betis.
Terms of Vela's contract were not disclosed, although the LAFC official confirmed the club paid a transfer fee, reported by the Spanish media outlet Marca to be $5.87 million. Vela, whose contract with the Spanish club runs through next spring, reportedly earned between $3.3-$4 million a year. He probably will get a raise to join MLS.
Negotiations continue with other players, the LAFC official said, although no others appear close.
"You'll get them whenever they come," he said.
Follow Kevin Baxter on Twitter @kbaxter11