LAFC's new home proves well worth waiting for
The Los Angeles Football Club gave coach Bob Bradley the keys to his new home Wednesday, during an opening ceremony for the team's $350-million stadium and ushering the players in for their first practice.
An hour later, the players and their coach were still there, looking up at the empty grandstands, rolling balls along the close-cut Bermuda grass and generally acting as if they were in no hurry to leave.
"All of us were just blown away. The stadium is incredible," Bradley said. "If they don't enjoy this, a field that's like that and this stadium, then they're in the wrong business."
Midfielder Benny Feilhaber agreed.
"It's hard to imagine what this place is going to look like with everybody in their seats and how loud it's going to get," he said. "We definitely feel like this is our home."
Banc of California Stadium, the newest of 16 soccer-specific venues in MLS, rose from the ruins of the Sports Arena in only 17 months. And it came in on budget and ahead of schedule, with 10 days to spare before the team's home opener April 29.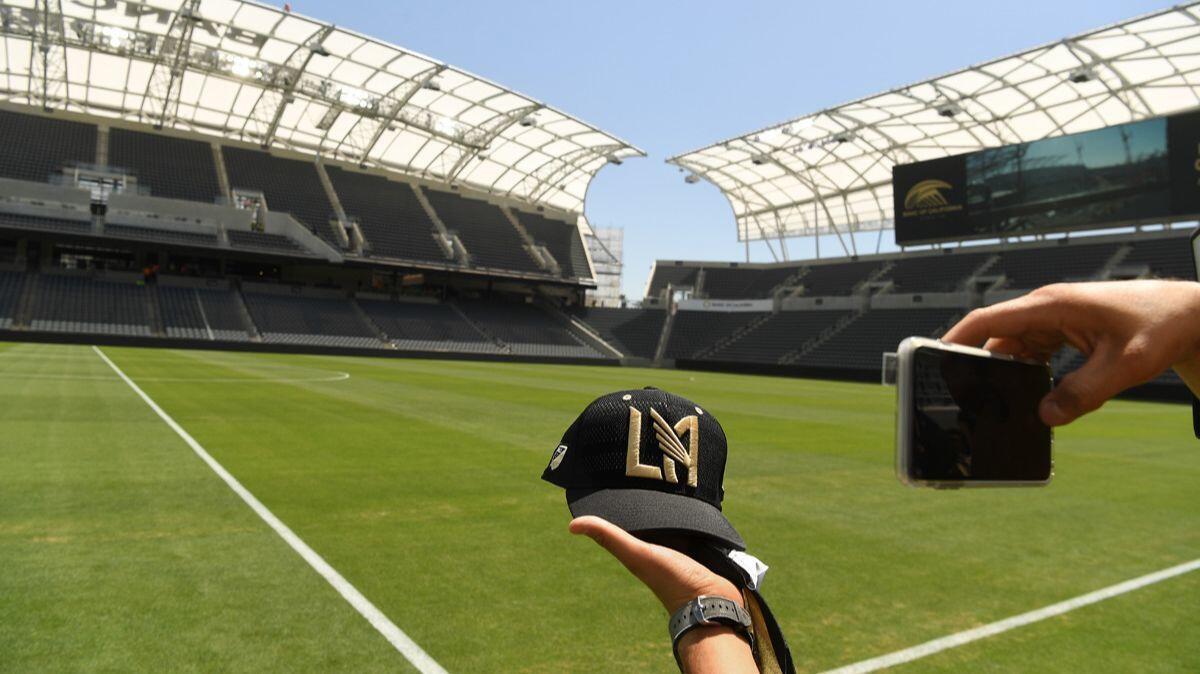 "This is like a huge birthday party," said Peter Guber, the Hollywood executive and producer who, as executive chairman of LAFC's ownership group, guided the project from concept to reality. "The journey was long and hard and it was arduous."
The privately financed stadium, the most expensive in MLS history, is the first open-air professional sports venue built in the city of Los Angeles since Dodger Stadium in 1962. Its 22,000 seats begin just 12 feet from the touchline and recede at a 34-degree angle, leaving the top row of the seating bowl 135 feet from the field.
The stadium also features 33 suites, 46 loge boxes and five separate club spaces.
"This has exceeded expectations," L.A. County Supervisor Mark Ridley-Thomas, whose district encompasses the stadium's Exposition Park home, said at the ceremony . "There's no way you can come here and not marvel at what has been done in record time."
Dozens of the workers still putting finishing touches on the stadium also paused to enjoy Wednesday's celebration, some taking seats in the south grandstands and others standing atop the polymer roofing to watch the team practice.
"It's always great to see something done completely," said Ralph Rivera, a field representative for the union representing the stadium's glaziers and floorlayers. "It's a great satisfaction. It's beautiful."
Follow Kevin Baxter on Twitter @kbaxter11