Amid rape lawsuit, Cristiano Ronaldo helps Juventus win and celebrates on the field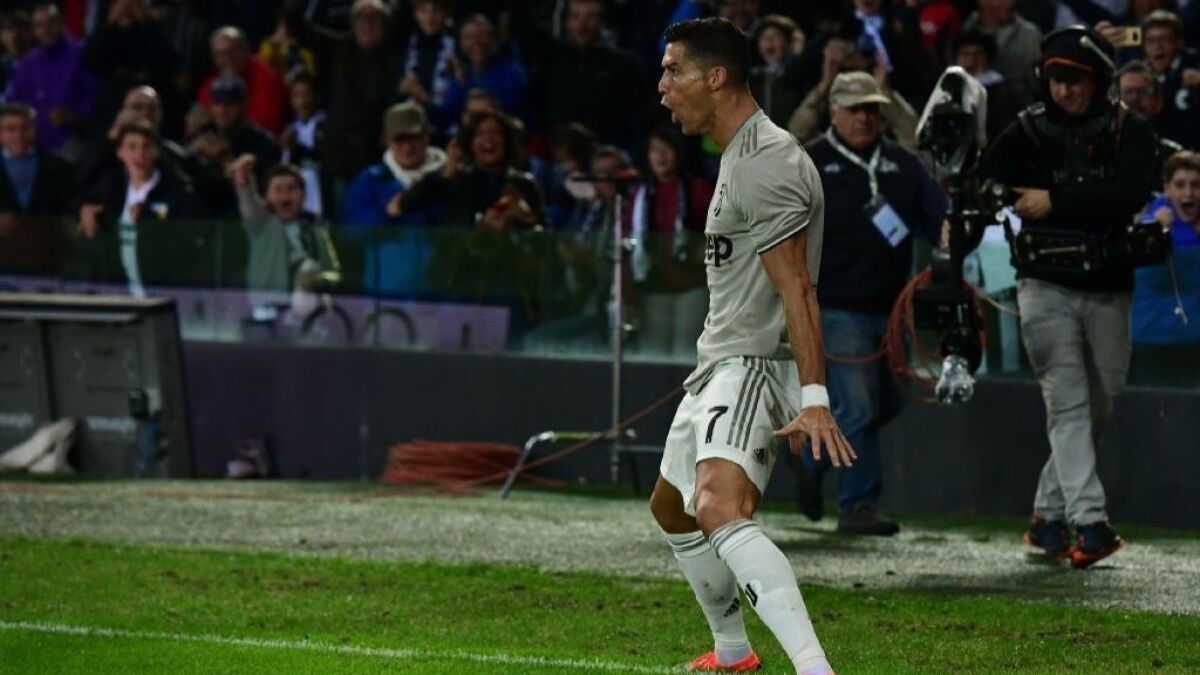 Reporting from UDINE, Italy —
Cristiano Ronaldo asked his Juventus teammates to be left alone.
For all that he's embroiled in - accused of rape nine years ago - the soccer superstar wanted some space so he could celebrate his goal on Saturday alone in front of a TV camera.
He leaped into the air with an emphatic double fist pump, as he's often marked his goals, and then let his teammates congratulate him.
Ronaldo's powerful, angled goal, the second of the match and his fourth of the season, was met by applause and boos in the Italian league game at the home of Udinese. Ronaldo and Juventus finished 2-0 winners.
Just over a week ago, Kathryn Mayorga filed a civil lawsuit in Nevada saying she was raped by Ronaldo in Las Vegas in 2009. Police have reopened an investigation. Ronaldo has denied the accusation.
Ronaldo played last for Juventus last weekend in Serie A, but midweek he missed a Champions League game because of an automatic suspension from a red card and was left out of Portugal's squad for upcoming international matches.
He was available again for Juventus on Saturday, prompting his mother, Maria Dolores Aveiro, to send him a message on Instagram: "Good luck son and for your team because together we are stronger."
Some Juventus fans at the match expressed support for Ronaldo.
"Rape is just an excuse. It's because he came to Juventus. If he had stayed at Real Madrid nobody would have said a thing," said Juventus supporter Stefano Pianeta outside the stadium, referring to Ronaldo's recent transfer from Madrid.
Added Fabrizio Paduna, another Juventus fan, when asked about the rape case, "It's just rumors for me. I really don't think it's true."
On Thursday, Juventus sent a statement of support and called him a "great champion." But his sponsors Nike and video game maker EA Sports have expressed concern about the allegation.
Since the allegation surfaced, Juventus' share price has fallen by nearly 20%.
Neither Ronaldo nor Juventus has addressed the allegation by Mayorga that she received a payoff of $375,000 in 2010 after being put under pressure by the player's "fixers" to keep quiet about an incident in a penthouse hotel suite.
Other than the game against Young Boys, Ronaldo has played every minute of Juventus' other nine matches in all competitions this season.
---
All about the beautiful game
Go inside the L.A. pro soccer scene and beyond in Kevin Baxter's weekly newsletter.
You may occasionally receive promotional content from the Los Angeles Times.