Newsletter: Soccer! Sigi Schmid is hospitalized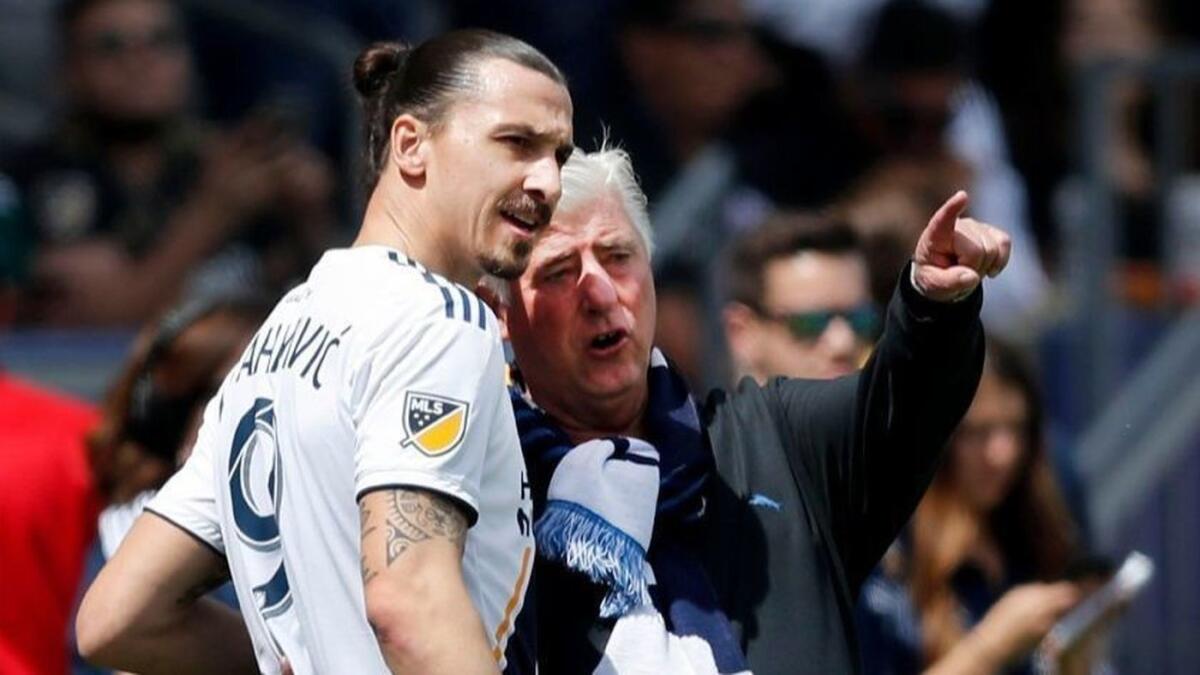 Hello and welcome to the L.A. Times soccer newsletter. I'm Kevin Baxter, the Times' soccer writer. We have a lot to talk about this week, but unfortunately we start with bad news: Former Galaxy coach Sigi Schmid, the winningest coach in MLS history, is in intensive care at Ronald Reagan UCLA Medical Center.
The hospital declined to release information about Schmid's condition or why he was admitted, citing privacy concerns. But his illness is believed to be heart-related and very serious.
Schmid, 65, who has battled weight issues for years, has also had heart trouble recently, and his health was a quiet concern in the Galaxy locker room before his firing in September.
A member of the national soccer and UCLA athletic halls of fame, Schmid won 266 regular and postseason games over 18 seasons in MLS, leading the Galaxy to their first MLS Cup title in 2002 and the Columbus Crew to a league championship six years later. He also won three Supporters Shields — an award for the team with the best regular-season record — and five U.S. Open Cups. In 2000, he took the Galaxy to their only CONCACAF title.
An all-conference midfielder at UCLA, Schmid later coached the Bruins to three NCAA championships and 16 consecutive playoff appearances during 19 seasons in which his teams went 322-63-33.
When I first began tweeting news of Schmid's condition Monday morning, I was struck by the touching reactions I got. Many people wrote to say they had rooted against Schmid's teams at Columbus and Seattle or didn't like his coaching with the Galaxy, but most everyone also spoke about how they had always heard he was a nice guy, a guy they respected … a guy they had learned to love.
"Legend! I hope he recovers and gets back to where he belongs, on the sideline," wrote one fan.
"If you have a chance to talk to anyone in the family please let them know that Galaxy, Sounders and Crew fans are all united in our hopes that Sigi pulls through and makes a full recovery," read another tweet.
But the most common reply was also the simplest — and it was one repeated over and over: "Prayers for Sigi and his family."
Galaxy coaching search nears an end
Schmid was let go by the Galaxy in September, with six games remaining in the season, leaving Dominic Kinnear, his top assistant, to guide the team the rest of the way as interim manager.
The Galaxy are finally expected to name a permanent replacement this week and if you believe what you see, it will be former Portland Timbers coach Caleb Porter.
Porter was sitting courtside at Monday's Lakers game with team president Chris Klein, new general manager Dennis Te Kloese and Dan Beckerman, CEO of AEG, the Galaxy's parent company. It would be easier to hide on stage at the Academy Awards than courtside at a Lakers game, so clearly Klein and Co. were showing their hand.
Klein pulled the same trick two years ago when he sat courtside with free-agent midfielder Jermaine Jones, whom the team signed shortly afterward. (That deal didn't work out so well, by the way.)
Porter, Klein's college roommate at Indiana, was a hugely successful college coach at Akron, winning a national championship in 2010. In his only pro job, he took Portland to an MLS Cup title in 2015 and finished first in the Western Conference standings in 2017 before stepping down as the Timbers' coach 13 months ago.
Te Kloese, by the way, met with Galaxy supporters on Monday and was officially introduced as general manager Tuesday morning.
The United way
Speaking of the Portland Timbers, they were back in the MLS Cup final last weekend, but they didn't fare as well as they had with Porter, losing 2-0 to Atlanta United.
Whether that game will prove to be the transformative moment it felt like remains to be seen. But all the signs are there.
There was the electric MLS-record crowd of 73,019, the fourth 72,000-plus throng at Atlanta's Mercedes-Benz Stadium this season. There was Josef Martinez scoring one goal and assisting on the other to win game MVP honors, giving him a rare trifecta of such awards. Martinez, who scored a record 35 goals in 39 games this season, was also the league and All-Star Game MVP.
And then there was team owner Arthur Blank accepting the championship trophy after four years of benevolent stewardship that spared no expense and considered no detail too small.
Blank brought the franchise into existence in 2014, hired former Tottenham executive Darren Eales as president, former national team captain Carlos Bocanegra as technical director and former Barcelona and Paraguayan national team coach Tata Martino as coach. He then gave them a state-of-the-art development academy and a $1.6-billion stadium and watched the club win an MLS-best 40 games and a league championship in its first two seasons.
And they did it all by playing attractive, entertaining and attacking soccer. It was an ambitious plan and one the club executed flawlessly.
"This is a good example of the potential of soccer in every major city throughout this great continent," Blank said after Saturday's game. "And this can be duplicated elsewhere."
That last part is debatable, but certainly the Atlanta model is one every MLS franchise is going to try to copy. Because if the Galaxy, with five league championships and a roster of alumni stars including David Beckham, Landon Donovan, Robbie Keane and Steven Gerrard, was the model club of the league's first two decades, Atlanta United is the one everyone is chasing now.
And in case anyone wasn't paying attention, before the game Atlanta's supporter groups unfurled a banner of a train with an "MLS 3.0" sign.
Consider how the league has changed since Blank was first asked to join about 15 years ago. MLS was then a league of primarily domestic talent that was moving out of massive football stadiums and into suburban soccer-specific stadiums such as the StubHub Center, the Galaxy's home in Carson; Dick's Sporting Goods Park outside Denver or Toyota Park in Bridgeview, Ill.
Now half the league's players are foreign-born and many play in downtown venues — some massive, some quaint.
The league's first major push for foreign players, beginning with the Galaxy's signing of Beckham in 2007, led to the import of aging European stars such as Frank Lampard, Bastian Schweinsteiger and Didier Drogba, players valued as much for their ability to sell tickets and jerseys as for their ability to win games.
And that worked at the box office, if not always on the field.
Atlanta United helped shatter that model too, building around young, skillful but relatively anonymous South American players such as Martinez, a Venezuelan; Miguel Almiron of Paraguay and Argentine teenager Ezequiel Barco.
Half the 14 players Martino used in the MLS Cup final were South Americans and none were older than 27.
The rest of the league has already started copying that, signing more players from Latin American than from Europe and Asia combined in 2018, leaving the Galaxy as the only team in MLS without a South American on its roster.
The Los Angeles Football Club and its free-spending owners have come closest to matching Atlanta United, hiring a former World Cup coach in Bob Bradley, signing a core of Latin American stars in Mexico's Carlos Vela, Uruguay's Diego Rossi and Colombia's Eduard Atuesta and housing them in a modern downtown stadium. The team also plays the same aggressive, possession-based style of soccer and in their first MLS season won 16 games and made the playoffs before falling in the knockout round.
In their first season Atlanta United won 15 games and made the playoffs before falling in the knockout round.
But now that Atlanta has shown the league what they can be, the next challenge will be staying ahead of those who have stolen the blueprint while undergoing the kind of massive change that often accompanies success in soccer.
Martino, the MLS coach of the year, is leaving for the Mexican national team and Almiron is widely expected to go to Europe next year. Martinez, who struggled in a previous stint in Italy, could follow.
Eales said he anticipated all this and has a backup plan ready, with reports saying the team has already met with former Argentine national team coach Jorge Sampaoli and Boca Juniors manager Guillermo Barros Schelotto. Eales could replace Almiron in the midfield with Gonzalo Martinez of Argentina's River Plate.
Even so, next year will be difficult for the defending champions. In the last 11 seasons the Galaxy are the only team to win more than one MLS title — they won three, including back-to-back crowns in 2011-12, before falling to the back of the pack and failing to even reach the postseason the last seasons.
Raising the bar of expectations, it turns out, is easier than keeping that bar aloft. But Blank made clear Saturday night that he isn't going to be content with lifting the MLS Cup just once.
"There is no finish line. You've got to constantly get better and constantly compete," Blank said. "So I'm looking forward to that too."
MLS commissioner doubling down on growth
MLS Commissioner Don Garber, buoyed by the excitement created by Atlanta United's success, laid out some aggressive ideas of his own during his annual state of the league address last week.
With Austin, Texas, almost certain to join the league as its 27th franchise, Garber said a 28th team will be announced within the next year, capping an explosive expansion that has seen MLS double in size since 2008. And although the commissioner has long held out 28 teams as his target, he said last week the league may not stop there.
"Every time that we evaluate how large we want the league to be, it really is in the context of what we think the country can support," he said. "We're going to have to decide if we want to go forward beyond 28 teams. That's a discussion that is taking place.
"There's no doubt in my mind that we can support having more than 28 teams in Major League Soccer."
That will be good news for people in Detroit, Sacramento, St. Louis, Tampa Bay and Phoenix, all of whom thought they were competing for just one vacant expansion slot.
Garber also talked about how MLS is making the transition from being a league that largely imported players to one that is now exporting young stars. The Vancouver Whitecaps recently sold Canadian Alphonso Davies, an 18-year-old winger, to Bayern Munich for a league-record $22 million, the New York Red Bulls are sending U.S. national team midfielder Tyler Adams to Leipzig next month, and the Columbus Crew are finalizing a deal that would ship national team goalkeeper Zack Steffen to Manchester City.
That's all good news, the commissioner insists.
"We need to become more of a selling league," he said. "We all need to get used to the fact that in the world of global soccer, players get sold.
"We have been buying for so long and as we've gone through the analysis, it's hard to justify that investment and the investment we have to make in player development. We've got to have something that turns this model around or else it's going to be unsustainable."
A Soccer America survey of U.S. teenagers leaving MLS clubs in 2018 found that 17 players moved to Europe and that so far only Adams moved for a transfer fee.
"This is a big issue for our league," Garber told Soccer America. "I don't know that it's entirely about young players chasing their dreams as much as it's international clubs chasing our young players. That's something that we've got to wrap our collective minds around and figure out how do we manage that in a way that justifies our owners investing this year north of $100 million outside of our first-team rosters."
On other matters, the commissioner said the league's board of governors, which is meeting this week, will take up an expanded playoff format and a compacted schedule that would see the MLS Cup played in November.
"My guess is that we're probably going to end up with something that's a little bit different than we have now," he said of the playoffs, which could be expanded from six to seven teams in each conference, with all four rounds being contested in elimination games.
He also said a proposal to reduce the number of designated players each team is allotted and to increase each team's targeted allocation money has been discussed, though he opposed the plan.
"I personally believe we have a pretty good formula now," he said. "It doesn't have to be that somebody is signing a [designated] player for $7 million. You have lots of designated players that are above what our maximum salary is that are driving great, great value for our league."
Many owners disagreed strongly with the commissioner on that issue, and others, suggesting the upcoming debates could be heated.
"We'll see how that all works itself out," Garber said.
Indeed.
Podcast
Don't miss my weekly podcast on the Corner of the Galaxy site as cohost Josh Guesman and I discuss the Galaxy each Monday. You can listen to the most recent podcast here.
Until next time
Stay tuned for future newsletters. Subscribe here, and I'll come right to your inbox. Something else you'd like to see? Email me. Or follow me on Twitter: @kbaxter11.