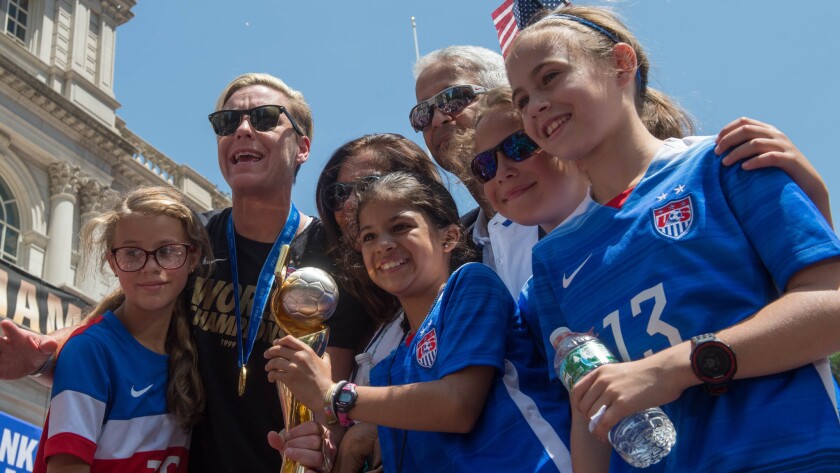 Equal pay for equal work. Sounds like a no-brainer, right?
In sports, there's never been a gender gap between men and women. It's always been more like a chasm.
Take golf. South Korea's Inbee Park is the leading money-winner on the LPGA Tour with $1.42 million in earnings this year. Two other women have also made more than $1 million in 2015.
Meanwhile, Masters and U.S. Open champion Jordan Spieth has made more than five times as much on the PGA Tour, in which 76 men have already topped $1 million.
WNBA players made an average of $75,000 in 2014. In the NBA, the average was $4.5 million.
But that's equality compared to World Cup soccer.
For winning the Women's World Cup last week in Canada, FIFA gave the U.S. team $2 million from a total Cup purse of $15 million. Last summer in Brazil, champion Germany got $35 million from a total FIFA purse of $358 million distributed to the men's World Cup teams.
However, that isn't so much a product of gender discrimination as it is of fan interest and profit.
The men's World Cup drew more than 3 billion TV viewers worldwide for its final, and live attendance for the month-long event was 3.42 million, an average of 53,592 a game. That helped FIFA make $4.8 billion in revenue for the 2014 men's World Cup.
The Women's World Cup in Canada was a bit more, shall we say, modest.
A spokesman for the local organizing committee said the budget for the tournament was about $90 million, from which it may realize a small profit. Total attendance was 1.04 million, an average of about 20,000 per game, and only two of the 52 women's games drew more than the 53,592 fans the men's event averaged.
Given the discrepancies in those numbers, the difference in prize money looks almost generous. But that could be changing.
UltraViolet, a national women's equality group that organizes around issues such as equal pay, reproductive rights and domestic violence, says the record TV ratings for the Women's World Cup final is proof there is interest — and potential profit — in women's soccer.
What's lacking is the same kind of promotional muscle FIFA puts behind the men's tournament.
"The men's World Cup gets a lot of support and attention, and has historically," said Karin Roland, UltraViolet's group's organizing director. "It's not surprising that there is a difference."
But, Roland points out, last Sunday's women's final between the U.S. and Japan was watched by 26.7 million Americans on Fox and Telemundo, the largest audience ever for a televised soccer game in the U.S. The tournament also drew record ratings in Japan, Canada, France, England and China, among other countries
"Without the heavy, incredible investment and promotion that FIFA and others have put into the men's World Cup, the Women's World Cup is already showing that it can capture this audience," Roland said. "It's clear that this is a popular sport that has the power to bring in sponsorship."
Perhaps, but a closer look at the ratings indicate it was the flag, not the game, that drove interest. Because while broadcasts of the Women's World Cup in many nations drew record ratings, it was only for games in which their national teams played. In many places, the rest of the tournament wasn't broadcast at all.
When those same players returned to their domestic league teams, they played in empty stadiums with no TV coverage. Seven of 12 clubs in the women's Bundesliga for example, home to 19 of the 23 players on top-ranked Germany's World Cup roster, averaged fewer than 800 fans a game in the 2014-15 season.
Compare that with the men's game, in which the English Premier League and the Bundesliga draw tens of millions of viewers worldwide every weekend. And last summer's men's World Cup drew an average of about 200 million viewers for each game. That's a much easier and more lucrative sell to a global company such as Coca-Cola or McDonald's.
It's also why Fox got the U.S. broadcast rights to this summer's women's tournament for free after paying $425 million to televise the next two men's World Cups.
So until interest in the women's game expands beyond the parochial, expect the huge difference in rights fees and sponsor interest to continue. And that means a difference in pay as well.
That's not to say FIFA hasn't been patronizing and ignorant of the women's game and its players. FIFA forced the women to play their most important tournament on artificial turf in Canada, refusing to listen to arguments to shift the tournament to natural grass fields, even after five dozen of the world's top players signed on to a lawsuit.
It's hard to imagine FIFA ignoring a lawsuit joined by Lionel Messi, Cristiano Ronaldo and Wayne Rooney.
And FIFA forced as many as four women's teams to share the same hotel and training facilities while competing against one another in Canada. Most of the men's teams didn't even share the same city in Brazil.
FIFA could also benefit from a lot of sensitivity training on the subject of women's equality. While there is an explanation to be made for the differences in prize money between the two World Cups, FIFA Secretary General Jerome Valcke embarrassed himself with this response last year:
"That's not even a question I will answer because it is nonsense," he said. "We played [the] 30th World Cup in 2014 and we are playing the seventh Women's World Cup.... We are still another 23 World Cups before potentially women should receive the same amount as men."
That's insulting.
There's a market for women's sports, including soccer. Exactly how deep and lucrative it is, we don't know. But there's a good chance that if FIFA spent as much time and energy promoting the women's game as it does dismissing it, equality would come a lot sooner than waiting for 23 more World Cups.
---